Sweet Potato Quinoa Bake Recipe
Sometimes a warm comforting all-in-one meal is the best dinner solution. When we are planning our meals, we like to have a casserole or a baked dish like this on our meal plan at least once a week. This Sweet Potato Quinoa Bake Recipe combines sweet and hearty sweet potatoes, with the wholesome and filling goodness of quinoa. Add a few other flavors in there and you have a bake that is definitely a crowd pleaser for the entire fam!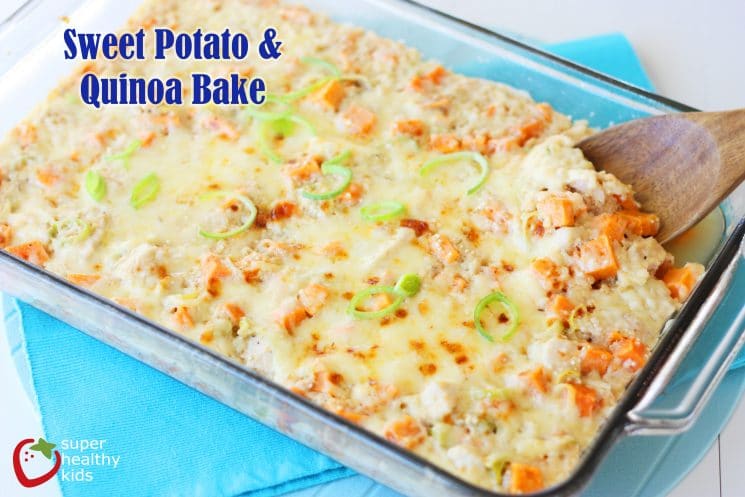 We love this recipe because it calls for leeks which are more mild than an onion, but still provide the savory flavor that is delicious in a dish like this. The only tricky thing about leeks is cleaning them. This is one easy method to cleaning leeks that we used in our yummy minestrone recipe. They are different enough from onions, that they may not have a bad rap with your kids and they might be willing to try them!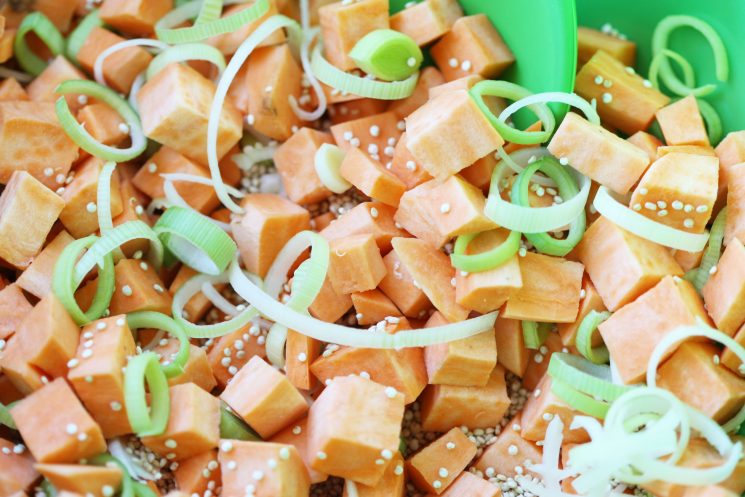 Combine your ingredients, toss it in a 9×13 and bake! You will have dinner on the table with time to spare. I love recipes like this because the hands on time is so short, but you still prepared a meal that is comforting, and delicious. When I make meals like this one, I sometimes like to switch out the veggies to mix it up. We used sweet potatoes for this recipe, but I think it would also be good with broccoli or asparagus. It is a good way to get your kids to try different veggies with one recipe! Also – we really like the white sharp white cheddar. It is basically the exact same thing as sharp cheddar, but without the food dyes! We buy ours at Costco. It gives this dish added flavor and you don't need to add as much as a mild cheddar cheese.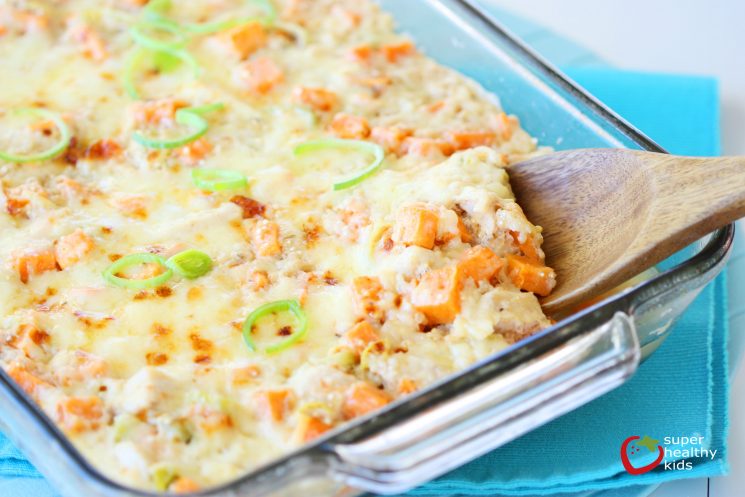 This is a meal that is great when you don't have a lot of hands on time for dinner! Serve a long side with some yummy fresh fruit and you have a complete dinner for your family!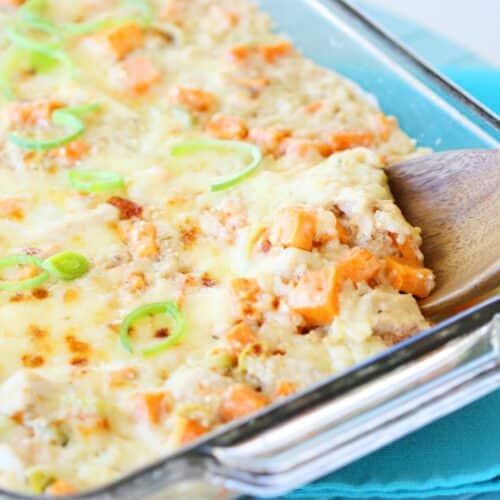 Ingredients
1

cup

chicken broth, low-sodium

1

cup

milk

1/2

cup

flour, all-purpose

1

tablespoon

seasoned salt

2

cup

sweet potato

1/2

pound

chicken breast

3/4

cup

quinoa, uncooked

1/2

cup

leek

1/3

cup

pesto

3/4

cup

cheddar cheese
Instructions
Preheat your oven to 375 degrees F.

In a medium saucepan, whisk together chicken broth and flour until smooth.  Cook over high heat for 1 minute.  Add the milk and seasoning and cook for 3-5 minutes until thickened.

Cut up sweet potato and chicken  into small bite size pieces.  Chop leeks into small pieces.

In a large bowl, combine the sauce with the quinoa, chicken, leeks, sweet potato, and pesto.  Pour into a 9×13 baking dish.  Top with shredded cheese and bake for 40-50 minutes covered, until the quinoa is soft and the chicken and sweet potatoes are cooked through.