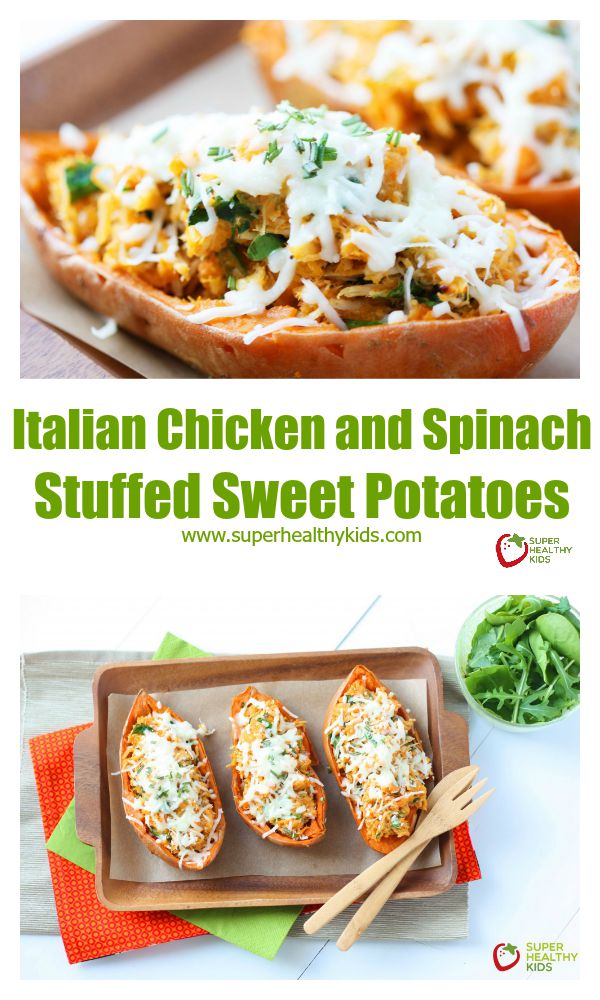 Sweet potatoes are such an amazing veggie because when you cook them, they literally spill out a super sweet natural sugar.  But the best part about sweet potatoes is how much nutrition they pack.   They are high in beta-carotene, Vitamin C, manganese, and fiber.   Sweet potatoes are delicious on their own, but these Italian Chicken and Spinach Stuffed Sweet Potatoes make a complete and delicious savory meal.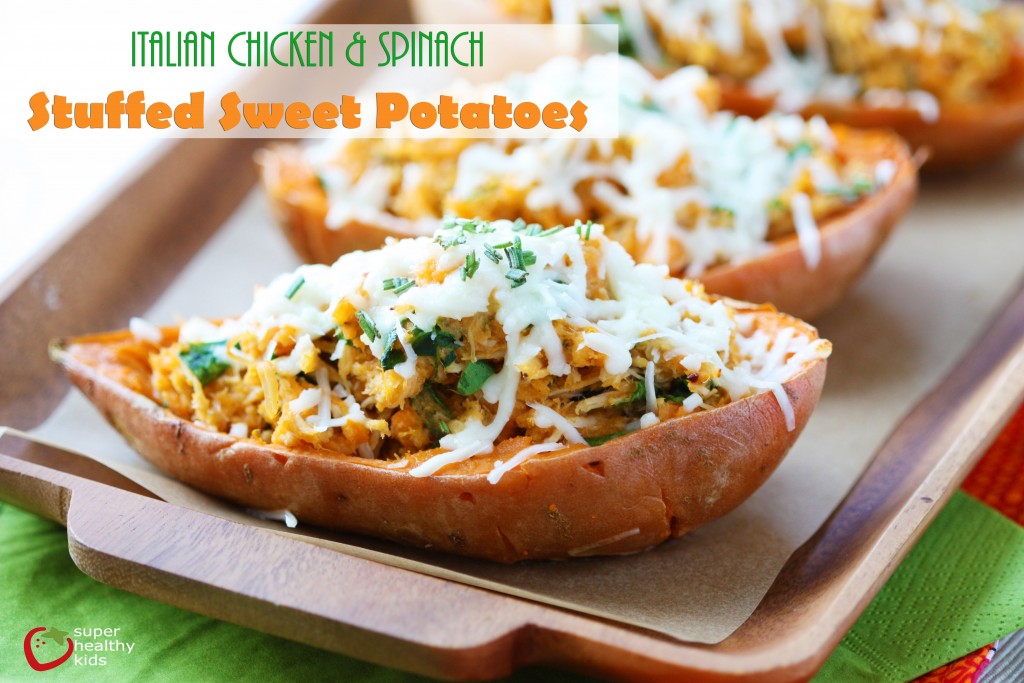 This recipe is a complete meal, but is incredibly simple to make.  Bake your sweet potatoes in the oven until soft.   Scoop out the inside and set aside.  Drizzle the skins with olive oil, and put back in the oven for 10 minutes to crisp up the skins.  Meanwhile,  in another bowl, shred chicken breast, chop spinach, and add the remaining ingredients.  Combine with sweet potato.  Scoop the mixture into the potato skins.  Top with shredded mozzarella, or your favorite cheese and bake again until cheese is melted and bubbly.
The secret to crispy is to drizzle the skins with olive oil, and put back in the oven for 10 minutes to crisp up the skins.
These stuffed sweet potatoes are a warm comforting meal that can be served both in Winter and Summer. Nuzzle up around the dinner table and enjoy this meal. Delicious served with a yummy fruit salad or just sliced fruit on the side.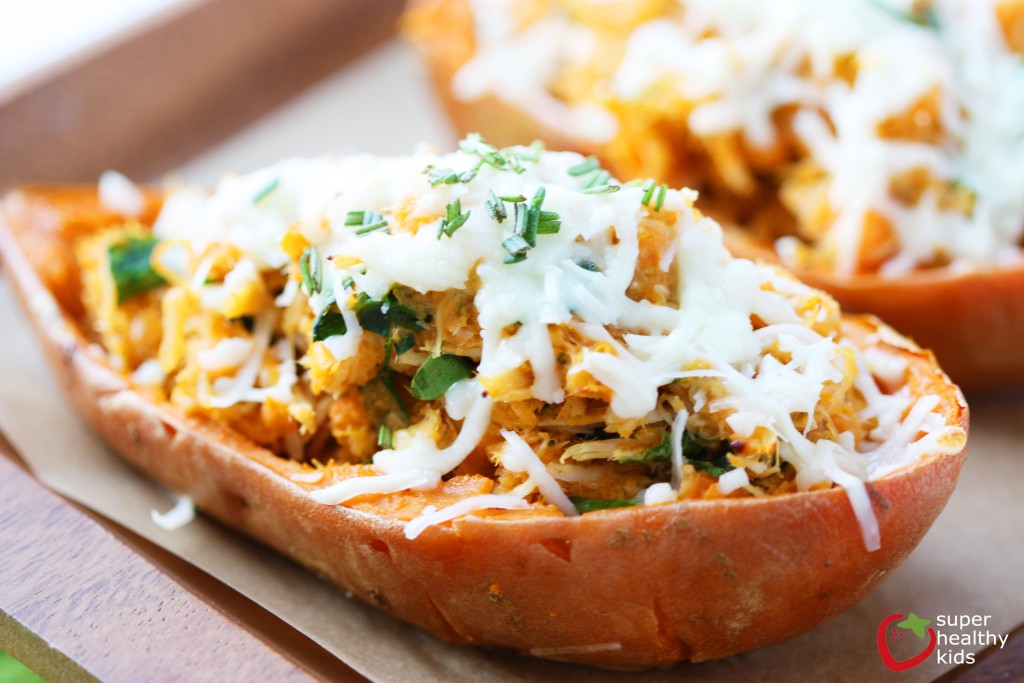 Italian flavors are usually a winner for kids making this meal something your kids will not only try, but love. Easy to make and easy to eat makes this an easy to implement family dinner! It's so fun to see your kids start to enjoy what they're eating, and knowing it is good for them! Surely, this will become a fast family favorite and added to your frequently repeated recipes!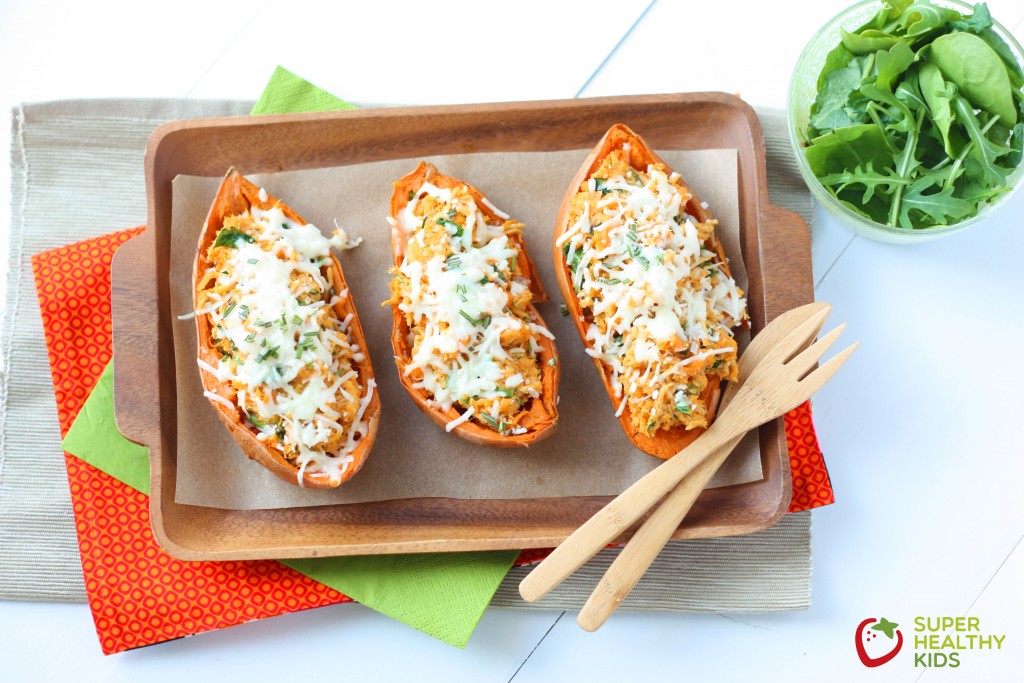 Check out our recent interview on HealthPlans.com!