Ice Cube Tray Cheesecake Bites Recipe
The perfect summer no-bake treat: ice cube tray cheesecake bites! These no bake cheesecake bites are sweetened only with honey and made with low fat cream cheese and Greek yogurt for a slightly lighter treat.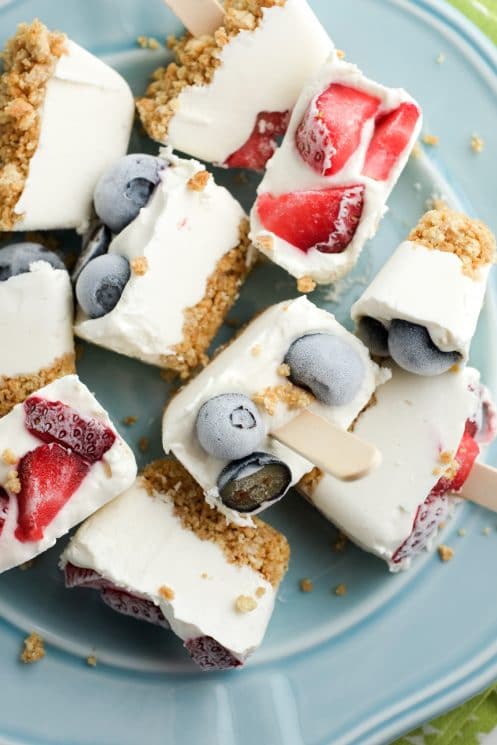 Ice cube trays may seem mundane, but there are countless ways to use them! Frozen yogurt bites and all-natural dishwasher pods, just to name a few.
Today we're making ice cube tray cheesecake bites! All the lusciousness of cheesecake, but more fun and a little healthier. Plus, kids seem to love anything small and easy to hold, so these are sure to be a hit!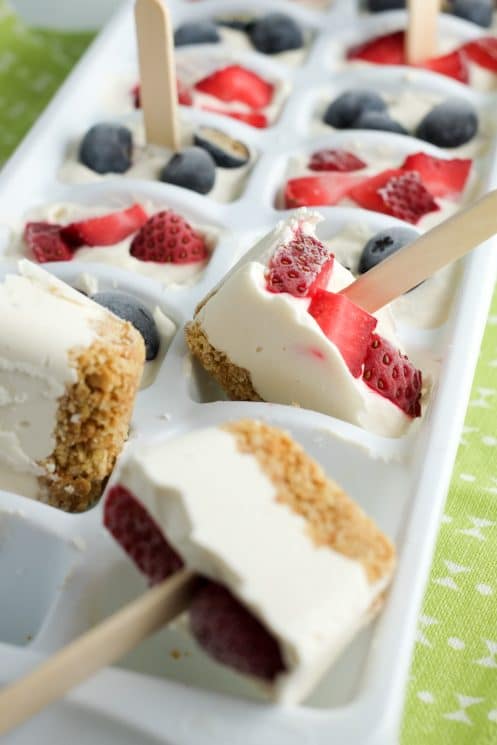 Lightened Up Ice Cube Tray Cheesecake Bites
We've kept these bites delicious while also making them a little bit healthier.
Sweetened with only 2 tablespoons of honey
Added Greek yogurt for protein and less fat
Low-fat cream cheese for slightly leaner creaminess
Fresh fruit on top!
While fat is an important component in any diet, cream cheese tends to be pretty high in saturated fat. So we just wanted to decrease that a bit since it's the main ingredient!
Fun Summer Treat for Kids: Frozen Cheesecake Bites
Cheesecake bites are a fun summer treat the whole family can enjoy together. And since they're frozen, you can just eat what you want and save the rest for later.
It's also a lot of fun to freeze these cheesecake bites with popsicle sticks in them! In fact, I highly recommend it. Less mess!
No sticks? No problem. Just pop them in your mouth fresh from the freezer! Or plate them up and let them thaw to devour with a fork. Any way you eat them, they're delicious.
And the best part? These are super easy to make!
How to Make Ice Cube Tray Cheesecake Bites
Start by bringing an 8 ounce package of cream cheese to room temperature. Either leave it out for a few hours or put it in a bowl and microwave it for a few 10-second intervals.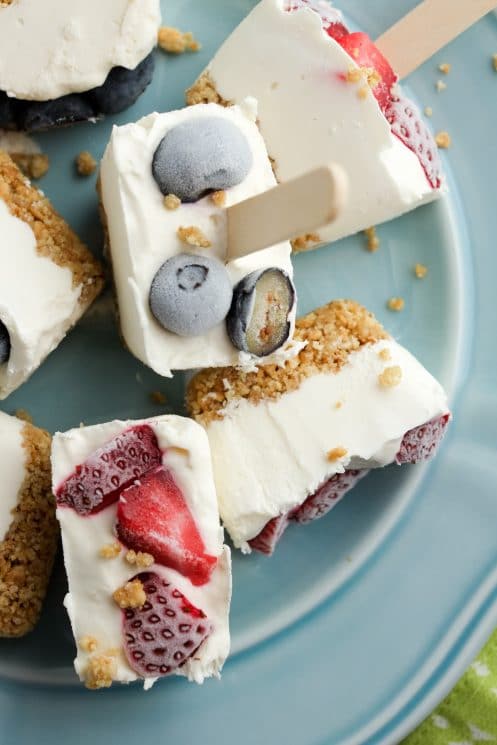 Once slightly soft, beat the cream cheese with a mixer. I used a hand mixer, but a stand mixer would work well too. Beat it until smooth and creamy – it may take a few minutes.
Now add 1/2 cup of Greek yogurt, 1 teaspoon vanilla, 1 teaspoon lemon juice, and 2 tablespoons honey. Beat with a mixer until everything is blended and creamy. Set this mixture aside.
Next, crumble 5 graham cracker squares (a square being half of a full rectangle graham cracker). I do this by placing them in a ziplock bag and crushing with a jar or rolling pin, but there are numerous ways you could do this. You want them to be crumbs.
Melt 2 tablespoons of butter and add it to the graham cracker crumbs. Once well mixed, spoon a small amount into each of the ice cube cups.
Press the crumbs down to make a firm crust, thick enough that it sticks together, but thin enough to leave lots of room for the cheesecake filling.
Now spoon the cheesecake filling on top, making sure to let it settle so no air bubbles form. Smooth the top a bit with a spoon or spatula.
Sprinkle a few berries on top of each cheesecake bite. I used blueberries and strawberries, but any berry and most fruits would be delicious!
Note: I did try making a batch of these in reverse order, with fruit on bottom and crust on top, but they didn't stay together as well.
I highly recommend adding a popsicle stick! Push them down into the center of each cheesecake bite before freezing, until they touch the crust (you don't want to go through all the way).
Freeze for at least two hours, preferably overnight.
Frozen No-Bake Cheesecake Bites Anytime
To remove, use a thin butter knife to loosen an edge or two of each cube and pop them out. They're much easier to get out when fully frozen.
They melt fairly quickly, so try to get them out all at once. Any that you don't plan to eat can be stored in an air-tight freezer-safe container for future easting.
You'll never think of your ice cube tray the same way again! What fun things do you do with your ice cube tray?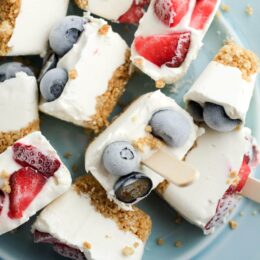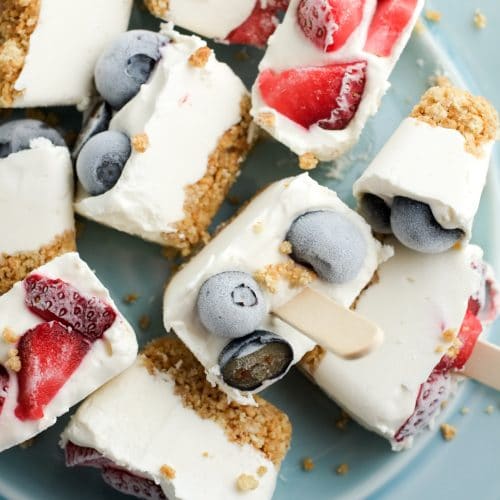 Ingredients
8

ounce

cream cheese, low fat

1/2

cup

Greek yogurt, plain

1

teaspoon

vanilla extract

1

teaspoon

lemon juice

2

tablespoon

honey

5

cracker (2-1/2″ square)

graham crackers

2

tablespoon

butter, unsalted

1/2

cup

blueberries
Instructions
Soften cream cheese to room temperature. Beat with an electric mixer until smooth.

Add Greek yogurt, vanilla, lemon juice, and honey to the mixer. Beat until smooth. Set aside.

Crush 5 graham cracker squares (2.5 full crackers) into crumbs. Melt 2 tablespoons of butter and combine to make a crust mixture.

Press small spoonfuls of the graham cracker mixture into the wells of an ice cube tray. Press down to create a thin but sturdy crust.

Spoon the cream cheese mixture on top to fill up each ice cube well and smooth with a spoon.

Top with berries (or other fresh fruit) and insert a popsicle stick 3/4 of the way into each "bite" (optional).

Freeze for 2+ hours, preferably overnight. Once frozen, remove by loosening a few sides with a thin butter knife and popping each cube out.

Freeze any uneaten cheesecakes immediately in a freezer safe container.