Fruity FroYo Bites deliver the goodness of yogurt and fresh fruit in a fun way, without added sugars.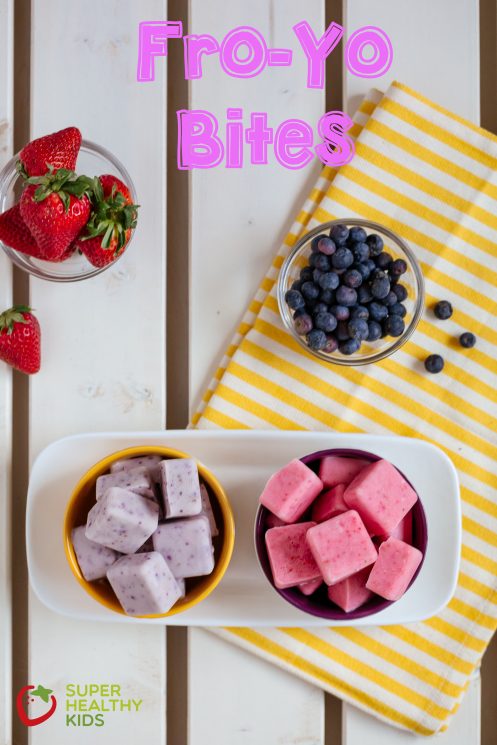 We love yogurt! It's filled with protein, calcium, and probiotics for healthy digestion. But commercially-available fruit-flavored yogurts are usually too heavy on added sugars for my liking. And I don't know about your kids, but mine sometimes shy away from chunks of fruit in store-bought yogurts. (Kids. I know.)
So we invented these fun and frosty FroYo Bites for a fruity yogurt that's much lower in sugar, and delicious to everyone–even those kids with texture issues.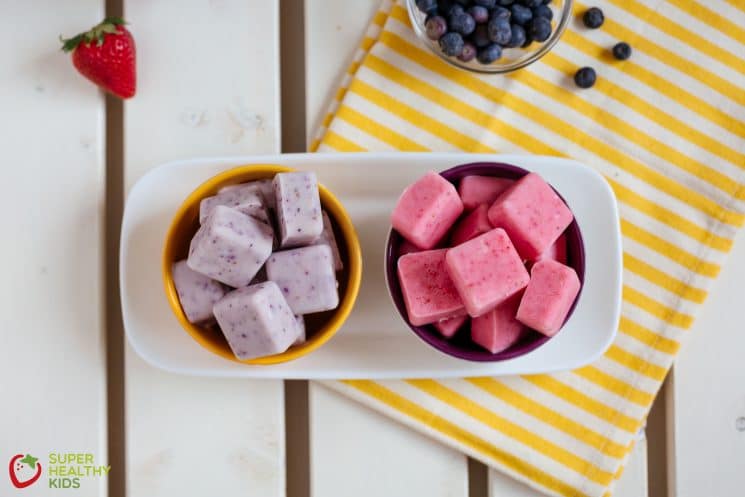 Making these frozen treats is super easy. We blended plain Greek yogurt with two types of berries (strawberries, then blueberres) and poured the flavored mixtures into ice cube trays. (We used these trays, for perfectly square treats.) Then we froze them for a couple of hours, and they were ready to eat!
Here's a tip: don't freeze them all day long, or they'll be too solid to bite through. For soft and creamy Froyo Bites, two-three hours is perfect. If they DO freeze all the way through, just let them rest out of the freezer for a few minutes before serving. They'll soften right up.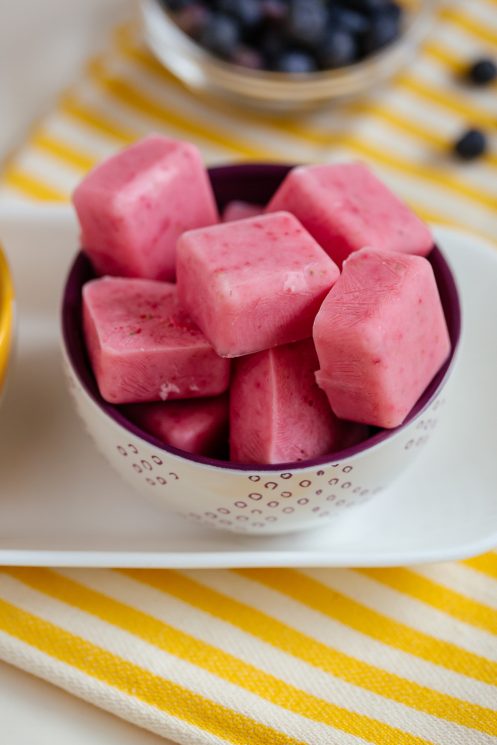 We love eating these just like they are, but they're also yummy dipped in toppings. We put a toothpick through the middle, then tried ours in homemade granola, wheat germ and flax seeds. Wheat germ was actually our favorite! We didn't get to try crushed almonds, but I bet they would be delicious, too.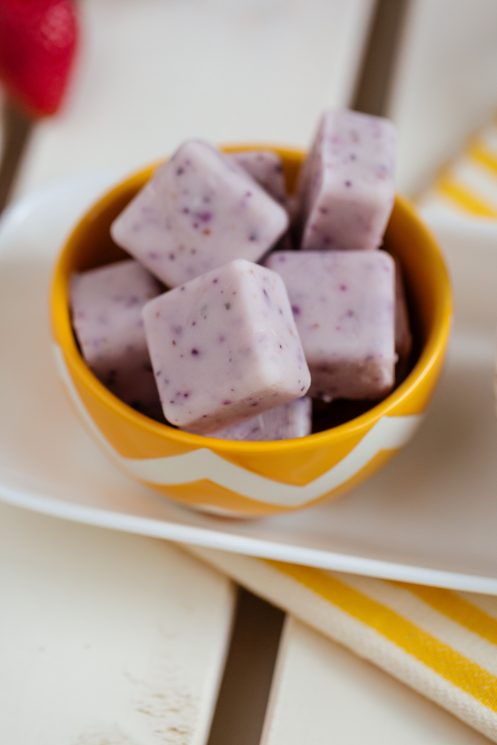 Any way you serve them, these make a fun and healthy frozen treat on a hot day.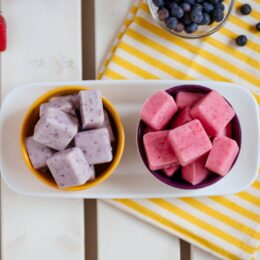 Ingredients
Pink
1

cup

yogurt, plain

1

cup

strawberries
Purple
1

cup

yogurt, plain

1

cup

blackberries
Instructions
For pink, blend plain yogurt and strawberries together in a food processor or blender.

For purple, blend plain yogurt and blackberries or blueberries together in a food processor or blender.

Using a piping bag or small spoon, scoop yogurt into a mold or ice cube tray. Freeze until ready to eat.

Makes 10-12 'cubes' of each flavor.