Dish out your favorite dipper, and bite into one of these crunchy homemade fish sticks! Tender, protein-rich fish sticks are coated with a crispy breading and a surprise ingredient for extra nutrition!
Did you know? You don't have to be a bearded man in a yellow poncho to serve up crispy, crunchy, and tender fish sticks!
It's true. If you have 30 minutes and a pound of white fish, you're well on your way to making this frozen-food classic, right in your own kitchen.
Nowadays, you can actually buy decent bakes fish sticks in the freezer aisle. But when you make fish sticks yourself, you'll have the pleasure of eating the very freshest-tasting fish, the nutrition of homemade breading (power-packed with flaxseeds!) and the pride of serving your kids a from-scratch meal.
So let's add this one to the meal plan, shall we?
Fish Sticks Fit for Kids
Kids and seafood go great together, for oh-so-many reasons. Fish is high in protein and omega-3 fatty acids that support healthy brain development and cardiovascular health, too. (Maybe you're not thinking about heart-healthy foods for your toddlers just yet. But when we make heart-healthy foods normal for kids, we prepare them for a lifetime of heart-healthy choices.)
These crunchy fish sticks have a texture that kids find irresistible: crispy on the outside and tender, mild, and easy-to-chew on the inside. Even toddlers who are still learning to become proficient at chewing can nibble on these tasty sticks (just make sure they're cool enough.)
If your kids need a little enticement to dig into this fish dish, don't underestimate the power of a good dip. Let them pick a flavor (or two) and watch those fish sticks disappear.
How to Make Homemade Fish Sticks
If you've made your own chicken tenders before, you'll be a pro at making homemade fish sticks. Set up a little assembly line for yourself to get started. That way, you can be super-efficient at cook-time. Here's what you'll need in the lineup:
First dish: egg and pepper
Second dish: flaxseed, breadcrumbs, Old Bay, Parmesan, and salt
Third dish: a large empty plate for placing prepped fish sticks before cooking.
Move through your assembly line with each piece of fish (it's OK to move a couple of fish sticks into each bowl at a time, if it helps you move faster.) When all the fish sticks are breaded, begin frying them in a skillet lightly coated with avocado oil or olive oil.
About four minutes per side gets the breading nice and crispy, and the fish flaky and tender. As soon as they're done cooking, serve them up! Offer them alongside a steamed veggie and your kids' favorite dippers, like barbecue, honey-mustard, tartar sauce, or ketchup.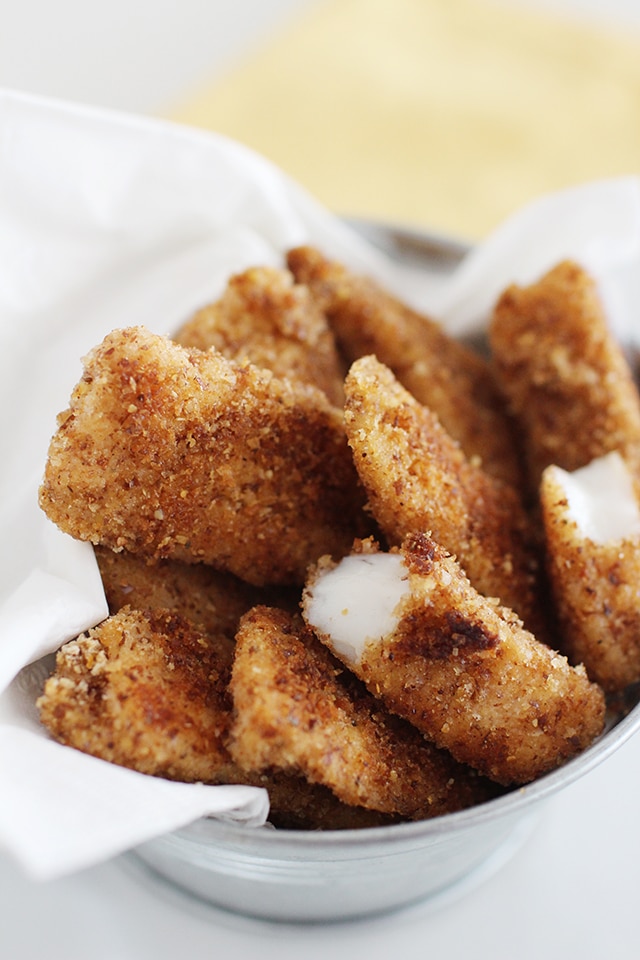 Ingredients
16

ounce

white fish fillet

2

large

egg white

1/4

teaspoon

black pepper, ground

1/4

cup

flaxseed, ground

2

teaspoon

Old Bay Seasoning

1/4

teaspoon

salt

1/2

cup

bread crumbs, plain

1

ounce

Parmesan cheese, shredded

1/4

cup

oil, avocado
Instructions
Cut fish into strips; set aside. Whisk together eggs and pepper in a shallow dish. In a separate shallow dish, combine the flaxseed, Old Bay Seasoning, salt, breadcrumbs, and Parmesan cheese; blend well.

Coat fish sticks in egg wash, allowing excess to fall off fish; then, dip in bread crumb mixture, coating both sides. Place onto a clean dish until ready to cook. Continue until all fish sticks have been coated.

Heat 1/8 cup of oil in a large skillet over medium-high.

Place half the fish (or less if you are using a smaller skillet) into skillet in a single layer. Cook on each side for 4 minutes, allowing to brown evenly. Set aside and cover to keep warm. Add more oil to the skillet as needed, allowing to reheat before cooking remaining fish sticks.