Crispy Baked Parmesan Chicken Strips Recipe
Looking for a chicken strips recipe that is still crispy even though it's baked? We found it!
Chicken strips are a favorite for kids. With all our dinner ideas, the ones that resemble fast food, portable, finger food tend to get the most acceptance! The problem with chicken nuggets you get from a fast food restaurant, is that it's usually not just chicken. They have lots of salt and other preservatives. They are also deep-fried, which makes them less healthy.
Our chicken strips (or chicken fingers) are made with 100% whole ingredients. And they are baked, not fried! So not only do you get the benefit of the kids loving dinner and asking for more, but you can feel good about serving them something healthy!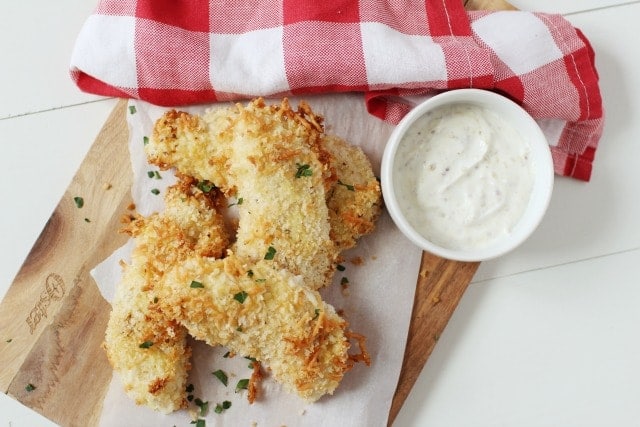 The Benefits of Chicken
We used chicken breast strips in this recipe, but it's also amazing with chicken thighs! Chicken is a great source of protein for kids. Just 3 ounces of chicken has almost 25 grams of protein. Kids don't need that much protein in a day. A good rule of thumb is 0.5 grams per pound of body weight. So, a 50-lb child only needs about 25 grams of protein.
Unlike plant based proteins, chicken has all the essential amino acids that we must get through food. Essential amino acids are the building blocks of muscles, cells, organs, and tissues in our body. We can make non-essential amino acids ourselves, but the essential ones must come through food. To get these through plant sources, kids need to eat a variety of plants (or soy). Which of course is a good thing, but it's also nice to be able to eat chicken and know that it's all present.
Chicken is also a great source of other vitamins and minerals essential for growing kids! Vitamin B6, Niacin, and selenium all play a vital role in development and maintenance, and are all found in chicken.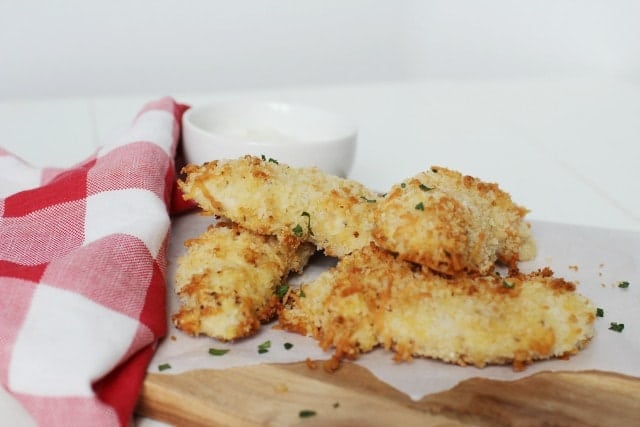 Chicken strips vs. tenders vs. tenderloin vs. breasts
We're all familiar with the many different cuts of beef, but with chicken, we usually group them into breasts and thighs. But there is so much more!
Chicken strips: These aren't exactly a specific part of the bird, but a chicken strip generally refers to a cut of the chicken breast meat that you can use in a recipe. Most people will purchase a breast and cut it themselves.
Chicken tenders: These are actually the underside of the breast, known as the "tender". They are smaller than the breast, and you can purchase them packaged this way. Buying the tenders makes recipes like these homemade chicken strips much easier to cook! No cutting required and they are the perfect shape.
Chicken tenderloins: These are the same as chicken tenders. Many people use the term interchangeably.
Chicken breast: The largest part of meat on the chicken, the breasts are full of meat and can be used to make many dishes. Many people like to cook with the breast because it doesn't contain any bones, like the thighs do. Because of the lack of fat in the breast, they tend to get dry if you aren't using a meat thermometer to cook it to the proper temperature (165 degrees F).
Chicken thighs: The thighs are the juiciest meat on the chicken. It's actually our family's favorite chicken cut to purchase, because it's always moist, no matter how badly I mess up a recipe or cook it too long!
Chicken drumsticks: The drumstick (or the leg) is attached to the thighs. It has less meat, and always comes with the bones. Kids love drumsticks because they can hold onto it and eat around the bone.
How to purchase healthy chicken
Chicken can be a healthy option, just by following a few simple strategies I use when I'm purchasing meat. So many packages for meat will claim "all-natural", but they basically all say this! So, when looking at labeling guidelines, which should you purchase?
Ingredients: Chicken can be injected with preservatives, salt, chemicals, and so many things! The first thing I do is look for an ingredient list. If there is a "list" than I move on. Fresh chicken only contains chicken.
Organic: If it's affordable, organic is a good option because the chickens weren't raised with hormones or antibiotics. This is important for kids, especially with the overuse of antibiotics. Just so you aren't spending money where you don't need to, hormones are actually NOT allowed in raising poultry in the United States! (source)
Free-range or cage free: This really doesn't mean your chicken was given a good home. Don't let this term persuade you to purchase. The official guideline is that the chicken has "been allowed access the outside". Was it once? Was it just a few minutes per day?
Fresh Poultry: This term means the meat hasn't been frozen. While this doesn't affect the health of the meat, from a taste standpoint, you might like the "never been frozen" label. If you are going to put your chicken straight into the freezer, it's nice to know that it hasn't been frozen, defrosted, and frozen again.
Natural: A product containing no artificial ingredient or added color and is only minimally processed. Minimal processing means that the product was processed in a manner that does not fundamentally alter the product. The label must include a statement explaining the meaning of the term natural (such as "no artificial ingredients; minimally processed"). (source)
So, we hope you enjoy these chicken strips!  Let us know what your kids think!
Crispy Baked Parmesan Chicken Strips
Looking for a chicken strips recipe that is still crispy even though it's baked? We found it!
Instructions
Preheat oven to 400 degrees F. Line baking sheet with parchment paper, or grease with olive oil.

Cook the rice as directed on package.

Heat oil in a skillet over medium. Once hot, add panko breadcrumbs and lightly toast. Stir constantly for 5 minutes, until lightly browned.

Remove from skillet and pour onto a plate. Add shredded Parmesan, oregano, pepper and salt. Gently toss together and set aside.

Whisk egg, mustard and water in a medium sized bowl until fully combined; set aside.

Add flour to another dish of similar size.

Place these dishes in order of dredging: flour, egg, breadcrumbs, and lastly the prepared baking dish to set the coated chicken onto.

Cut chicken into strips. Dip each strip into the flour, then the egg, and then gently add to the panko, pressing mixture onto the chicken. Place onto baking sheet. Spray chicken strips with cooking spray. Bake for 15 minutes, or until no longer pink in the center.

While the chicken cooks, whisk the yogurt, Dijon and honey together in a small dish. Cover and keep in the refrigerator until ready to serve as dipping sauce.

Cut carrots and celery into sticks.

Serve chicken with rice, veggies sticks and grapes.
Nutrition
Calories:
601
kcal
|
Carbohydrates:
81
g
|
Protein:
40
g
|
Fat:
12
g
|
Saturated Fat:
4
g
|
Cholesterol:
137
mg
|
Sodium:
395
mg
|
Fiber:
5
g
|
Sugar:
19
g
www.superhealthykids.com
Another recipe for chicken nuggets is our Toddler perfect chicken nuggets. These are perfect for toddlers because the meat is blended up to make it easier for kids to chew!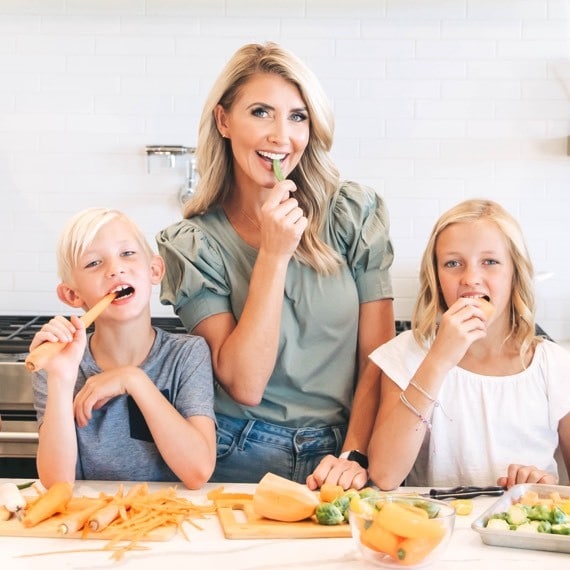 Natalie Monson
I'm a registered dietitian, mom of 4, avid lover of food and strong promoter of healthy habits. Here you will find lots of delicious recipes full of fruits and veggies, tips for getting your kids to eat better and become intuitive eaters and lots of resources for feeding your family.
Learn More about Natalie