Green Bean Casserole Makeover
Green bean casserole! Does it remind you of your childhood? I know when I was growing up, it was very popular! The recipe was ALWAYS printed on the fried onion can or the Campbell's creamed soup cans. It was an easy way for our parents to get some veggies on the table every night! Unfortunately, that popular old recipe isn't quite as healthy as it could be! Our recipe is healthier and just as simple as the traditional one.
I feel like a huge obstacle in feeding our kids more vegetables is simply boredom. I can't tell you how often I serve broccoli and carrots! Let's just say, it's a lot! So, I hope to offer more recipes where vegetables or fruits are the star of the dish. And we are going to start with Green Beans! This green bean casserole I used frozen green beans, but they certainly tastes more fresh than frozen for sure. We love our fresh green beans, but in the middle of winter, I'm so glad that we have frozen. Simply cook the ingredients in a skillet until warmed through.
Pour all vegetables in a casserole dish and sprinkle bread crumbs and parmesan cheese on top. We topped our green beans with bread crumbs, to make that traditional crunchy top! You can make your own bread crumbs! Bake at 375 degrees.
Green beans are a great veggie to include in your families diet! Green beans are a good source of :
Copper
Vitamin B1
Chromium
Calcium
Potassium
Niacin
and even protein!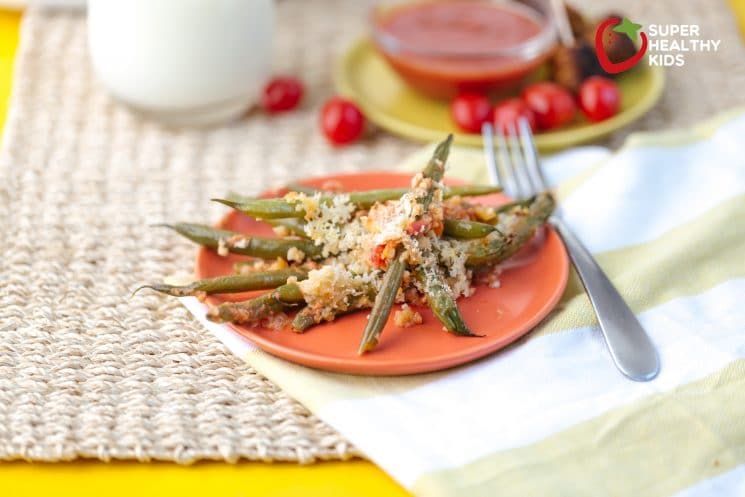 So, there you have it! Variety is the spice of life, right?
Ingredients
1

cup, chopped

onion

1

teaspoon

olive oil

4

cup

green beans

14 1/2

ounce

diced tomatoes, canned

2

tablespoon

mayonnaise, light

1/4

teaspoon

garlic powder

1/4

teaspoon

salt

1/2

cup

bread crumbs, plain

1/2

cup

Parmesan cheese
Instructions
Chop onion. Drain can of diced tomatoes.

Saute onion in olive oil in a skillet until onion is cooked and tender.

Add remaining ingredients to skillet. Cook until warmed through.

Pour all vegetables in a 2 quart casserole dish and sprinkle b

read crumbs a

nd parmesan cheese on top.

Bake at 375 degrees or just until bubbly (about 15-20 minutes).
Nutrition
Calories:
205
kcal
|
Carbohydrates:
27
g
|
Protein:
8
g
|
Fat:
9
g
|
Saturated Fat:
3
g
|
Cholesterol:
14
mg
|
Sodium:
643
mg
|
Fiber:
6
g
|
Sugar:
9
g