Kid-Friendly Protein Waffle
You've never tried waffles like this before! Whole-food, high-protein eggs cook right on top of waffle batter to make a kid-friendly, all-in-one breakfast.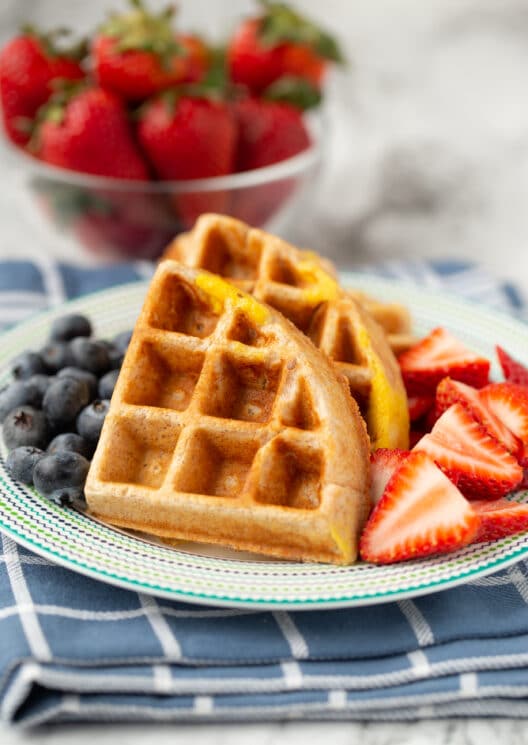 Breakfast ruts are real, and no fun at all. Cereal? Had it yesterday. PB toast? The day before that. Scrambled eggs? Potential whining ahead.
We know it's important to send our kiddos out the door having eaten a balanced breakfast, so here's a way to shake things up at your morning meal, while still achieving balance: Kid-Friendly Protein Waffles!

In these easy, fun-to-make waffles, a whole egg is cracked on top of the batter you add to the waffle iron, creating a crazy-creative hybrid of waffles and eggs that comes out with the familiar waffle-iron shape.

Top these waffles how you would an ordinary waffle: with fresh fruit, a bit of pure maple syrup, or honey. Three cheers for a healthy, balanced breakfast!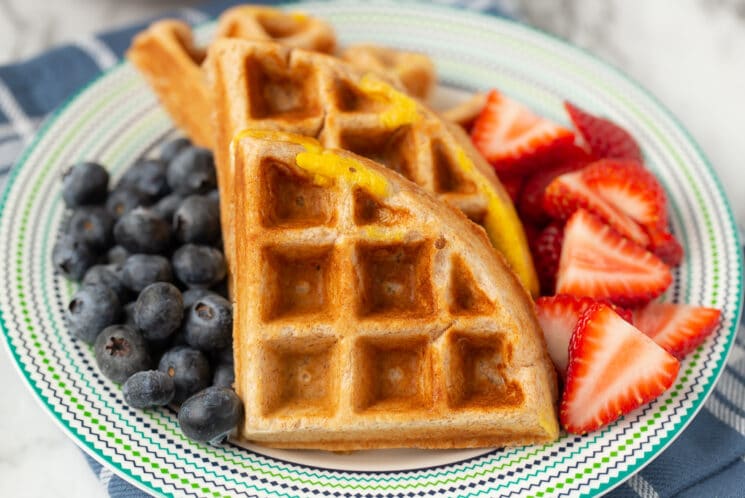 Protein for Picky Eaters
Kids, especially young ones, can be particular about their protein. If you can't entice your kids to eat scrambled eggs or egg cups (delicious as egg cups may be) this waffle may be the ticket to getting your kids into eggs.

The texture and flavor of the egg blends in well with the waffle it's cooked with, and of course, a teaspoon of pure maple syrup or a handful of fresh juicy fruits can inspire picky eaters even more.

Tempting as it may be to try to conceal the fact that there's an egg on top of your picky eater's waffle, we recommend you tell them straight what they're eating. Not only will you build trust, you'll also give them a chance to revise their opinion about eggs.

And remember never to give up. It can take years for kids to come around to non-preferred foods, but as long as you keep offering nutritious foods, your kids will become balanced eaters.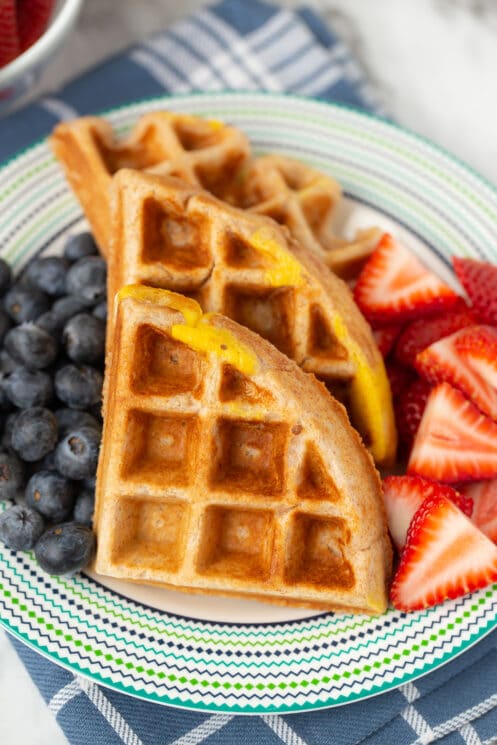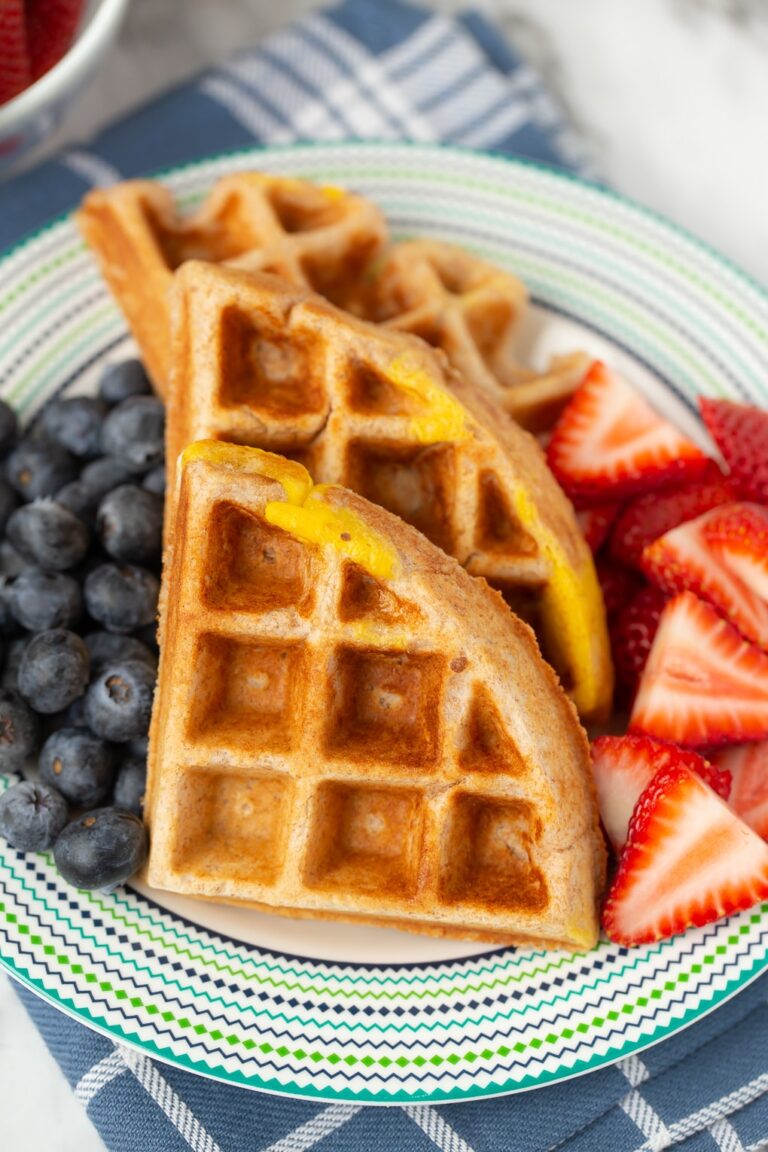 A High-Protein Waffle Unlike Any Other
You can add a scoop of protein powder to your regular waffle batter, if you like. But when it comes to helping our kids get balanced nutrition, nothing beats whole foods.

Protein-rich eggs in this recipe provide an extra 6-7 grams of protein per waffle. And there's more to eggs than their protein: important nutrients like choline (for healthy brain development) and lutein (for healthy eyes) abound in eggs.

You might not spend much time thinking about these uncommon nutrients, but you really don't have to! Just focus on whole food ingredients, and your kids will get the whole nutritional package.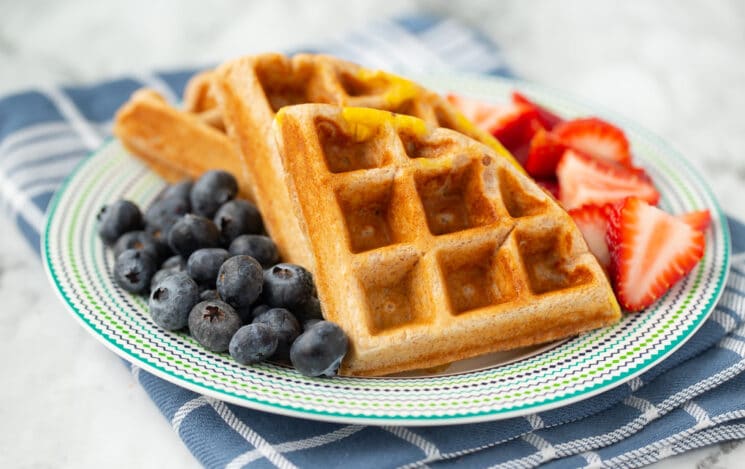 Tips for Making Great Protein Waffles
If you've made regular waffles before, you're already on the road to making successful protein waffles. Here are a few special tips that will help these eggy waffles turn out great.
Add a little less waffle batter to the iron than usual. This might seem obvious, but if you try to scoop a generous amount of batter on top of the egg, you'll be dealing with overflow.
Do break the egg yolk with a fork, but be gentle with your waffle iron. Nonstick surfaces on most waffle irons can scratch easily, causing them to lose that all-important nonstick quality.
If you have a favorite waffle batter recipe, feel free to sub it in, and just borrow our trick of an egg on top. It will work!
If you're worried about first impressions with picky eaters, serve the waffles upside down. Remember: you're still letting them know there's egg in their waffle. But this gentle introduction might inspire them to take that first bite.
Try freezing cooked waffles for an even quicker breakfast. Cool the waffles on a rack completely, then slip them into a gallon freezer bag with a piece of parchment paper between each waffle to prevent sticking. Freeze, then reheat later in the toaster oven.
More Rut-Busting Breakfast Ideas
Breakfast never has to be boring. We've got loads of ideas! Try more high-protein breakfast ideas like an Egg in a Basket, Breakfast Egg Bars, or these Ricotta-Filled Crepes.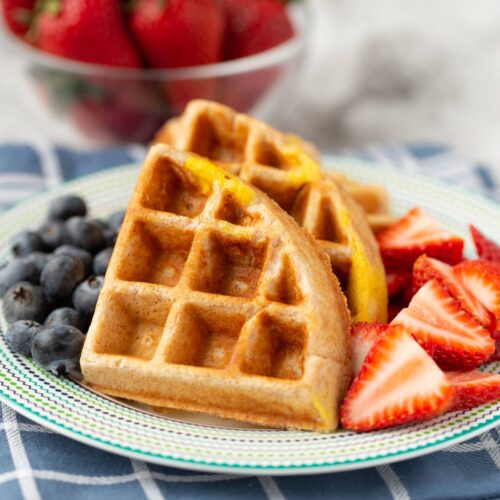 Kid-Friendly Protein Waffle
You've never tried waffles like this before! Whole-food, high-protein eggs cook right on top of waffle batter to make a kid-friendly, all-in-one breakfast.
Print
Pin
Rate
Ingredients
3/4

cup

flour, whole wheat

1

teaspoon

baking powder

1/4

teaspoon

salt

1/2

cup

milk

1/4

cup

Greek yogurt, plain

2 1/2

tablespoon

olive oil

1

tablespoon

honey

1/2

teaspoon

vanilla extract

4

large

egg
Instructions
Preheat waffle iron and spray with cooking spray.

Combine the first 3 ingredients into a bowl.

Add the remaining ingredients (except the eggs) into a separate bowl. Whisk together.

Slowly add the dry ingredients to the wet ingredients and whisk just until combined; do not over mix.

Crack an egg into the waffle iron; break the yolk with a fork. Then pour 1/3 cup batter over the egg (or enough batter to fill your iron.)

Cook 3-4 minutes or until egg is cooked and waffle is golden.

Repeat with remaining eggs and batter.
Nutrition
Calories:
323
kcal
|
Carbohydrates:
37
g
|
Protein:
12
g
|
Fat:
15
g
|
Saturated Fat:
4
g
|
Cholesterol:
191
mg
|
Sodium:
240
mg
|
Fiber:
3
g
|
Sugar:
18
g