This Breakfast Egg Cups Recipe is the perfect breakfast on-the-go. Make them ahead of time, refrigerate or freeze them, and then heat them in the microwave when you are ready to eat!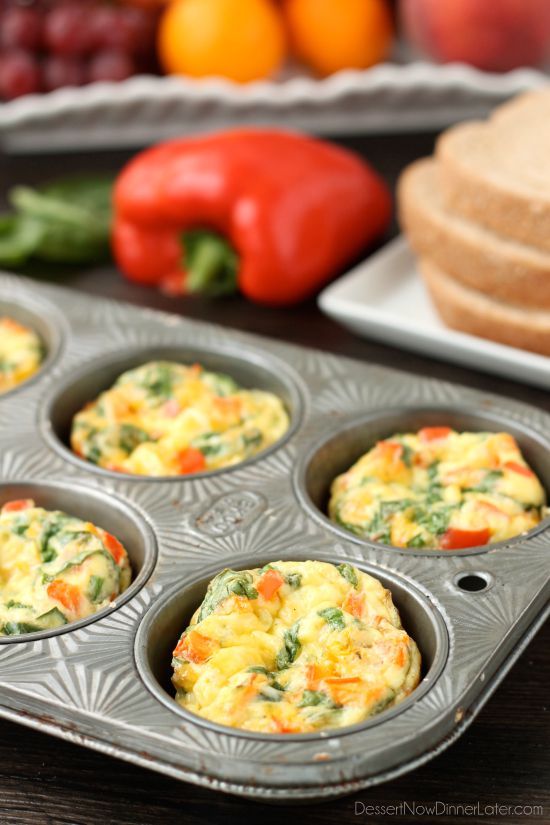 Is school starting already?! Didn't summer just begin?! I guess it's time to start thinking about some fast breakfasts for those crazy school day mornings.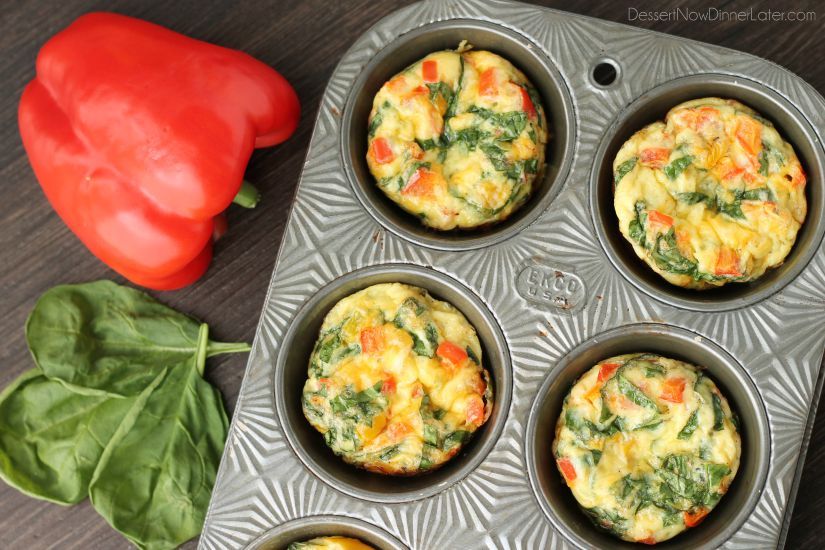 I have a first grader, preschooler, and 2 month old baby. My husband leaves for work before we get up, so I am on my own to get the kids ready. Mornings are a bit tricky to say the least.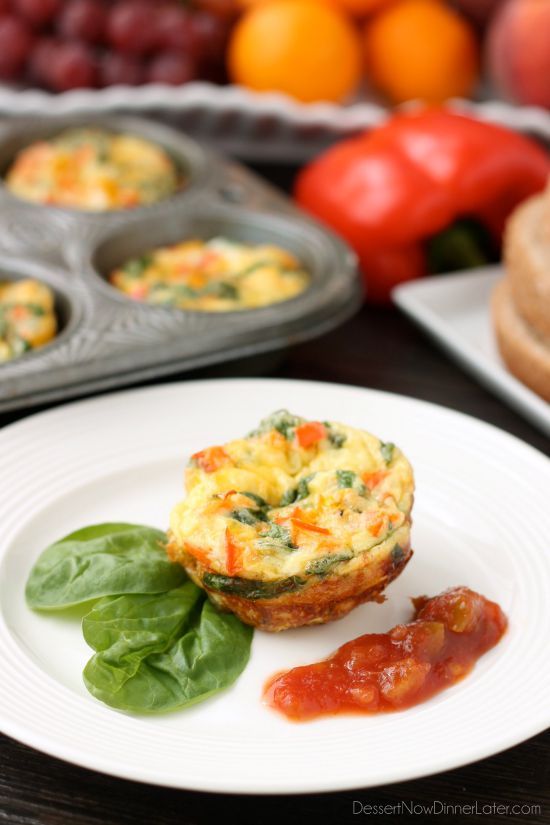 Since my kids are so young, and it's a 3-to-1 battle on school mornings, I am all for prepping anything I can the night/weekend before. Saturday's pancakes become weekday breakfasts. Sandwiches are made for lunch the night before, and these breakfast egg cups can be made and refrigerated or frozen ahead of time as well.  Perfect for those busy school day mornings!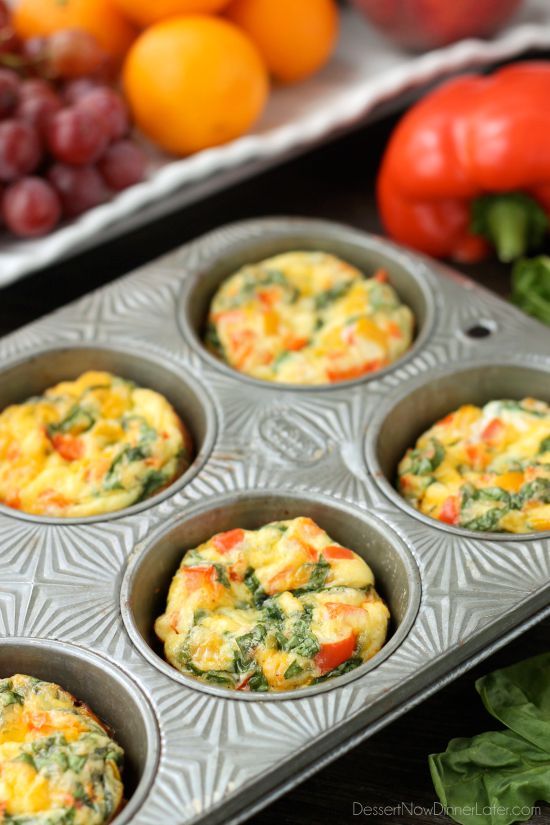 Leftover veggies will never go to waste if you use them in these breakfast egg cups. I used a red bell pepper and spinach for the bright colors. I think it gives these egg muffins a "confetti" look. After all, we eat with our eyes and kids are drawn to the bright colors. A little sprinkle of cheese is delicious too!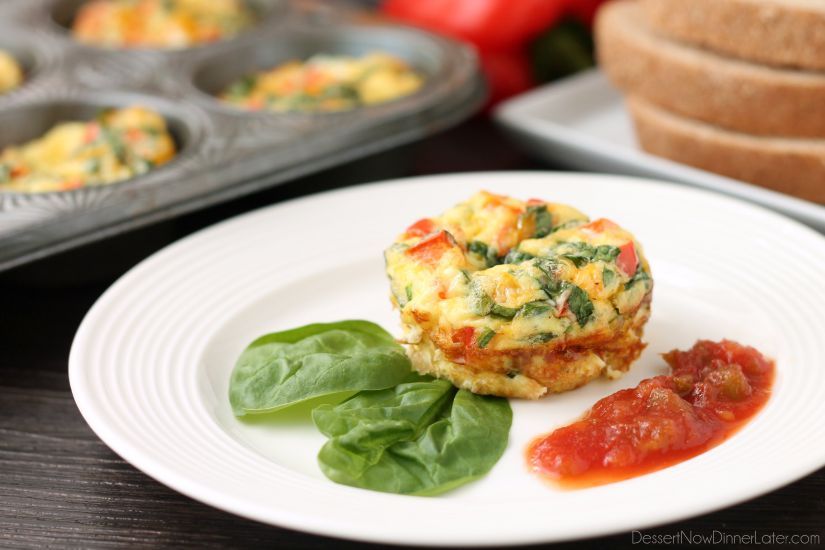 Our favorite way to eat these breakfast egg cups is with salsa or ketchup, but you can totally heat and eat them on the go! Everything is portioned out and ready to munch on. You can also serve them on a colorful muffin liner. You should definitely add these to your breakfast menu!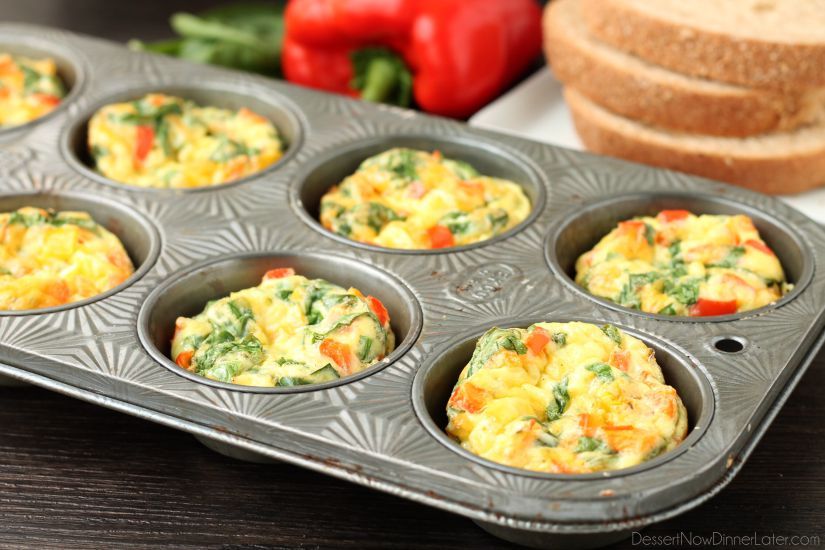 If you're looking for more portioned, make-ahead breakfasts, then you have to try my TROPICAL OVERNIGHT OATS.
Amber is a wife and mother who loves to eat her dessert first! She started her blog, "Dessert Now, Dinner Later" in 2011, as a way to keep up with her skills as a culinary graduate while being a stay-at-home mom. Amber's blog is a place for her to share her best recipes, tips, tricks, and tutorials, to help you be an outstanding home cook with culinary know-how.