Easy Weeknight Veggie Gnocchi Recipe
A healthy and delicious meal in just 20 minutes! Whole wheat gnocchi cooked in an easy and flavorful veggie tomato sauce. Veggie gnocchi is sure to become a favorite weekday go-to for your family.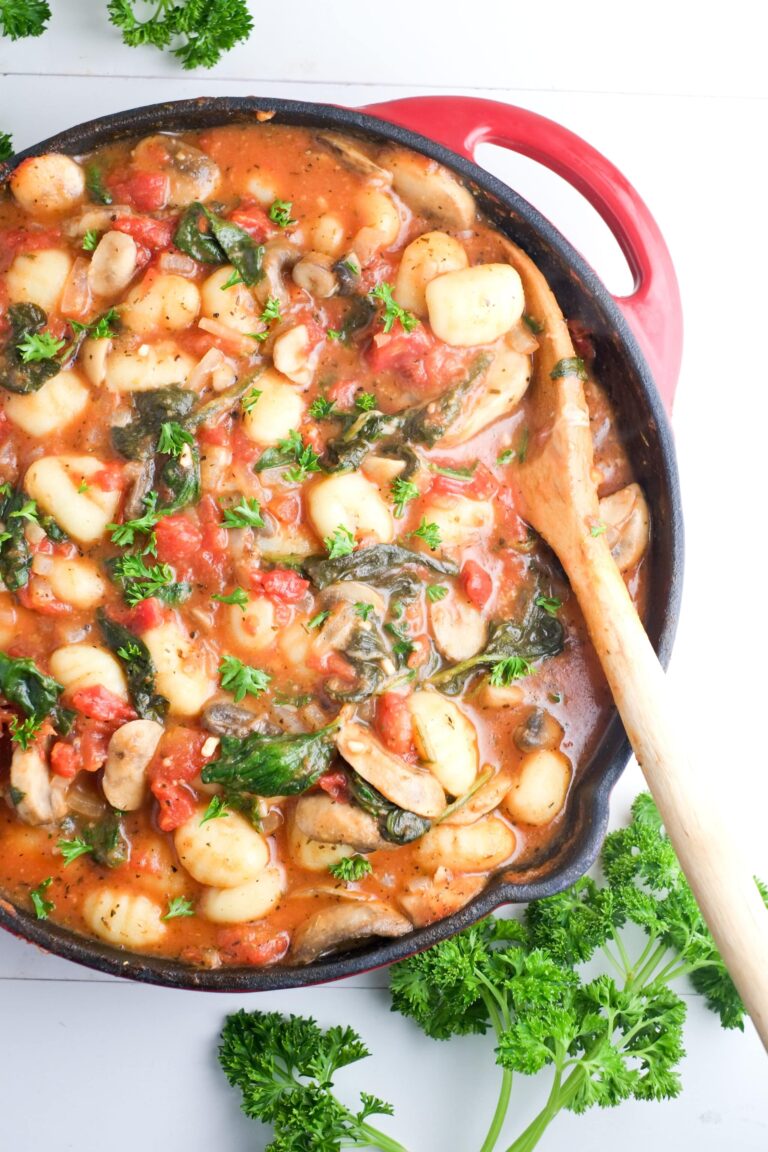 Gnocchi is not something I've had very often in my life. It's delicious, but not something you often think of to make. Here's your reminder that it exists! And an easy, healthy, and delicious way to prepare it.
If you've never had gnocchi before, they're a sort of Italian pasta-dumpling. They're made of potatoes with some wheat to hold them together. They have a soft, chewy, gummy texture.
A QUICK AND HEALTHY DISH
In college, I actually helped a friend make the actual gnocchi from scratch. It's fun and therapeutic, but definitely time consuming – not something I want to do on a regular basis. (Do try it if you're up for it though!).
Luckily you can buy pre-made gnocchi, which is what we used for this recipe. We even found whole wheat gnocchi! This stuff is amazing because it's cooked in literally 3 minutes.
This gnocchi dish is also great because it's packed with veggies. Mushrooms, spinach, and tomatoes. It makes for a nice summer dinner – either as a vegetarian main or alongside some grilled chicken.
Plus, you need only 10 ingredients — and that's including salt! And most of them are things that are easy to keep stocked for a last minute dinner option. Olive oil, onion, mushrooms, garlic, diced tomatoes, Italian seasoning, salt, spinach, gnocchi, and parmesan. (Hint: frozen spinach works great!).
MAKE FLAVORFUL Veggie GNOCCI
The first step is to prep your veggies. For this recipe, that means chopping half an onion and mincing three cloves of garlic. That's it!
Heat a large skillet or even a wide pot on the stove at medium high. Spread two tablespoons of olive oil around the skillet, then add the onion and an 8 ounce package of pre-sliced mushrooms. Sauté for 4-5 minutes, until the onions begin to go translucent. Add the minced garlic and stir for 30 seconds.
Now add a 28 ounce can of diced tomatoes, juice and all, as well as a teaspoon of salt and a tablespoon of Italian seasoning. Bring the tomato mixture to a boil.
Add two cups of spinach (or more if you can fit it) and carefully mix it in until it mostly wilts. This takes about 3 minutes. If you have a lid, placing that on top can help the wilting go more quickly.
Once the spinach has wilted enough to make room, add your gnocchi. Stir the gnocchi into the sauce and simmer for 3-4 minutes, until gnocchi has softened.
For a final tasty touch, mix in half a cup of parmesan cheese.
Serve warm as a vegetarian main dish or next to grilled chicken for a more protein-packed meal.
Ingredients
1/2

medium

onion

2 1/2

cup, pieces or slices

mushrooms, white

3

clove

garlic

2

tablespoon

olive oil

28

ounce

diced tomatoes, canned

1

tablespoon

Italian Seasoning

1

teaspoon

salt

2

cup

spinach

16

ounce

Gnocchi

1/2

cup

Parmesan cheese, grated
Instructions
Dice onion and slice mushrooms (if not pre-sliced). Mince garlic.

Heat a large skillet with high sides (or stockpot) over medium heat. Add olive oil and saute onions and mushrooms until the onions begin to go translucent (4-5 minutes). Add garlic and saute for another 30 seconds.

Pour in diced tomatoes (including the juice) and add Italian seasonings and salt. Add 2 cups of spinach and carefully stir.

Once spinach wilts, add uncooked gnocchi and stir together. Simmer for 3-4 minutes, until the gnocchi is cooked. Stir in Parmesan cheese and serve warm.