We "hide" veggies in an effort to increase the nutrients of our dishes. Not with the intent of tricking the kids. We do this by talking with our kids about what is in their food and why! For this Beet Berry Jam for example, I would say to my kids:
This jam is a great spread for your sandwiches and toast! Not only is it loaded with antioxidants from the fresh berries, but it also has beets- which are so amazing for helping you clean out all the gunk in your body! (natural detox).
I love Carla from MizFit's approach she wrote about on her blog. She said instead of talking with her daughter about which foods are healthy or not- they talk about which foods have benefits and which ones don't! They call them "Foods with Benefits"! (post here)
So, this is our JAM WITH BENEFITS!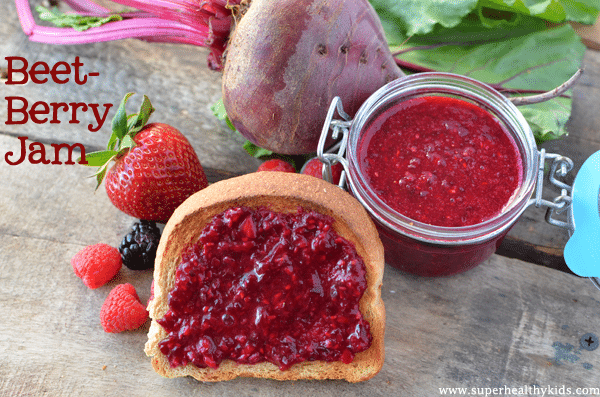 We started with fresh berries. We chose raspberries, blackberries, and strawberries.
Then, we cut up a cooked beet. I placed it in the oven wrapped in foil, at 350 for about 90 minutes. Once cooked, it was easy to slice up.
We used some Sugar Free Pectin as a thickener, as well as some organic stevia to make it more sweet like commercial jam.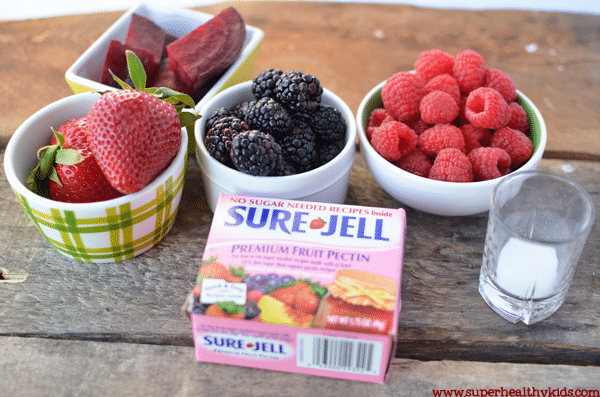 We mashed our fruit and beets in a food processor- The pulse setting and only a few times. We wanted our jam to stay a bit chunky. If you don't have a food processor, you could also use a potato masher.
Then, when we had about 3 cups of mashed beets and berries, we placed it in a saucepan and brought it to a boil with 3/4 cup water. 1 packet no-sugar needed pectin, and 1 teaspoon stevia. After boiling for 1 minute, we removed from heat. At this point, just let it cool. Store in the fridge for sandwiches and toast! (Full printable recipe below)
Now, I don't know about you, but any time I can make a common food that my kids eat a lot a bit healthier- I WILL! This jam has less sugar than the commercial variety. It's cheaper than the "no-sugar jams" you purchase at specialty stores, and it has the added benefits of the beets! Bonus for pregnant moms- Beets are a natural source of folate!
Serve with eggs for a balanced breakfast! We've got fruit, vegetables, grains, and protein! 🙂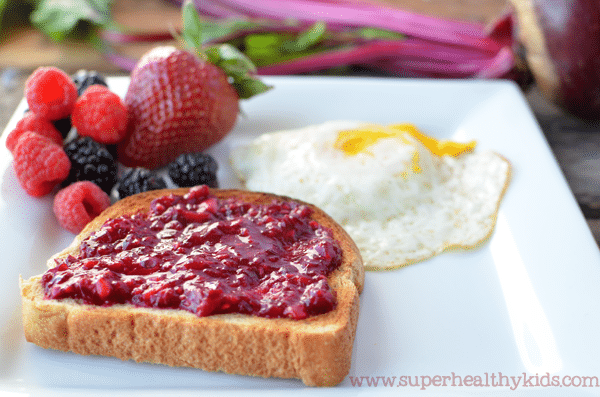 Let us know if you try it! I can 99% promise your kids will enjoy this jam as well as they like traditional jam. And you can let them know it's extra special because it's: Jam with Benefits!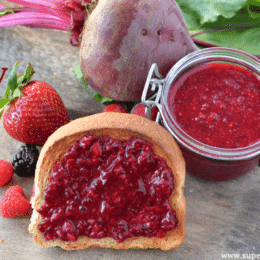 Ingredients
3

cups

mashed berries and beets.  i started with 1 cup each of strawberries, beets, raspberries, and blackberries

3/4

cup

water

1

packet

sure jell pectin

no sugar needed variety

1

teaspoon

stevia
Instructions
Mash your berries and cooked beets by using a food processor or a potato masher. Leave it a bit chunky, not too smooth.

Place all fruit/beets in a saucepan.

Add stevia, water, and pectin.

Bring to a boil, and boil for 1 minute.

Remove from heat and allow to cool.

Store in the fridge for up to 7 days. If you want to store it longer than that, follow the directions for canning fruit jams.