Almond Butter Banana Sushi Recipe
Snack time has never looked so good! Make your kids banana sushi with their favorite nut butter and toppings for a healthy, filling snack. It is fun to make and fun to eat!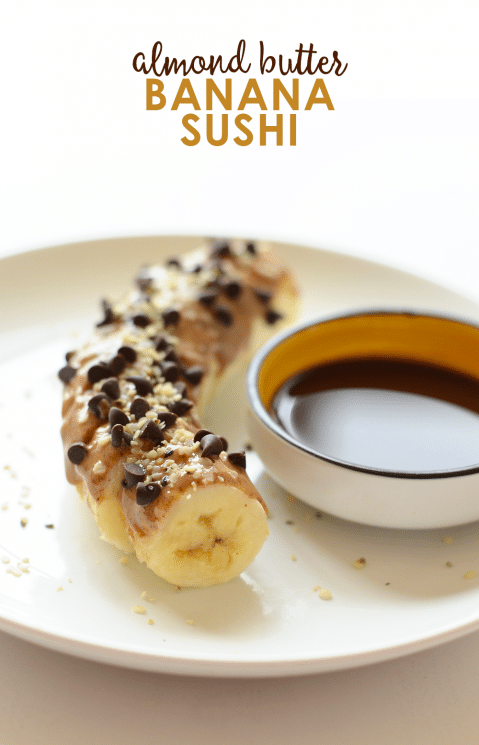 As a grown adult, I'm constantly trying to find ways to be creative with my snacks. I often find myself thinking about the things I would have wanted to eat as a child. While REAL sushi definitely wasn't one of those things, banana sushi was! Bananas are sweet and yummy, and with fun toppings make a tempting snack for kids. The combination of the carbs in the banana, and the protein from the nut butter is a snack that will keep your kids going strong for a long while! We love to serve this snack in the afternoon so that it tides them over until dinner.
Banana + Nut Butter + Toppings = LOVE
Really, you can't go wrong with this Almond Butter Banana Sushi Recipe. Even the pickiest of eaters will gobble this up! It can also be a great dessert! You can mix up the toppings for a fun after dinner treat!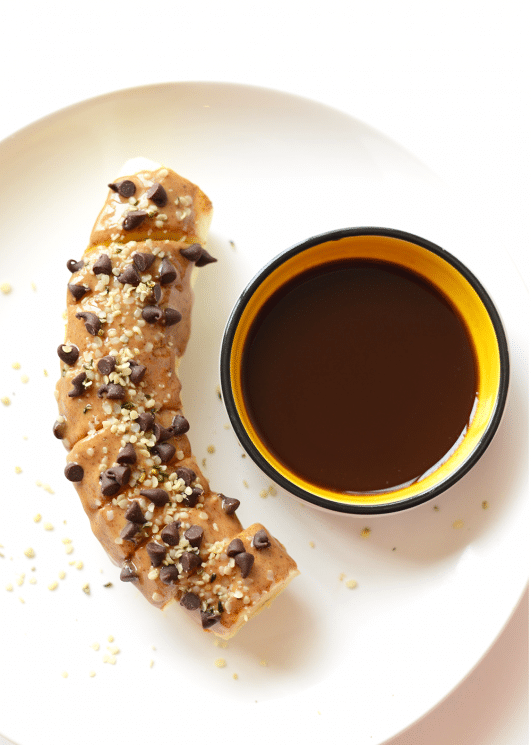 For this banana sushi recipe I used almond butter, hemp seeds, and dairy free chocolate chips. If your child has an allergy to a certain nut or any of the toppings, you can easily sub for another! If your child is allergic to nuts, sunbutter made from sunflower seeds is a super yummy alternative to almond or peanut butter.
This is also a great snack to work on hand eye coordination and teach the kiddos how to use chopsticks! They will thank you later in life.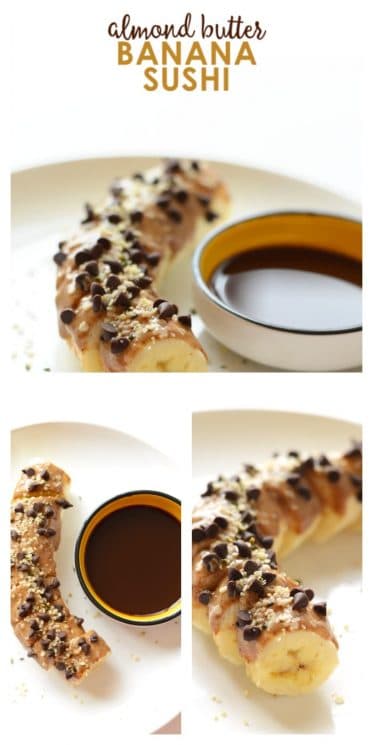 Lee Hersh is the writer and photographer behind the healthy food blog, Fit Foodie Finds.
Ingredients
1

medium

banana

2

tablespoon

almond butter

1/2

tablespoon

hemp seeds

1/4

cup mini chips

chocolate chips, semisweet
Instructions
1.  First, peel your banana.

2.  Then, cut off the two ends.

3.  Spread 1 to 2 tablespoons of almond butter on top of your banana and then sprinkle with hemp seeds and chocolate chips.

4.  Slice and serve!

Optional: mix together 1 teaspoon coconut oil (melted), 1 teaspoon maple syrup, and 1 teaspoon cocoa powder for a dipping "soy" sauce.