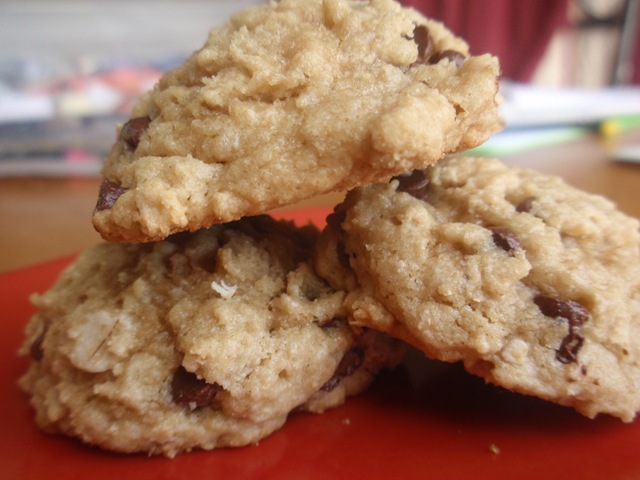 Ever worried your kids aren't getting enough protein? Ever wonder how much they need?  To be very general, kids need between 0.45-0.50 grams of protein per pound of body weight.  So if your child weighs 25 lbs, they need 12 grams of protein.  These cookies have 3.5  grams of protein in each cookie!   Not much, but when compared with ZERO, like most cookies, A LOT!
I've been wanting to try to bake with Quinoa flour.  It has taken a little adjusting and trying.  The first time I tried baking, the whole batch got a thumbs DOWN from those that matter the most (the kids).  The second time however,  I think we got it right.  These cookies were gone within minutes.  Keep in mind, while they aren't sugar free, they offer a little extra nutrients for your kids.
1/2 Cup Whole wheat flour
1/2 Cup Quinoa flour
1 tsp baking powder
1/3 cup oil
1/2 cup brown sugar
1 egg
1 tsp vanilla extract
1/2 cup oats
1/2 cup chocolate chips (I like mini)
Mix dry ingredients. Set aside. Mix wet ingredients, and combine.  Scoop out 1 TBLS size balls and put on cookie sheet. Bake at 350 for 8 minutes. Makes 16 cookies (1 TBL each)
PRO'S
Good source of whole grains (no refined grains).  Whole wheat flour, Quinoa flour and oats.
Good fat source (Canola oil as opposed to butter).
Tastes great!!
The complete protein benefit of Quinoa flour.
CON'S
This is NO diet food!  Each cookie has 130.5 calories.  I wish I knew that before I ate 4 of them!
Need more ways to make Quinoa, here is Another posts about Quinoa