Sweetened with honey and whipped with coconut cream, this pumpkin mousse is a delicious and healthy holiday dessert!
My favorite pumpkin dessert for Thanksgiving is a slice of pumpkin roll or gingersnap pumpkin cheesecake, both of which are horribly bad for you, even though they taste SO. GOOD. I mean the holidays are where we get together with family, and eat good food. Lots of good food! The diet can wait until the new year, right? Wrong! I always tell myself that, but I regret it big time. Well, now you can enjoy good food without sacrificing your waist line with this pumpkin mousse!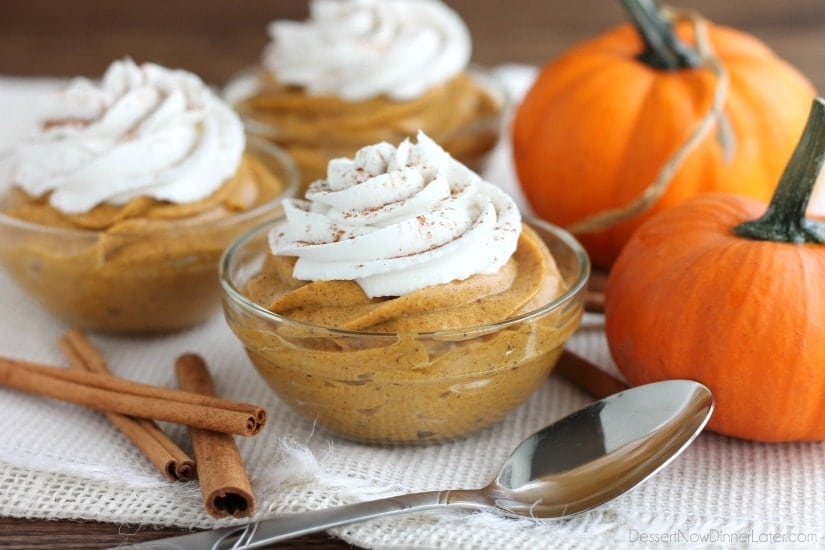 Lighter in calories and texture than typical pumpkin pie, this mousse (kind of like a pudding) is made with:
By removing the crust you are saving a lot of calories. Plus you cook this on the stovetop instead of the oven, and it can store in the refrigerator for a week, so you can make it ahead of time in individual portions to save yourself from overindulging. Fill a pastry bag that has been fitted with a star tip with the pumpkin mixture, and pipe it into 6 to 8 small dessert dishes.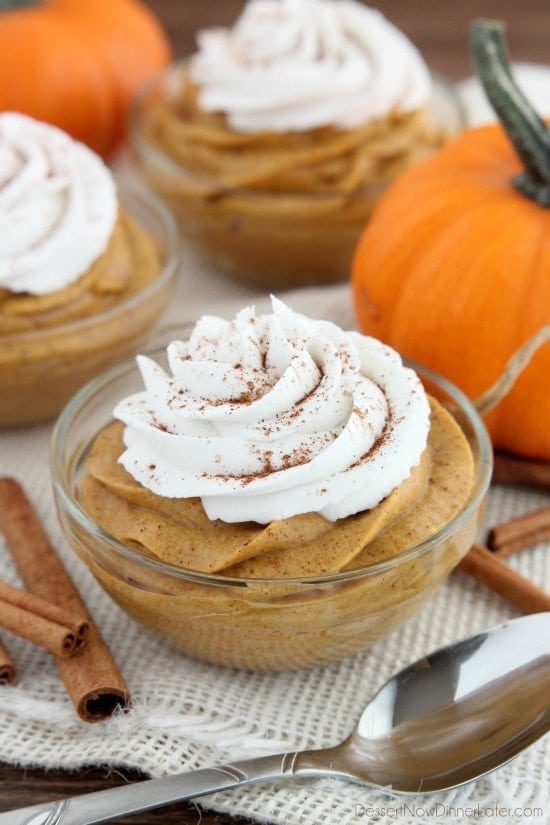 This dessert works great for those who have a gluten intolerance, and for those who are dairy-free. It can also be made paleo by substituting maple syrup for the honey. Awesome! The extra good thing about this dessert is that kids love it! Mine couldn't even tell that it's not real whipped cream on top! Haha. Jokes on them!
Amber is a wife and mother who loves to eat her dessert first! She started her blog, "Dessert Now, Dinner Later" in 2011, as a way to keep up with her skills as a culinary graduate while being a stay-at-home mom. Amber's blog is a place for her to share her best recipes, tips, tricks, and tutorials, to help you be an outstanding home cook with culinary know-how.
SHARE!