All the flavor without all the calories, this Healthy Pumpkin Spice Cake is just what you need this season.  Get your forks ready!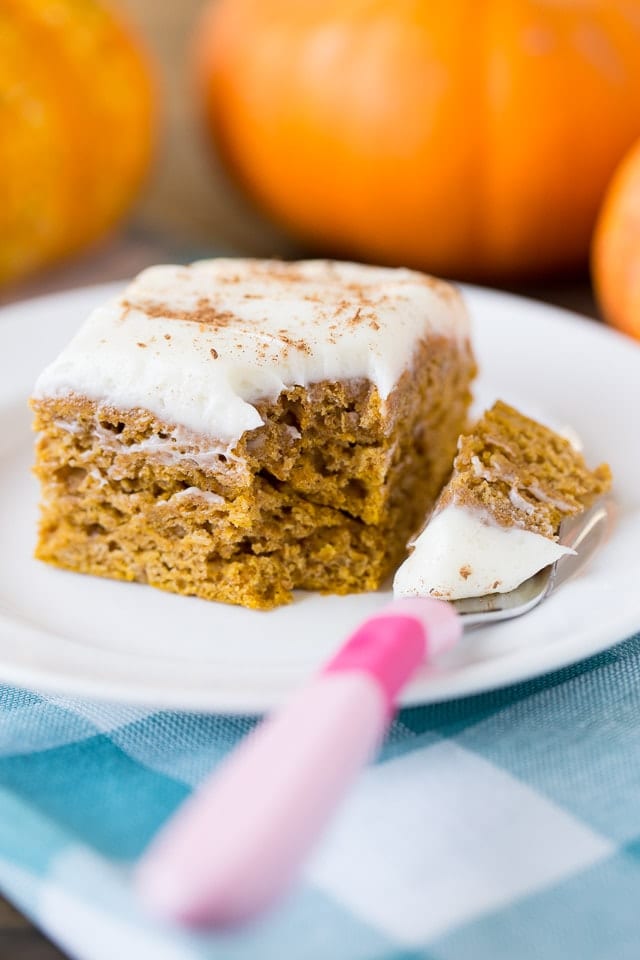 The pumpkin season is just beginning! So of course we had to bring you a healthy pumpkin cake recipe! If you and your kids are going to enjoy some pumpkin desserts, it might as well be just a little bit healthier.  There seems to be two crowds – those you love pumpkin and those who don't.  Which team do you side with?
Why is this Pumpkin Spice Cake healthier?
I swapped out the butter for coconut oil and we use maple syrup instead of sugar.  It's not a sweet cake anyways and with a cup of pumpkin it's basically a vegetable cake… right? The frosting is also made with low fat cream cheese, greek yogurt and just a liiiittle bit of sugar.  Usually frosting is more than half sugar, but we took a different approach with our Healthy Pumpkin Spice Cake.
OUR LATEST VIDEOS
Pumpkin itself is actually a nutrition powerhouse.  Here are a few reasons why you should add pumpkin to your food:
Vitamin A.  Pumpkin is packed full of vitamin A which promotes good vision and also helps form and maintain healthy skin.
Fiber.  Pumpkin is an often-overlooked source of fiber, but with three grams per one-cup serving and only 49 calories, it can keep you feeling full for longer on fewer calories.
Potassium. You might have heard of bananas being called nature's energy bar? That is because potassium refuels your body.  Turns out, a cup of cooked pumpkin has more of the refueling nutrient potassium, with 564 milligrams compared with banana's 422.
Vitamin C.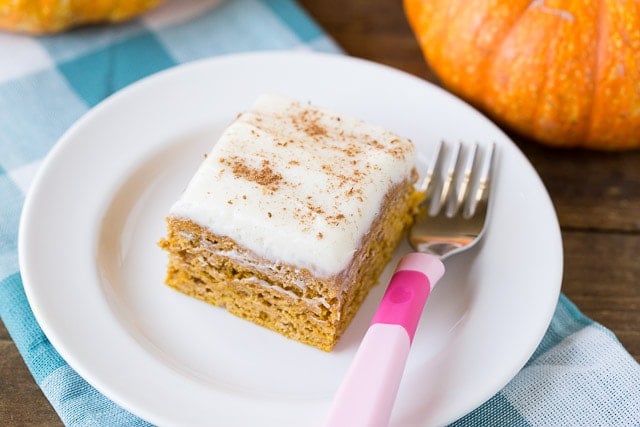 The Perfect Size
This recipe makes an 8X8 inch pan which is perfect for your family! everyone gets a piece tonight and a piece tomorrow and then it's gone! I don't know about you, but when I make a cake in a casserole dish and there are so many leftovers I end up eating cake for days! It's so terrible! So just make the perfect amount instead!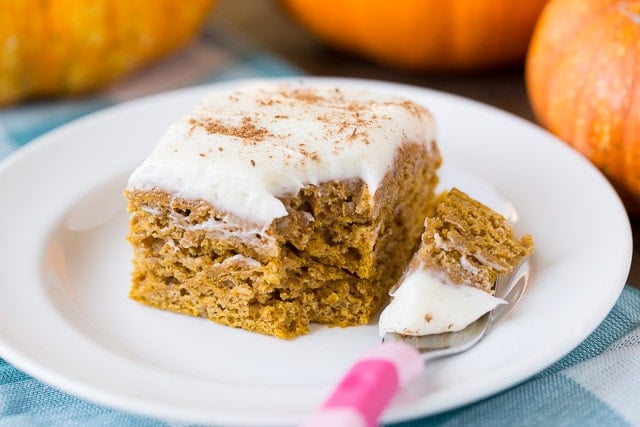 Tips for Baking our Healthy Pumpkin Spice Cake
The only thing to really watch out for is your coconut oil!  Make sure you melt it before you use it and mix it with your room temperature pumpkin puree first.  This way, the coconut oil has a better chance to incorporate evenly into the cake! If you add a cold egg to the coconut oil it will make the oil solidify and then you'll get chunks of coconut oil in your cake.  If that happens, it's not the worst thing! Your cake will just look very…bumpy when you pull it out of the oven. Once you frost it, it will look and taste great!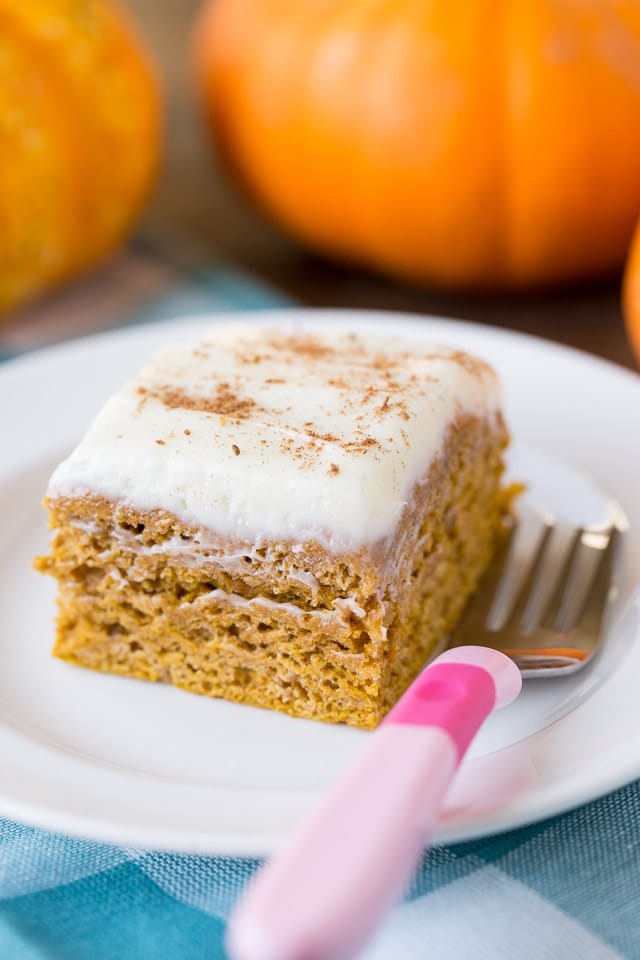 Looking for another skinny pumpkin dessert? This Pumpkin Mousse is incredible!