Although I enjoy posting about all things healthy (exercise ideas, dental health, Choose MyPlate, etc.), at my very heart, I'm a food blogger. I don't just love creating new meals that incorporate fruits and vegetables, but I love to photograph them too. Well, often it happens when the idea I have in my mind does NOT photograph well, or doesn't have the presentation I was going for. Such is with my Overnight Patriotic Porridge Recipe! I woke up one morning thinking, "I'm going to make overnight oats in a jar, into layers- Like a flag!!" I was so excited. But after two days of trying to get the layers from my overnight oats, it just wouldn't stay "layered". BUT- I couldn't keep this from you!! It was truly bowl licking delicious! We love overnight oats in the summer! It's fresh, it's cold, it's fast, and most important to my kids, it tastes DELICIOUS! I can hardly get anyone to truly wait "overnight" to eat it. In fact, we usually eat it only a few hours after we start to chill (no self control here, I guess). So, without further ado- I bring you what I hoped you could make for the morning of the 4th: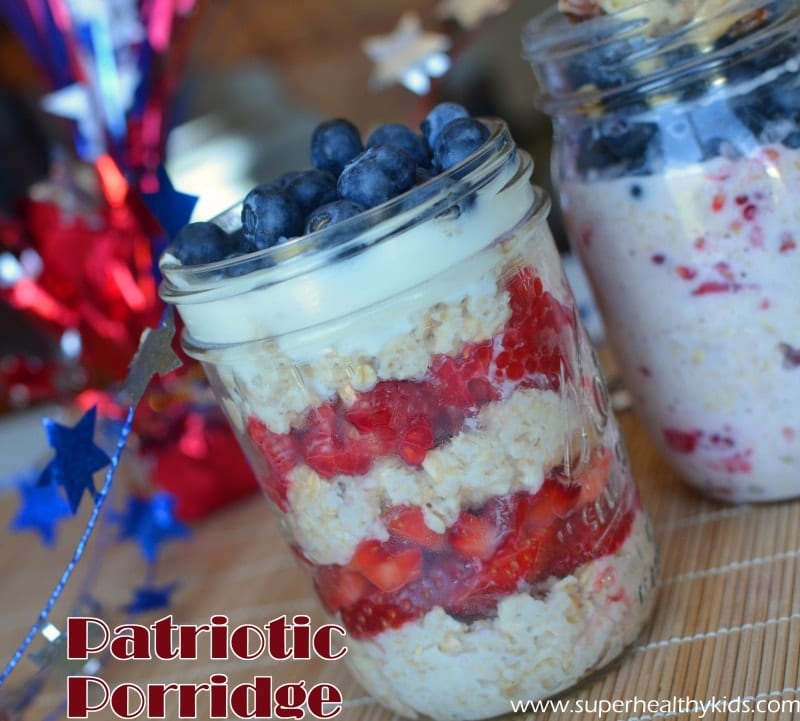 But, if you've ever made oats in a jar before, the layers don't exactly stay in their place, giving you the fun "stripes" I was going for (for those curious, I ended up cooking the oats for the photo above). If you make this, you likely end up with this instead:
But like I said, even though I couldn't master the "flag" presentation I was going for, I couldn't NOT share! This breakfast is too delicious and so perfect for a holiday morning. Now you COULD possibly get the layered look by chilling the oats all night separate from the berries so the oats are thick enough not to be runny, But then that kind of defeats the idea of grabbing it out of the fridge and eating. Plus, combining the berries while it sits overnight taste so much sweeter.
Either way, your family is destined to love these! (Full Recipe Below)
Ingredients
2 cups oats (rolled oats or quick oats both work)
2 cups milk (or vanilla soy milk, almond milk, or other liquid)
1/4 cup plain or vanilla yogurt
2 cups red berries (strawberries and raspberries)
1 cup blueberries
If you want the layers, chill your oats mixed with the liquid for 12 hours. If you want the fruit to flavor your oats, divide everything among two jars and chill overnight.
Extra add-ins.. We also put coconut and walnuts in one of our jars.
The key to making this sweet and super healthy- is loads of berries!!
Ingredients
2

cups

oats

rolled oats or quick oats both work

2

cups

milk

or vanilla soy milk, almond milk, or other liquid

1/4

cup

plain or vanilla yogurt

2

cups

red berries

strawberries and raspberries

1

cup

blueberries
Instructions
Divide all ingredients among 2-4 jars (depending on their size) and chill for 12 hours! You do NOT precook the oats! They are just plain, dry oats.. any type.
Nutrition
Calories:
436
kcal
|
Carbohydrates:
70
g
|
Protein:
19
g
|
Fat:
10
g
|
Sodium:
66
mg
|
Fiber:
12
g
|
Sugar:
14
g
Bonus- we have our fourth of July Meal plan posted in our member section if you want more ideas!! Check it out!