This week on our blog we are going to share recipes with ingredients known to be a good source of plant based protein.  Beans, nuts, seeds, and certain grains are at the top of our list, with our first recipe being dessert!
This is one of my FAVORITE things to make. We often make these "cashew cookies" (really Larabars) to take hiking or on long trips.  I love the flexibility of them, as you can include different nuts and different add-ins, and they always seem to turn out amazing!  This time, we wanted to make a basic cashew cookie, but instead, put our add-ins on the outside, for a variety of treats.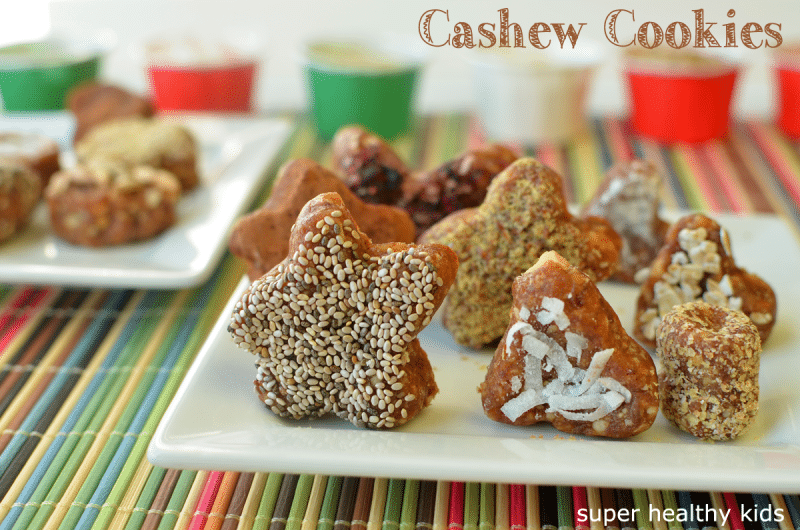 Nuts, like cashews, are a good source of protein.  1 ounce of cashews contain 5 grams of protein. Not only that, but they are an excellent source of minerals, such as magnesium, manganese, copper, phosphorous, vitamin K, and iron.
No Bake Cashew Cookies Recipe
So, we first started with our base.  This included 10 pitted dates and 1/2 cup of cashews in a food processor.  I haven't tried this in a blender, or any other way… but if you've been reading here for awhile, you'll know that I used a mini $20 food processor for the better part of 10 years before I moved onto a 9 cup one.  And it worked just fine!
Once mixed, we gathered some possible add-in ideas.  We used all sorts of things we found in the cupboard and fridge! This included:
Wheat germ
Flax meal
Chia seeds
Coconut
Cocoa Powder
Sprinkles
Dried blueberries
Sunflower seeds
and Oats
Then, we divided our dough into 12, tablespoon size balls.  These are the perfect size.  When you are using nuts and dates, they are pretty calorie dense, so making them small, just makes sense.
After we had our balls made, we shaped them with some cookie cutters, and just with our hands.  Then, pressed the finished product into our different toppings.