If you've been looking for a health(ier) treat that packs in extra nutrition from fruits and veggies, look no further. What's more fun than a sweet treat of cookie dough out of the fridge? PINK cookie dough out of the fridge. Of course, it's naturally pink, no dyes here. Roasted beets + strawberries gives the dough its gorgeous pink color! This dessert is egg-free, so you can eat the dough raw without hesitation. It's also gluten-free and grain-free, as I used a combination of almond flour and coconut flour.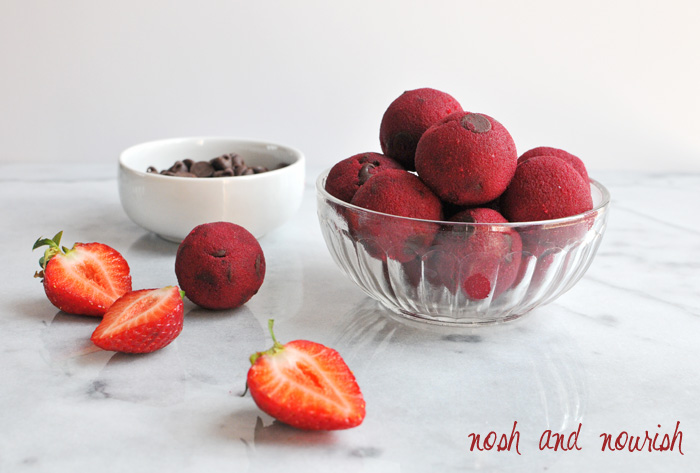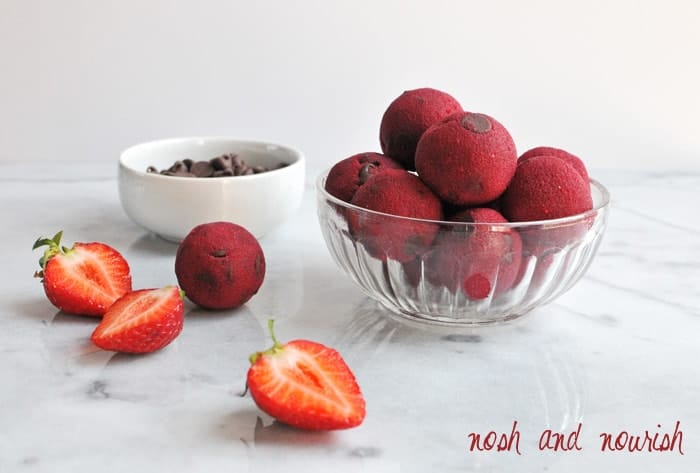 Beets are one of those foods that most people either love or hate. They can have a distinctive taste (ehem, my hubby thinks they taste like dirt), but you can minimize this by doing a few simple things: 1) make sure you peel the beets completely and 2) roast them with a dollop of coconut oil.
The roasting brings out the sweetness of the beet and removes a lot of the earthiness. Once roasted, they can be added in to so many things! (We love them in hummus, salads, tacos, etc.)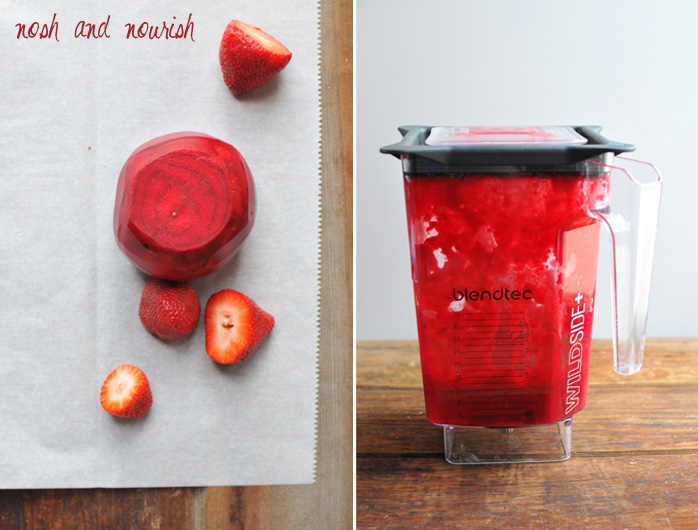 Chocolate Chip Cookie Dough Balls Recipe
OUR LATEST VIDEOS
First, you roast the beet with a teaspoon of coconut oil. Then, add the strawberries, cooled roasted beet, coconut sugar, vanilla extract, organic strawberry jam (be sure to look for one without any high fructose corn syrup), and olive oil to a high powered blender — or a food processor will work. Blend until smooth. Then mix in your dry ingredients: almond flour, coconut flour, sea salt, and chocolate chips to form the dough.
Put the dough in the fridge for 30 minutes, then take it out and roll into 1.5 inch balls. The dough balls store really nicely in the freezer and you can grab one (or two!) whenever you want something sweet.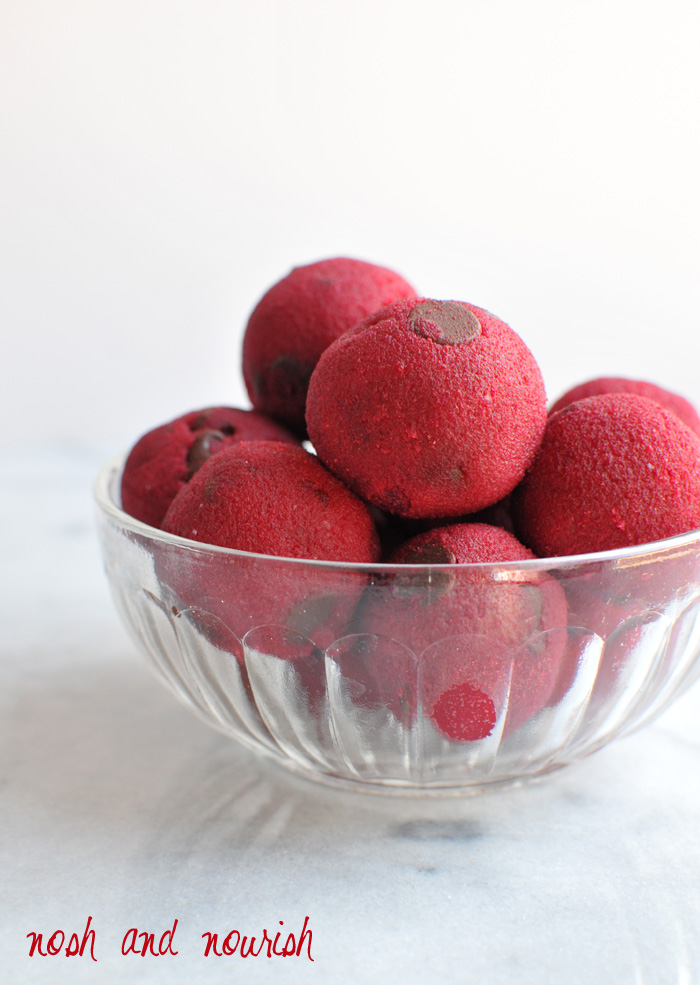 We've made these 3 times in as many weeks, and everyone absolutely loves them: Babycakes, her teachers, her friends, and even her beet-hating daddy. So if you don't think you like beets, you should definitely try this recipe… and surprise yourself with how good they are!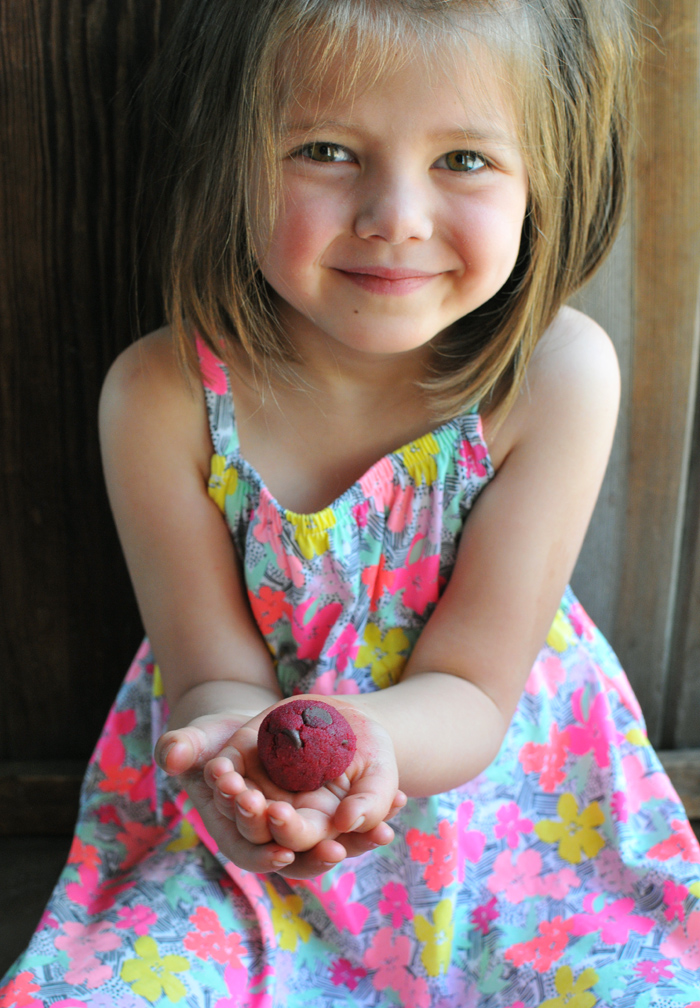 Why beets? According to The World's Healthiest Foods:
Beets are a good source of folate and manganese — improving brain function.
1 beet has more potassium than a banana.
The bright red pigment of beets, called betalains, provide anti-inflammatory and detoxification support of the body.
We also love beets because they aren't expensive, are one of the sweetest vegetables, and are super versatile.
---
Kelly is the author, recipe creator, and food photographer behind the blog Nosh and Nourish. She incorporates nourishing superfoods into every meal for her husband, adorable toddler, and herself (think quinoa, Greek yogurt, chickpeas, kale, blueberries, etc..) and manages to keep everything tasting absolutely delicious! She is also the author of the cookbook Superfoods at Every Meal, on shelves now. When not creating new recipes or taking pictures of them, she can be found exploring the Rocky mountains, gardening, hiking, or fly-fishing.