Kid-Friendly Smoothie Bowls
Smoothie bowls are thick and delicious and the best part are the toppings! Our kid-friendly versions are packed with nutrition, but so yummy even your picky eaters will love them.
Smoothie Bowls for Kids
Smoothie bowls are fun, colorful, and healthy, but a lot of recipes call for unusual ingredients like acai, goji berries, hemp seeds, and bee pollen. We like to use recognizable ingredients that are still packed with nutrition. The key is making a delicious tasting smoothie, and then letting your kids help with the toppings. It is fun to arrange them in patterns and create your own beautiful work of food art! I think smoothie bowls are enticing enough to give sugary cereals a run for their money!
How to Make a Smoothie Bowl
There are lots of ways to make a breakfast smoothie bowl. If you follow these basic steps – your smoothie bowls will turn out mmm-mmm delicious!
Step 1:
Start with your choice of frozen fruit or veggies. It is important to use mostly frozen instead of fresh because you are going for a thick blend. Compared to the smoothies you to sip with a straw, the base of a smoothie bowl has a slightly thicker, almost ice-cream like consistency. You can definitely add other healthful mix-ins (e.g. avocado, oats or yogurt) to the base. If you blender isn't powerful enough, you can use a food processor and it will work great!
I keep a freezer full of frozen fruit always. To freeze fresh fruit, wash and peel it, if necessary. Keep berries and grapes whole, but cut larger fruit into bite sized pieces. Lay out the pieces on a parchment lined baking sheet. The paper keeps the juicy fruit from sticking to the pan as it freezes. Put the whole tray in the freezer and freeze until the fruit is frozen solid. Then you can store it in ziplock freezer bags or an airtight container for later use. Having frozen fruit on hand makes it so easy to whip up a new, brightly colored smoothie bowl.
Smoothie Base Options: If you want to add some extra texture, flavor and nutrition to your smoothie base, first add some chia pudding into the bottom of your bowl. Then layer the smoothie on top of that. You can also layer whole fruit pieces in between layers.
Step 2:
Once your base is blended, pour the mixture into a bowl and smooth the top. Now it's time for toppings!
Toppings
Smoothie bowls are delicious little works of edible art and it's fun to arrange the toppings. Get the kids involved in the process and they can design their own 'masterpiece'. Besides fresh fruit, there are tons of other things you can use to decorate your smoothie bowl:
Shredded coconut
Chopped nuts
Pumpkin or sunflower seeds
Dried fruit
Pomegranate arils
Granola
Chia Seeds
Drizzled Nut Butter
Cinnamon or Nutmeg
Honey
And of course berries, bananas, kiwi, pineapple slices
Tropical Smoothie Bowl
This smoothie bowl starts with a thick pineapple cantaloupe smoothie, topped with sliced banana, strawberry, kiwi, and a handful of crunchy granola. One of the keys to a smoothie bowl is to blend up your smoothie to a nice thick consistency so it can be eaten with a spoon. You can make your smoothie with a base of juice, almond or coconut milk, or yogurt. This smoothie uses frozen fruit blended with Greek yogurt. Frozen fruit blends up into a super thick consistency — the more you use, the thicker your smoothie will be. It can even have a texture just like soft serve ice cream! Click the photo for the recipe.
Mango Smoothie Bowl
Click the photo for the recipe for this delicious smoothie bowl.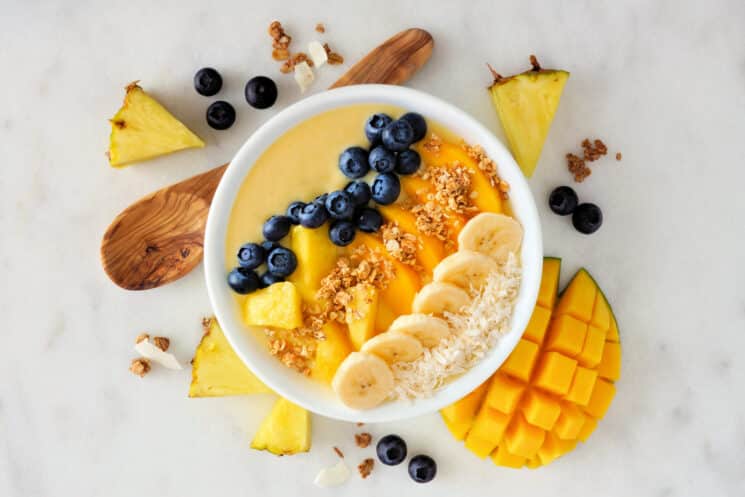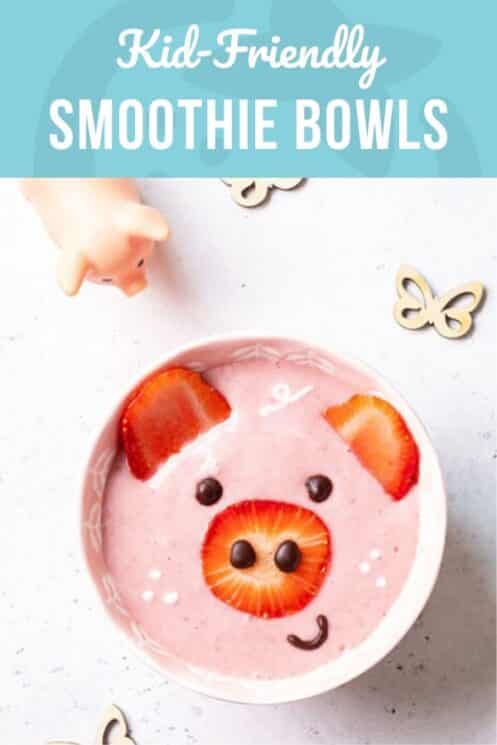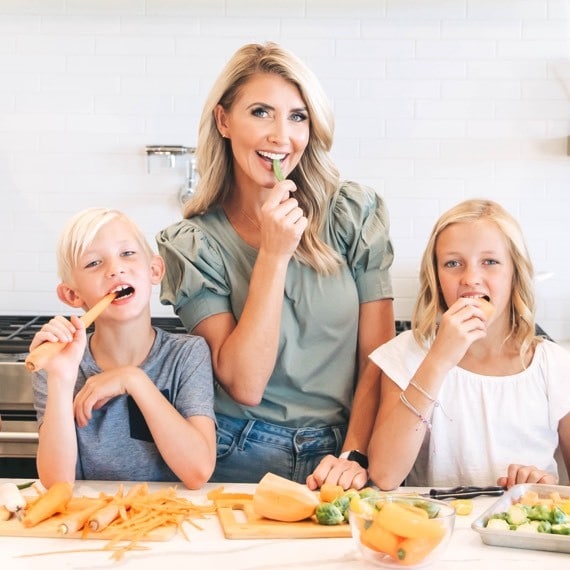 Natalie Monson
I'm a registered dietitian, mom of 4, avid lover of food and strong promoter of healthy habits. Here you will find lots of delicious recipes full of fruits and veggies, tips for getting your kids to eat better and become intuitive eaters and lots of resources for feeding your family.
Learn More about Natalie