Check out our meal ideas for making half your meal fruits and vegetables!
Feeding our kids healthy food doesn't need to be complicated. A few simple rules, summarized from the most recent dietary guidelines is a fast and easy pattern to follow. The latest 2010 dietary guidelines include:
Balancing Calories: Eat less and avoid over sized portions
Switch to low-fat or fat-free dairy. (2- 2 1/2 cups per day)
Reduce high sodium foods.
Drink water instead of sugary drinks.
In the meal ideas below, we used our Choose MyPlate product for kids. We also have a pinterest board for more ideas!
 Bean salad with corn chips, green salad, strawberries, blueberries, blackberries
Berries, avocado, muffins, and pumpkin seeds.
 BBQ chicken, nectarines, green beans, sweet potato fries, and potato wedges.
 We made a stir fry using a pork roast, and shredded the meat.. Rice, broccoli-onion-mushrooms, and watermelon on the side.
 Kids can build their own sandwich (nut butter, bananas and bread). That way, if they don't want their fixings on the bread, they can have it on the side and still eat a balanced lunch!
Pumpkin bread, blueberries, bananas, mushrooms and an egg!
 Yum!! This delicious dinner includes, fruit salad, sauteed peppers, steak, and rice. (recipes here)
 Pecan Chicken Recipe Whole Wheat Bread wedges  Green beans Grapes
 Hard boiled egg, rye crackers, peppers and celery, watermelon.
 Blueberries, strawberries, watermelon, peppers, chicken, whole grain tortilla.
Salad bar!
 Peas, Swiss Chard manicotti, and watermelon
 Today's Kids lunch: 1 TBL Tuna, 1 slice of bread, 3 balls of watermelon, 4 small carrots! Cal. 152, Protein14 g, total fat1 g Carb21 g Fiber 2g Sugars, 6g
 Pecan crusted chicken, sauteed greens, cherries, and a whole wheat roll!
 Wild rice, chicken, corn and veggie salad, peaches.
 
 Pesto Pecan Chicken, Rice cooked in chicken broth, spinach, and cherry tomatoe
 Healthy and homemade SHAPED chicken nuggets! Get the recipe here!
 Apple juice, avocado, Rice Chex, low fat milk, and scrambled eggs!
 BBQ Chicken, peas, oranges, and sweet potato crescent rolls
 1 slice bread, 1oz sweet potatoes,1 egg, scrambled, 1 strawberry, 3 slices apple
Balanced meal! Turkey burger, whole grain bun, strawberries, the fixings (and a few carrots)
 
Mmmm, this avocado apple salad deserves two compartments since it has both fruits and veggies! We also have some hard boiled eggs and toast strips. Of course, some yogurt would balance this out very nicely!
 Fish Sticks, cabbage salad, brown rice and mandarin oranges
 Jumbo Stuffed Shells, Marinara Sauce with Ground Turkey, Steamed Broccoli, and Homemade Applesauce sprinkled with cinnamon.
 
 Crockpot potatoes, leftover turkey, homemade bread, mandarin oranges and kiwi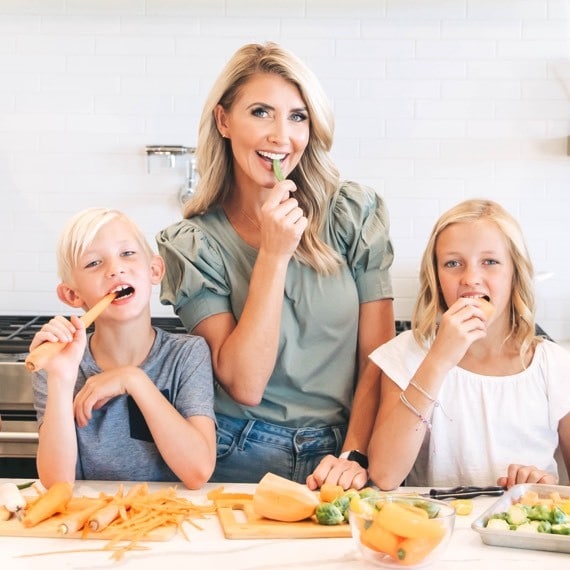 Natalie Monson
I'm a registered dietitian, mom of 4, avid lover of food and strong promoter of healthy habits. Here you will find lots of delicious recipes full of fruits and veggies, tips for getting your kids to eat better and become intuitive eaters and lots of resources for feeding your family.
Learn More about Natalie