We've been juicing a lot around here the past few weeks, because we got a new juicer. My kids love it to make their own juice concoctions.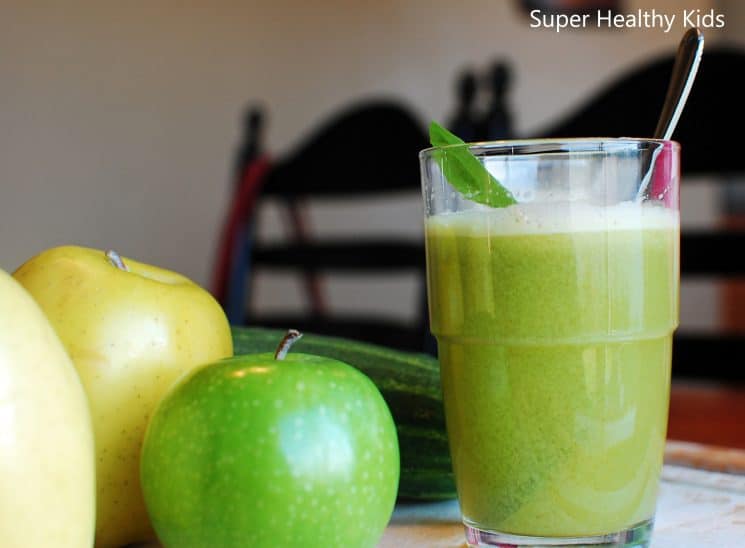 This juice I suggested we add a little cucumber to the apple juice. Erica said, "You can't put vegetables in a juicer! There is no juice in veggies." Oh my! Where have I failed?! I can't be a healthy mom blogger if my kids aren't realizing they're drinking vegetable juice! So, I had her help me juice the cucumber and see just how much juice we could get out of a vegetable. She was surprised to say the least.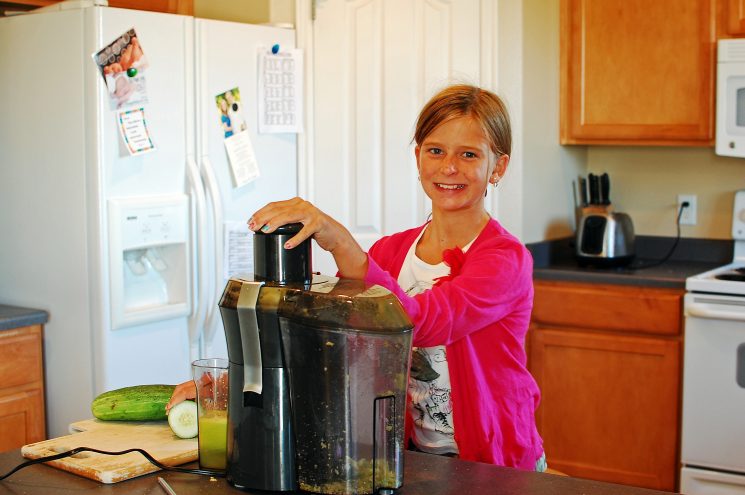 Juicing is a fabulous way to help your kids get their daily recommended amount of fruits and vegetables. However, getting all your fruits and vegetables in juice form is not recommended. There are enormous benefits, such as fiber, from the skin of produce. The American Academy of Pediatrics says toddlers should drink no more than 6 ounces of juice per day and kids 4-5 years old, no more than 12 ounces per day. We have a juicing category with more recipes here.
So, here is our 12 ounces for today:
Green Goblin's Apple Juice Recipe
1 Granny Smith Apple
1 Golden Delicious apple
1/2 cucumber
1/2 cup water
Juice apples and cucumber together. Add water to thin out the consistency. Settling occurs quickly, and the drink separates. Keep a spoon in your cup, or use a cup with a lid so you can shake or stir often. This recipe makes 4, 1/2 cup servings (4 ounces each)
I asked on Facebook what their kids favorite juices were. Here are some of the great responses:
Margaret: yes-oj but i don't use it nearly as much as I should! You can hide some carrot in the oj super easy.
Rebecca: apple juice from the apples on our tree!
Dawn: carrot/apple juice
Vanessa: all apple with one carrot yummmm !!
Teri: Carrot Apple juice every Saturday
Stacy: my daughter is not a fan so far of anything (at least she'll willing to try) I've made but my son loves carrot orange juice with a squeeze of lemon
Kari: My kids love using it and put almost any combination of fruits and veggies in it. One favorite is pineapple, blueberry, peach, carrot (we put carrots in everything and sometimes spinach).
Mandie: my kids like apple juice and peach pineapple too.
Angel: lemonade, made mostly with apples. I think it's 4 apples to one lemon. looks like apple cider but very refreshing
Amber: Satsuma juice. We can only get it fresh one season per year. ~Amber
Amanda: my daughter LOOOOVESS carrot juice lol. but uhh i dont haha
Hayley: Apple and strawberry for little miss, and orange, pineapple and kiwi for master 6! :))
Leslie: Yes we love juicing! This morning we made grapefruit and apple juice. Delish!
Charissa: My kids like cucumber and pear, lemons & apples, sometimes I just do a basic OJ but add a little celery. The thing is when you juice, do not throw away all that good pulp! Bake it into a banana bread or make muffins!
Julieann: Love, Love, Love my juicer!! We make all kinds of juice!! My kids will drink any concoction as long I put a lemon it..LOL. When they are sick, there is nothing better than pure vitamin C.
Jill: We love our juicer. My kids favorite is apple nectarine juice!
Amanda: I don't dilute it with water but I do pour it over ice and whir it in the blender. It's like a yummy fresh fruit slushee. I think homemade juice tastes much better ice cold.
Eat To Thrive: We have a juicer and my kids love orange, carrot and a touch of ginger. Looking forward to apple season and juicing lots of fresh picked apples!
Emily: I WISH I had a juicer! My mother in law has one and makes the yummiest apple/spinach juice. Mmmmmm
Tracy: Carrot with an apple for natural sweetness. Use a straw or you get an orange mustache for the day!
Carly: My kids drink any really, I was told once you have to use a base of apple and lemon for kids and they will drink anything you put in it..and it has worked for me so far!! Beetroot, celery etc..anything!!
Marlene: they love apple and grape juice sometimes i mix it love it either way Lot's of Juice loving kids! What is your favorite kind?
If you need more juicing recipes, check out our book, 201 Smoothies and Juices for Kids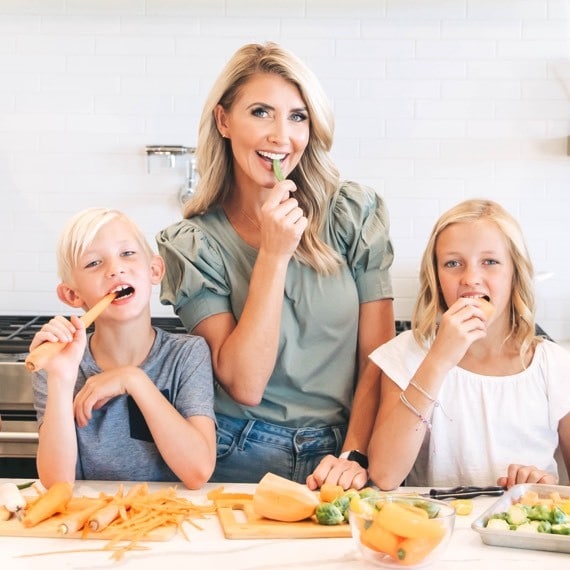 Natalie Monson
I'm a registered dietitian, mom of 4, avid lover of food and strong promoter of healthy habits. Here you will find lots of delicious recipes full of fruits and veggies, tips for getting your kids to eat better and become intuitive eaters and lots of resources for feeding your family.
Learn More about Natalie