Lunch Box Idea: Mini Rainbow Sandwiches
When you are looking for lunch box ideas, consider your fruits ad veggies first. Eating a rainbow is something we talk about a lot at our house! The beautiful, natural colors of fruits and vegetables all offer different phytochemicals and antioxidants necessary for optimal health!
From Fruits and Veggies More Matters:
"Eating fruits and veggies in a variety of colors–red, dark green, yellow, blue, purple, white and orange–provides the broadest range of nutrients. And color is a great way to engage kids–from filling the shopping cart with a spectrum of colorful fruits and vegetables to making sure there's a rainbow on their plate!"
If you have kids who eat all the apple's out of the fruit basket the first day, it's a good opportunity to teach them about variety . "You had a green apple today, so maybe try a yellow banana if your still hungry." That's if you can catch them before they take the first bite. You can't really put it back after that. Each color in produce boasts specific nutrients related to that color. For example
Red=beets, bell peppers, red apples, cherries, tomatoes, strawberries etc. Strong in the phytonutrient lycopene and Anthocyanin, vitamins A and C. Known for controlling high blood pressure, reducing risk of cancer, and reducing risk of Alzheimers.
Dark Green/Green=Kale, Spinach, leafy greens, broccoli, Honeydew, peas, kiwi. Strong in Lutein and Indoles also fiber, potassium, folic acid and some B vitamins. Known for maintaining good vision, reducing risk of tumor growth in cancer patients.
Yellow/orange=Carrots, sweet potatoes, pumpkin, apricots, oranges, grapefuruit, pears, pineapple. Known for being high in Beta-carotene and bioflavonoids, fiber and vitamin A. Benefits are boosts immunity, reduce heart attack risk, maintain strong bones and teeth, better skin.
Blue/Purple=Blueberries, blackberries, grapes, raisins, plums. High in Anthocyanin and phenolics. Benefits are reduction of age related memory loss, controlling blood pressure, slowing the effects of aging (I like that one).
White=Garlic, potatoes, onions. High in allicin, fiber, potassium. Benefits are lowering cholesterol, reduces spread of cancer.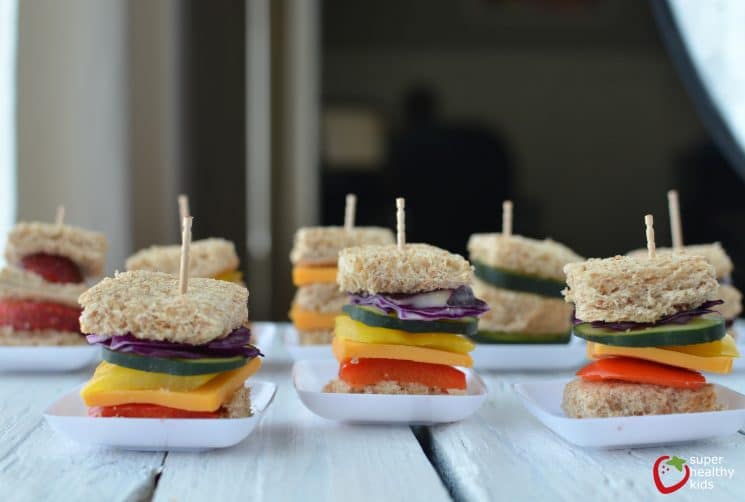 So, these sandwiches help kids get all those nutrients!! Plus, they are super delicious, and fun to make.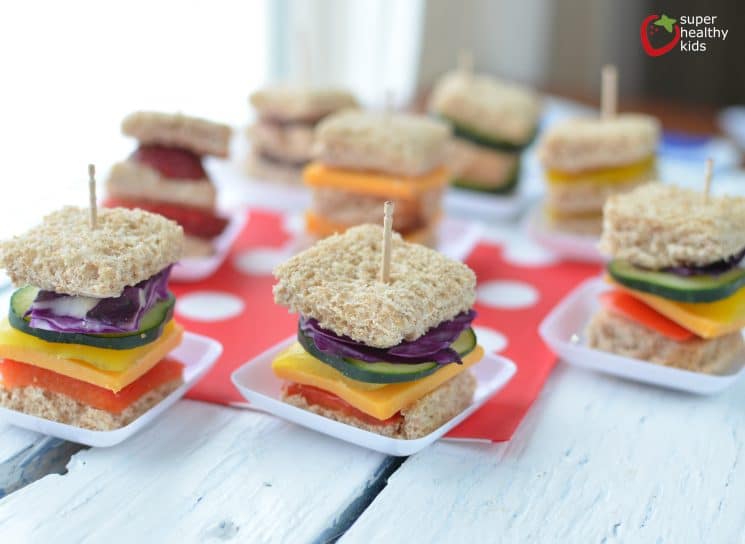 We used veggies for most of our colors (with the exception of cheese, because we love cheese on our sandwiches!)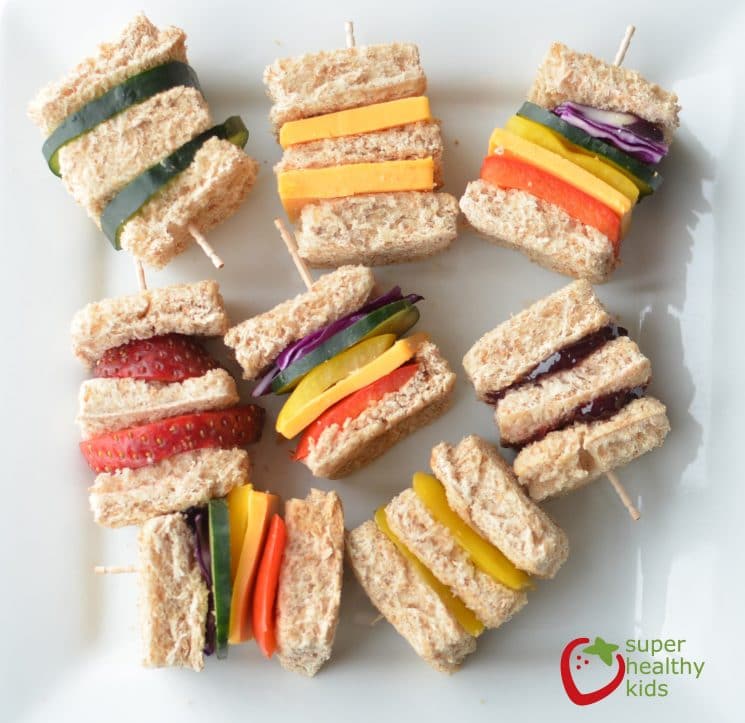 To make a complete rainbow lunch, pack other fruits and veggies in the rainbow, like strawberries, banana chips, carrots, blueberries, and sugar snap peas! The veggie sandwich:
Whole wheat bread, sliced into squares, or use a square cookie cutter.
Red peppers
Cheddar cheese
Yellow Pepper
cucumber
Purple cabbage
Hummus as a spread
The Fruit sandwich
Strawberries
Apricot jam
nut butter (or sunbutter)
Blackberry jam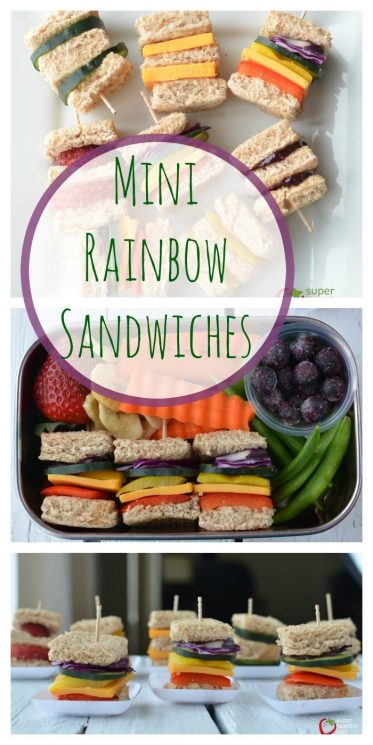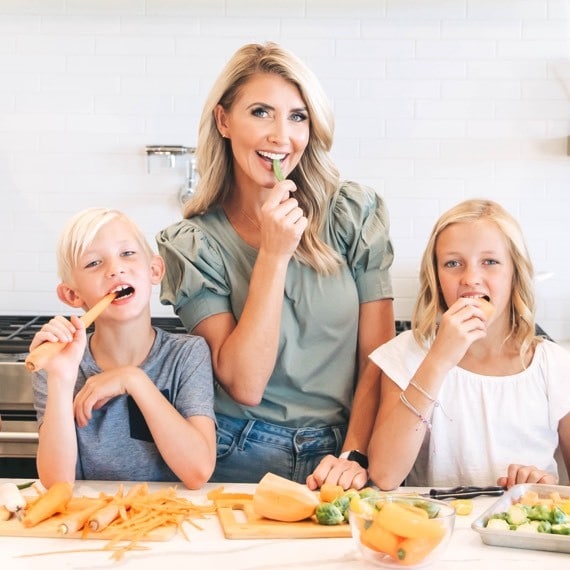 Natalie Monson
I'm a registered dietitian, mom of 4, avid lover of food and strong promoter of healthy habits. Here you will find lots of delicious recipes full of fruits and veggies, tips for getting your kids to eat better and become intuitive eaters and lots of resources for feeding your family.
Learn More about Natalie