How to Implement a Healthy After School Routine
After-school time can feel just as chaotic as school mornings! But a healthy after school routine makes this time feel less stressful and help your kids build good time management habits for life. Follow the six steps outlined below to implement a sensible and balancing after-school routine.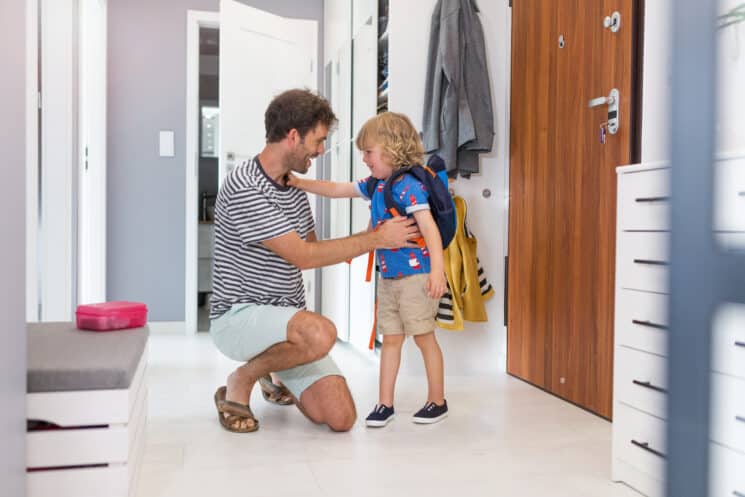 Are you struggling to find a sense of order in your after-school routine? This time of day can be surprisingly stressful for busy families!
But with a little attention to your after-school routine, you can turn this overlooked time of day to a productive, relaxed, and fulfilling one for your whole family.
This article provides a simple six-step after-school routine you can adopt and adapt to meet the needs of your family.
Before You Start…
If you have multiple kids in school, you might find yourself facing an overwhelming amount of paperwork. Having a system in place for school papers, homework, projects and permission slips helps keep you and your kids organized. Here are some ideas to help you set up a system:
Use a Filing Bin: Use it to organize papers that require some action on the part of you or your kids. You can have one bin per child, or have one bin for all your kids with different folders for different kids. Some ideas for different folders are:

Take Action/Sign: This folder is for forms that need to be signed like permission slips, teacher requests, PTA forms, and flyers that need to be added to your calendar.
Short Term Storage: This is for things that you don't need to keep forever, but will need to refer to at some point soon. Upcoming field trips that include a list of what your kids need to bring or a fundraising flyer are examples.
Kids Need to Complete: This folder is for assignments that your kids need to work on and turn in.
Long Term Storage: This folder is for each kid's special papers, progress reports, awards, certificates, etc. We like to scan some of these into our computer (progress reports) and take pictures of others (art projects) and then not keep the physical version.

Make a Display Area: This is a place to display all of the artwork, aced quizzes, or anything else your kids are proud of and want to show the world. These can rotate every week and the old projects can either get filed, or photographed and thrown away. We like to use Chatbooks for keeping all of the photos of our kids projects organized. Here is a great post on how to do it.
Keep Long Term Storage Boxes. Each of my kids has a storage box with a folder for each grade. After they graduate high school, I'll give them each their box of memorabilia! You can see how we made our on our Instagram Stories, or check out this post for a great tutorial on how to create these boxes.
Step 1: Unpack Backpacks
When kids walk in the door, they're tempted to throw their backpacks down and walk away. If you can get your kids in the habit of quickly unloading their backpacks (it only takes few minutes!) soon it becomes almost automatic for them. A few tips to make this process go smoothly:
Create a place for kids to store their backpacks that is easily accessible to them.
Teach them how to unload and clean out their lunchboxes. Rinse out lunch containers and load into the dishwasher, wipe out lunch boxes and throw away any uneaten food (gasp!)
Help them unpack and sort papers that need your attention.
Step 2: Snack Time
Many kids come home from school hungry! Providing a balanced snack is a great mood-booster and helps them feel their best throughout the afternoon. Check out these 15 Healthy After School Snack for inspiration. And remember:
A balanced snack should have at least two food groups: protein, grain, fruit, and veggie.
It's fine to keep it simple. You don't have to spend a long time making something elaborate. A piece of fruit with peanut butter crackers is just fine!
If you can take a few minutes to prep a snack before your kids get home, this part of your after-school routine can feel really seamless.
Step 3: Check in with Your Kids
School can be mentally and emotionally taxing for a lot of kids, especially when they're first starting out. Some days they might come home relaxed and content; others they might feel deflated or stressed. The more sensitive you are to their moods, the better you can connect with them and adjust your expectations for the rest of the day.
Step 4: After School Activities
Your kids might have after school activities that you have to rush off to. If you have your systems in place, you can be out the door in a matter of minutes. A few tips:
Have their activity 'stuff' ready to go before they get home. You might have them pack it the night before, or maybe you can help and get it ready during the day.
Have a portable snack planned that you can take with you on the go.
Don't skip backpack unloading! It really takes less than 5 minutes and skipping even a couple of days gets kids out of the habit.
Step 5: Unstructured Play
Unstructured play time is crucial to kids' welbeing! This is the type of play that children create on their own without adult guidance. Unstructured play can get pushed to the bottom of the "to-do" list when the school schedules start to get jam -packed. That's why it's smart make it a priority to let your kids have some time for this – even if it means putting it on your schedule!
Step 6: Homework
Homework can be tricky after school with activities, family time, unstructured play, dinner and a decent bedtime. For some families, doing homework right after school works really well. For others, it just doesn't work. Here are a few tips:
Homework should be done at the same time each day. This could be in the morning, on the commute on the way home from school, afternoon or after dinner. Choose a time that works best for your kids' needs.
Set up a homework-friendly area. Make sure kids have a well-lit place to complete homework. Keep any supplies your kids might need to do their homework in your homework area, along with minimal distractions.
Be a motivator and monitor. Ask about assignments, quizzes, and tests. Give encouragement, check completed homework, and make yourself available for questions and concerns.
A Final Note
Every child and every day is different. As you work to implement your family's after-school routine, remember that flexibility matters, too. Some days your best effort to stick to your routine just won't work. On those days, breathe deep and don't stress about not meeting your goals. Instead, take pride in modeling flexibility for your kids (just as you should for modeling healthy routines!)
Free After School Checklist Printable!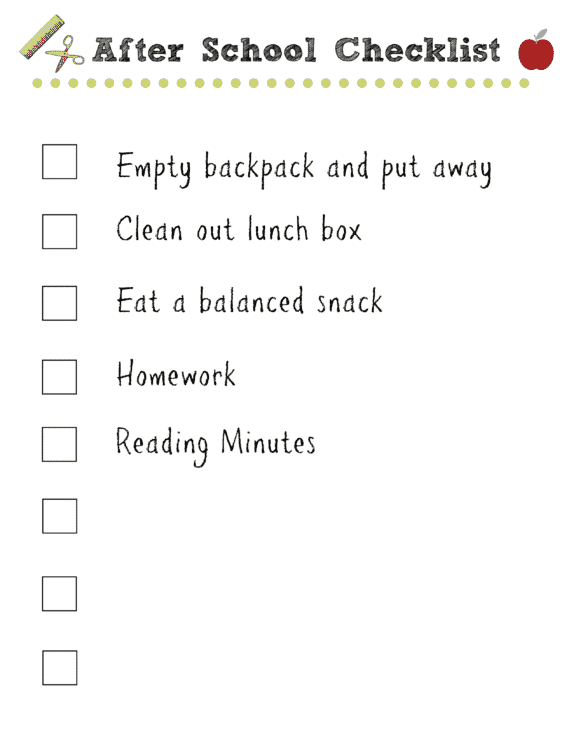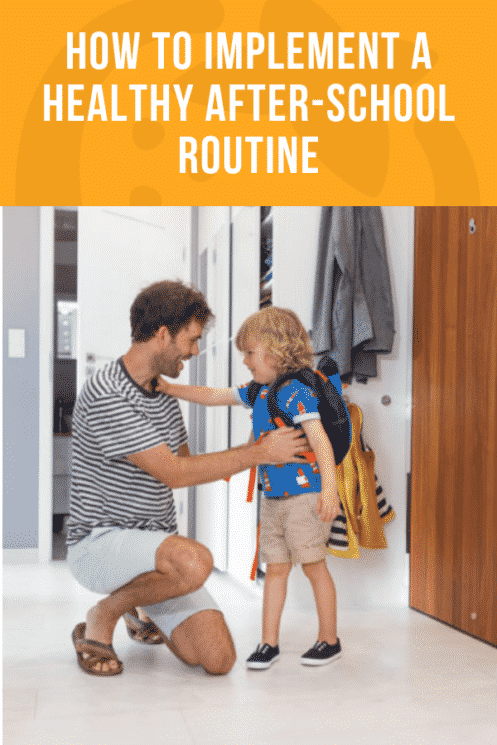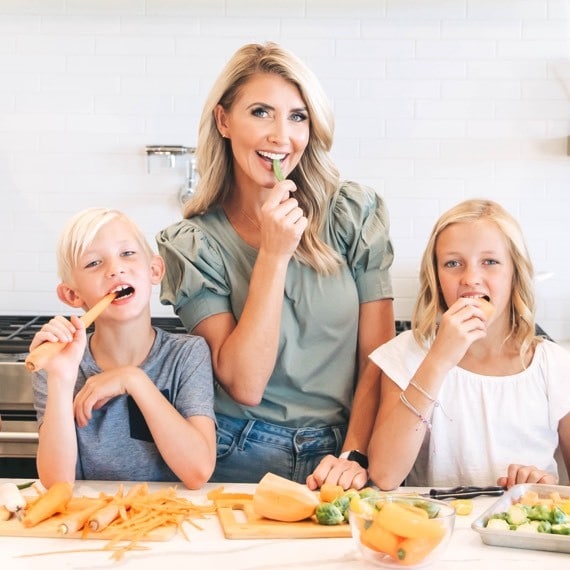 Natalie Monson
I'm a registered dietitian, mom of 4, avid lover of food and strong promoter of healthy habits. Here you will find lots of delicious recipes full of fruits and veggies, tips for getting your kids to eat better and become intuitive eaters and lots of resources for feeding your family.
Learn More about Natalie