How to Build the Perfect Toddler Salad
Feeding a toddler can be super tricky at times and really easy at others. They are just starting to form opinions, but are still impressionable and are learning all about new flavors, textures, and appearance of food. This is a time when if you can make fruits and veggies simple, fun and delicious for them they are more likely to learn to like them for the rest of their life! Salad is a food that has a bad rap with kids, but it is a super nutrient packed food that can be made appealing if you do it right! We are going to teach you how to build the perfect toddler salad so they will always want to eat it!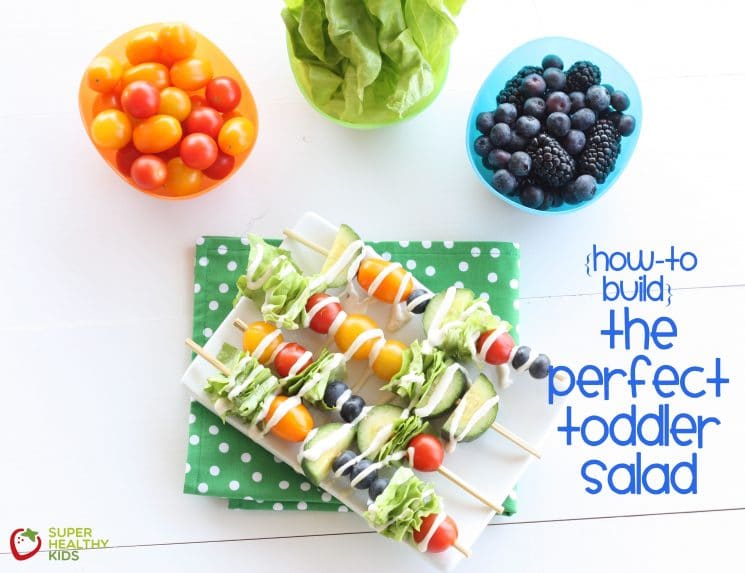 The first key is to start with fresh ingredients.
When fruits and veggies are in season and fresh, they have the most flavor, the best texture and look the best. These are all things that are important if you want your toddler to love them! I find tomatoes in the Winter have a mushy texture and very little flavor. If you tried to give your kids flavorless, mushy tomatoes the chances of them wanting more are pretty slim! Build your salad seasonally.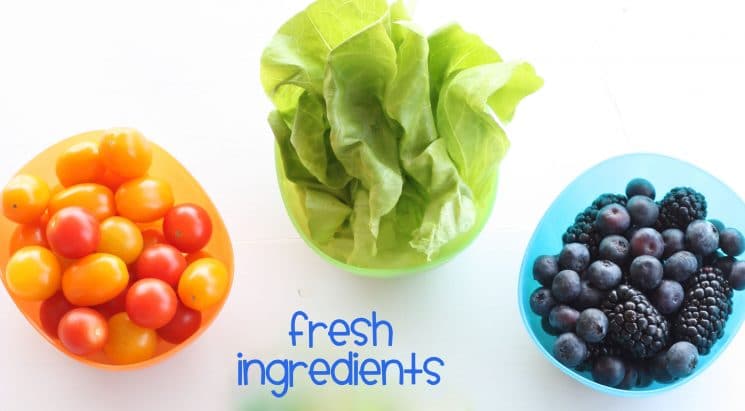 Here are some good toddler friendly salad choices for the different seasons. (U.S. Seasons)
Spring/Summer:
Apricots
Beets
Berries
Broccoli
Butter Lettuce
Corn
Grapes
Green Beans
Melons
Nectarines/Peaches
Pea Pods
Pineapple
Most types of lettuce
Strawberries
Summer Squash
Tomatoes
Fall Winter:
Apples
Broccoli
Cauliflower
Clementines
Kiwi
Most types of lettuce
Mushrooms
Pear
Pomegranate
---
6 Steps to Building the Perfect Toddler Salad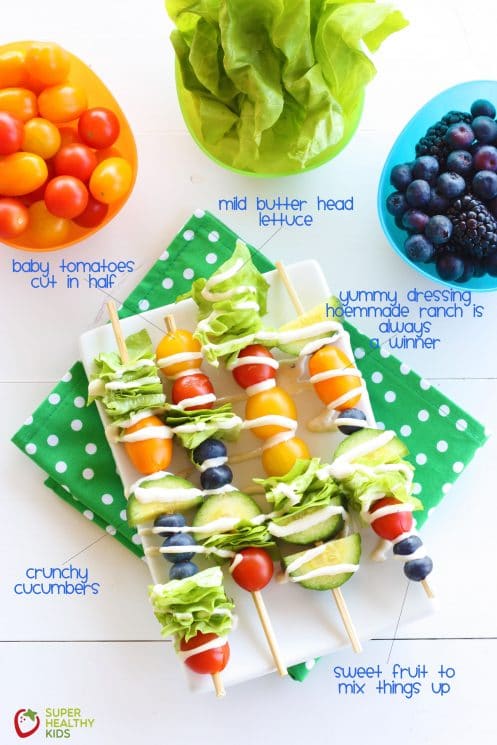 Use a Mild Tasting Lettuce
Some lettuce like arugula or spring mix can have a more intense almost bitter taste. This flavor is one that can definitely be delicious, but not one kids tend to love right away. We suggest using a mild tasting butter lettuce to start your toddlers off.
Cut Your Fruits and Veggies so They Are Easy to Chew
If parts of a salad are too big or aren't easy to chew, your little one not only will not be able to eat it very well, but might get frustrated and just give up. Cut small tomatoes and grapes in half (also so they are less of a choking hazard), cucumbers into small pieces (you can also peel them if the skins are a problem) and lettuce into small bite size pieces. Chopped salads are great for toddlers!
Use a Yummy Dressing
A yummy dressing makes the entire salad. Homemade ranch is always a kid favorite, but we also like to use sweet dressings like poppy seed.
Add Fruit for Sweetness and Familiarity
Salad doesn't just have to be lettuce! We love adding seasonal fruit to our salads. It provide familiarity to kids, and also the natural sweet appeal.
Add Veggies that Have Texture
Juicy tomatoes, crunchy cucumbers, round soft peas, bumpy cauliflower. Textures made food interesting and can appeal to you toddler – we sometimes will mix cooked and raw veggies for different textures!
Serve it in a Fun Way
Salad doesn't have to be served just on a plate. Try serving them in a skewer. Here are some fun ways to serve salad to make it fun and enticing to your toddler!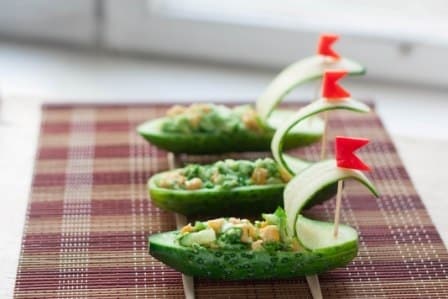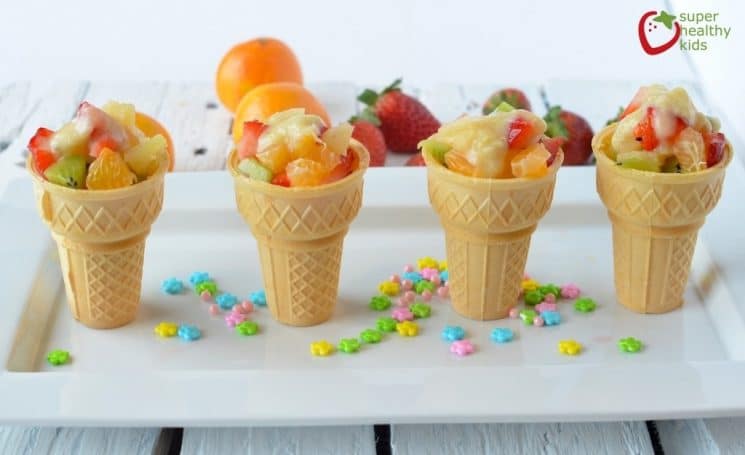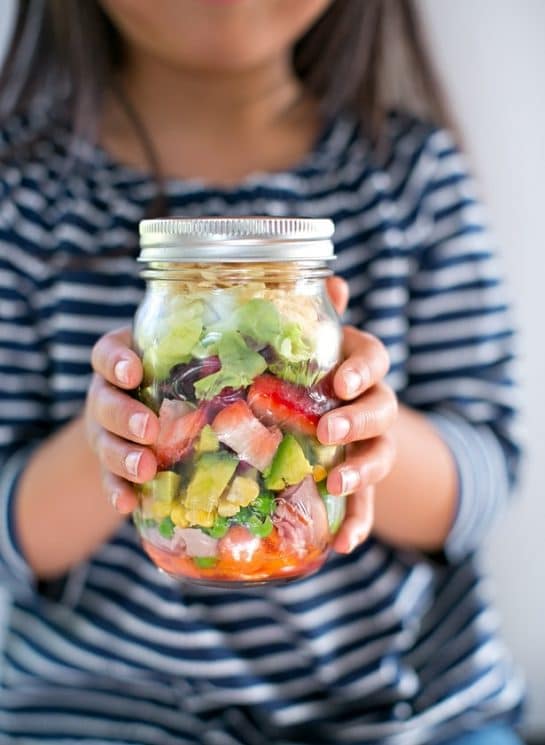 Salad Bundles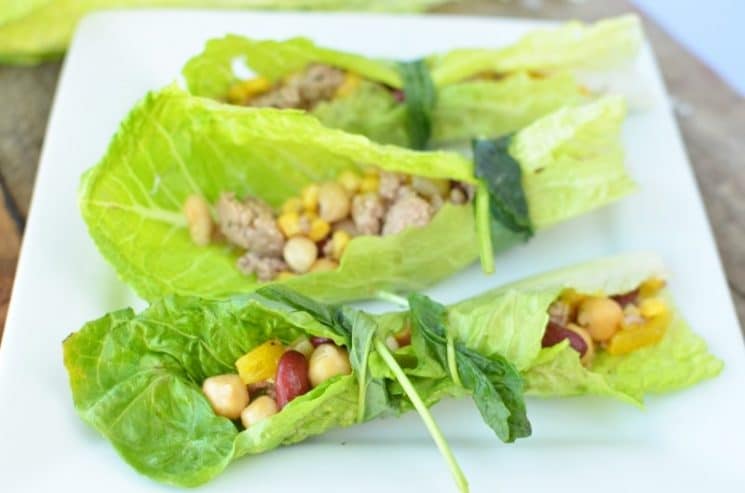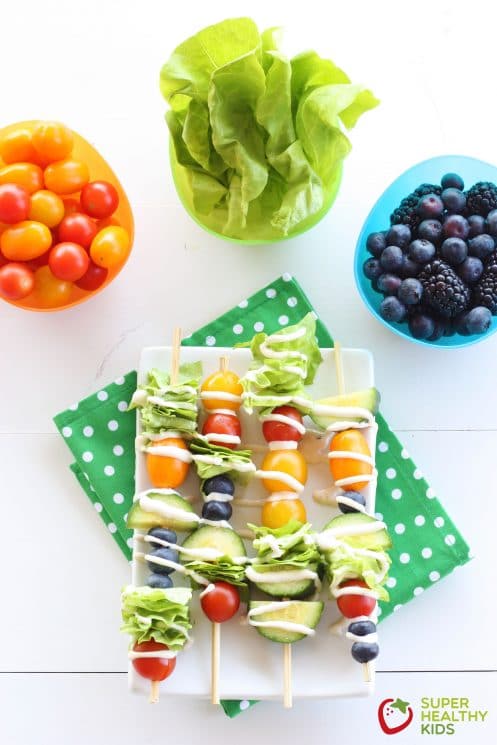 The most important thing to remember is to not give up! If your toddlers turns down salad, try again using different ingredients and serving it a different way. Try different salad dressings. And be creative!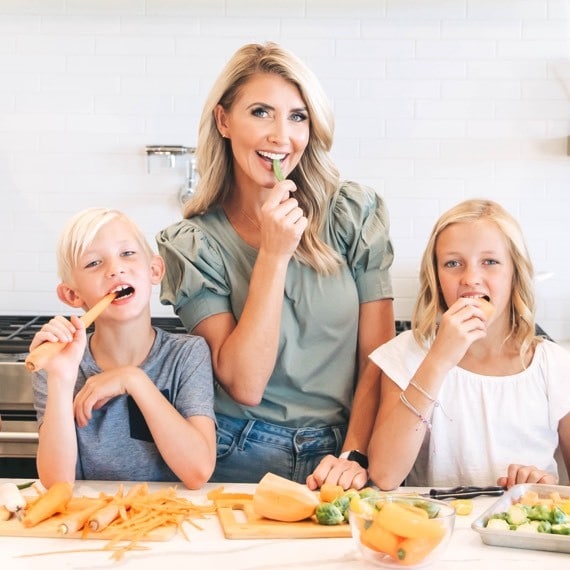 Natalie Monson
I'm a registered dietitian, mom of 4, avid lover of food and strong promoter of healthy habits. Here you will find lots of delicious recipes full of fruits and veggies, tips for getting your kids to eat better and become intuitive eaters and lots of resources for feeding your family.
Learn More about Natalie