Honey Whole Wheat Bread Recipe
If you can bake cookies, you can bake bread. You don't need a bread machine, a rolling pin or a wheat grinder. You don't even have to get your hands messy! Baking bread is so much easier than you might think, and this post will tell you exactly how to get that first loaf in the oven.
The majority of conventional breads contain 20+ ingredients including preservatives and dough conditioners. This simple recipe for Organic Honey Whole Wheat Bread contains just 6 ingredients and requires a mere 10 minutes of hands-on time. Making the switch to homemade bread is an easy way to eliminate unnecessary chemicals and fillers from your family's diet (and your kitchen will smell so wonderful on baking days!).
To get started, gather the following equipment:
And now, to mix!
First, combine 2 C hot water, 1/3 C grapeseed oil, 1/2 C honey and one egg in a Kitchen Aid (or similar) stand mixer. Mix well with the paddle or whisk attachment. (Note: if you want to eliminate egg from the recipe simply increase the oil to 1/2 C).
To the liquid ingredients, add 3 1/2 teaspoons fast-acting yeast, 2 teaspoons salt, and 3 cups flour (King Arthur Organic 100% Whole Wheat Flour is a good option).
Tip: Don't shake your flour container or shimmy the measuring cup; doing so causes the flour to settle and you'll end up with more flour than the recipe calls for. Instead, gently scoop the flour from its container, then use the flat edge of a knife for a clean measure.
Next, remove the paddle attachment and connect the kneading hook. Add the remaining 2 cups flour. Set the mixer to medium-low and let it spin for 10 minutes. Your dough will be thicker than cake batter but not quite as thick as cookie dough.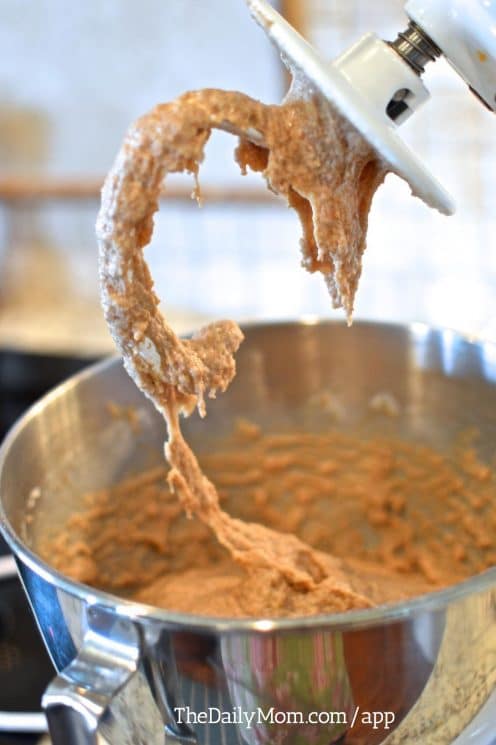 Divide the dough into two even parts; place each into its own greased loaf pan. Let the bread rise on the counter for 30 minutes. It's not necessary to cover the dough (unless you have little taste-testers who might try to snitch!).
Once the dough has doubled in size, place the pans into a 350 degree, preheated oven. (The loaves can bake side-by-side in one oven.) Set the timer for 31 minutes (yes, 31!).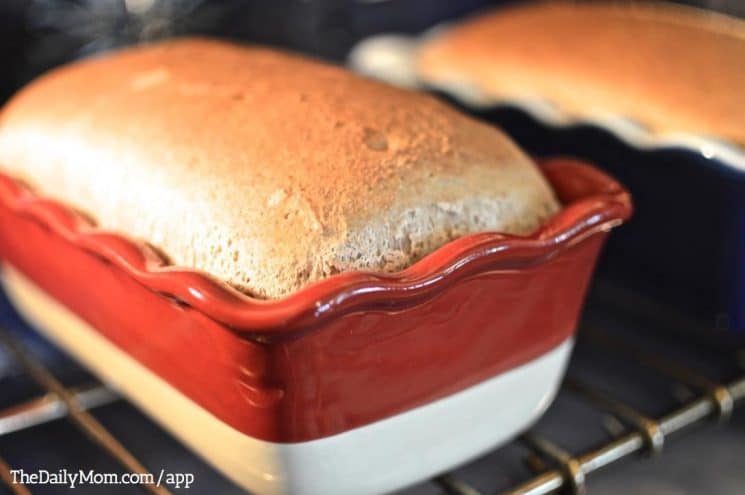 Remove the bread from the oven, let it cool for a bit, then use a thin, sharp knife to loosen each loaf from its pan. Gently turn the bread onto a cooling rack and slice when ready to serve.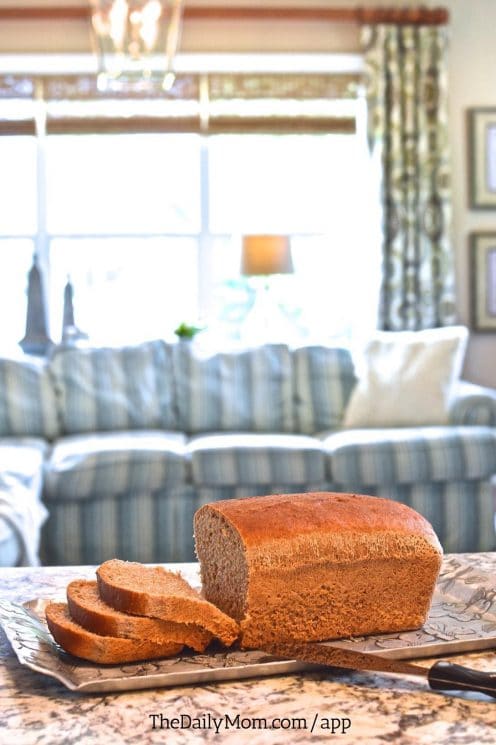 Since this bread doesn't contain preservatives, you'll want to keep it in the refrigerator in a sealed bag and use it within about 5 days. If you need a reason to use it quickly, this bread makes fantastic French Toast!
Once you've mastered the basic whole wheat recipe, try modifying it to suit your tastes. I've had great success turning it into Cinnamon-Raisin Bread by adding cinnamon and raisins in the final step. Nuts and dried cranberries would be delicious additions, too. It's also easy to make pull-apart rolls from this dough: place three small balls of dough into individually greased muffin tins and bake at 350 degrees until golden brown. If you're feeling fancy, sprinkle the dough with garlic and sea salt before baking! Delish!
Kristen and her husband have four children; she is also the founder of The Daily Mom App, a news app designed specifically for busy moms.
Honey Whole Wheat Bread
Instructions
In a stand mixer with a whisk or paddle attachment, combine hot water, oil & honey.

Add egg (if using.  If omitting the egg, increase oil to 1/2 cup).

Add 3 cups flour, yeast, & salt. Mix thoroughly.

Change attachment to the bread hook (kneading) attachment. Add remaining flour and set to mix on medium-low speed for 10 minutes.

Divide the dough into two parts and place into greased loaf pans. Let rise on the counter (covered or uncovered) for 30 minutes.

Preheat oven to 350.

Once the dough has doubled in size, bake both loaves in the same oven for approximately 30 minutes or until the tops are golden brown. Let cool 10 – 20 minutes, slide a knife around the perimeter of the pan, and flip over to release the loaf.

Keep sealed and refrigerated. Enjoy within about 5 days.
Nutrition
Calories:
276
kcal
|
Carbohydrates:
48
g
|
Protein:
8
g
|
Fat:
8
g
|
Saturated Fat:
1
g
|
Cholesterol:
16
mg
|
Sodium:
403
mg
|
Fiber:
6
g
|
Sugar:
12
g
www.superhealthykids.com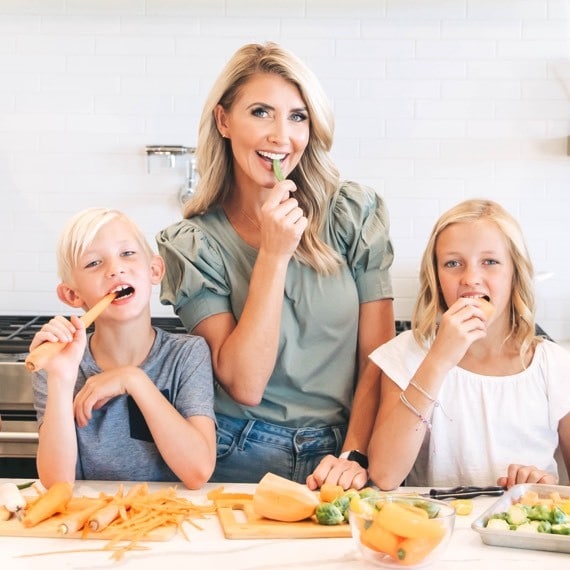 Natalie Monson
I'm a registered dietitian, mom of 4, avid lover of food and strong promoter of healthy habits. Here you will find lots of delicious recipes full of fruits and veggies, tips for getting your kids to eat better and become intuitive eaters and lots of resources for feeding your family.
Learn More about Natalie