Homemade Perfect Peach Yogurt for Kids!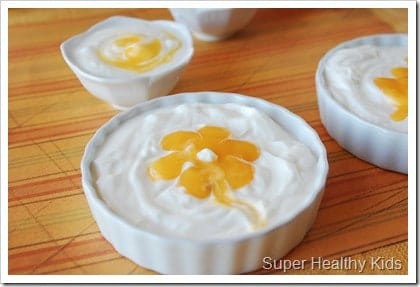 Remember me bragging about how we'll get through a whole box of peaches before they had a chance to go bad? They haven't spoiled yet, but we're getting awfully close. They are super soft, and my poor 7th grader tried to bring a peach to school yesterday. Poor kid ended up with a backpack full of peach guts! I didn't know he took one, or I would have warned him.
So, this morning, we made some peach yogurt. If you want to make your own plain yogurt, great. I actually have two huge cartons of yogurt right now. One, Greek Style plain yogurt (Chobani), and another plain store brand regular yogurt. Here is how we made it:
4 peaches, pitted and peeled (we didn't even need a knife to do this because they are so soft.)
1 teaspoon lemon juice
1 tablespoon honey
1 teaspoon corn starch
1 teaspoon water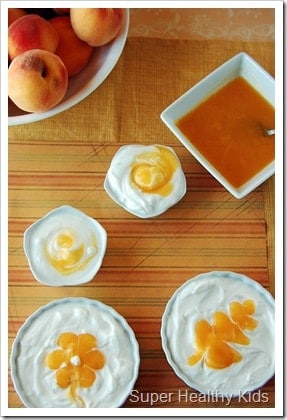 In a saucepan, put all peaches, minus the pits and peels.  Add the lemon juice and honey.  Stir over medium heat until peaches begin to break down.  After about 5 minutes, pour peaches in a blender and puree.  Return to warm sauce pan.  In separate tiny bowl, combine the corn starch and water.  Add the corn starch/water to the pureed peaches, and bring to a boil. Remove from heat and let sit for a few minutes, until slightly cooled, but not solidified.
At this point you can add the peach puree to yogurt. Because of the corn starch, you can make fun decorations on your yogurt. If you are going to mix it all together right away, skip the corn starch and just mix in the yogurt after the peaches have cooled.
For the patterns on top, I used a cookie cutter and placed it on top of the yogurt.  I then spooned out some peach puree into the cookie cutter and let it set up.  For a person who has very little artistic talent (like me) this is super easy!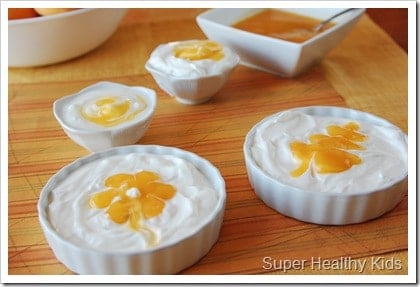 Another reason this works for kids, is we like to use plain yogurt and add fruit to it, but not all kids like yogurt with fruity chunks. This is a great compromise.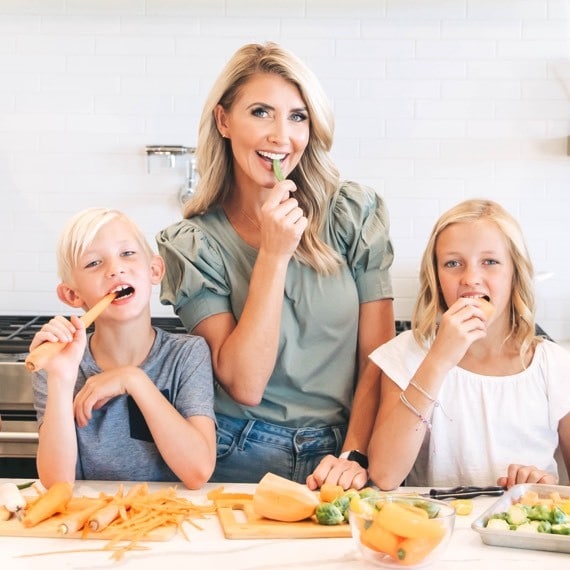 Natalie Monson
I'm a registered dietitian, mom of 4, avid lover of food and strong promoter of healthy habits. Here you will find lots of delicious recipes full of fruits and veggies, tips for getting your kids to eat better and become intuitive eaters and lots of resources for feeding your family.
Learn More about Natalie