Thick fresh Greek Yogurt made right at home for about 1/4 of the cost of store bought! 
Our family goes through a lot of yogurt.  We always buy plain Greek yogurt because there are so many recipes I use it in besides just eating it.   We use it in smoothies, popsicles, as a sour cream replacement for Mexican dishes, on baked potatoes, instead of milk with granola, and a variety of other ways.  It gets to be kind of pricey when I am paying $6-7 for a container with 4 cups.  My mom started making Greek yogurt and recently enlightened me that she makes a gallon at a time for a minimal cost.  I priced it out and when I made this Homemade Greek Yogurt Recipe, it made 1 1/4 gallons of yogurt and it cost me $6.71!!!  I can make 4 times the amount of yogurt for the cost to buy it at the store.  Awesome!  My yogurt problems are solved!  And the best part is, that the hands on time for this recipe is about 15 minutes!  I made my yogurt in pints and it made 10 pints.
How to Make Homemade Greek Yogurt
These process shots will help you follow along with the recipe.  It really is pretty basic and most of the time it is hands-off while it turns into yogurt!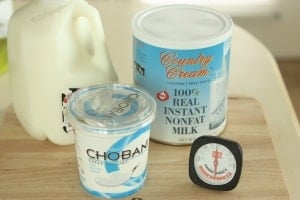 Pour your milk into a large stockpot.  Add 3 cups of powdered milk.
OUR LATEST VIDEOS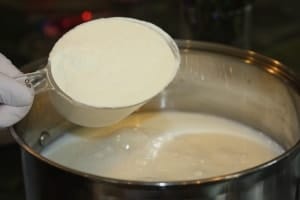 Heat over medium heat, stirring frequently.  Heat up to 180 degrees F.  Measure using a food thermometer.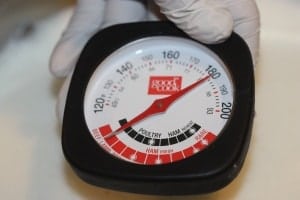 Once it has reached 180 degrees F, turn the heat off and cool to 120 degrees F.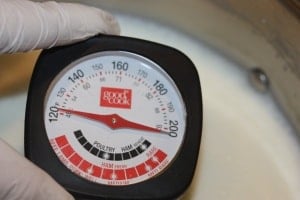 Next step is to add the Greek yogurt.  Measure in a separate bowl and add some of your heated liquid into the bowl.  Continue to add liquid until the cold yogurt is heated to room temperature.  Add the mixture to your stockpot.  Stir until well combined with a whisk.  Then pour into your containers.  Put the lids on the containers.
Place on a tray in an unheated oven.  Put a towel over your containers and turn the light in the oven on.  This will help to keep heat in your oven.  Leave the yogurt in the oven for 4-8 hours.  The longer you leave it, the more tart it will get.  I left mine in the oven for about 5 hours.
Take it out and put it in your fridge.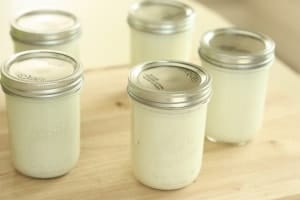 How is Greek yogurt different from regular yogurt?
The first difference is the end process when the yogurt is being made.  The process is the same, but Greek yogurt is strained to remove liquid whey and lactose, leaving behind a thicker-textured yogurt. Here are some nutritional differences:
Protein – Greek yogurt has almost double the protein of regular yogurt.
Fat – If you are comparing full fat yogurts,  Greek yogurt has about three times the saturated fat than regular yogurt.
Sodium – Greek yogurt contains about half the sodium of regular yogurt.
Carbohydrates – Greek yogurt contains roughly half the carbohydrates of regular yogurt, but remember that adding sweeteners to either one will increase the carbohydrate count.
Is Greek Yogurt Good For You?
The answer is yes!  And I will tell you why:
Protein.  Protein is essential for good health, and Greek yogurt is a really good source of protein.  A lot of times we think of protein as just for building muscle, but there is actually so much more!  Protein helps build bones, hair, and skin.  Protein is also one of the three nutrients that provide energy.   It also plays a big role in your immune system, nerves, and fluid balance.
Probiotics.  Greek yogurt is packed with probiotics. Probiotics are healthy bacteria that can help boost your immune system and decrease stomach issues.  Stress and emotions can trigger stomach issues, and current research is finding that your gut can also send signals to your brain.  Probiotics may be able to have a positive effect on your brain.
Calcium.  Eating Greek yogurt everyday can help your kids get the amount of calcium they need, which may help them grow to their potential height!  Along with strong bones and helping vital organs work properly.
Potassium.  If your kids are active, potassium is really important because it helps muscles function like they should.  Also potassium helps balance our sodium in your body.
Why is Homemade Greek Yogurt Better than Store Bought?
When you make yogurt at home, there are only 2 or 3 whole food ingredients.  A lot of yogurts you can find in the store will add things like thickening agents, such as starches or gelatin, sweeteners, food dye and fillers.
I love to eat mine with fresh berries and homemade granola.  Yum!!  It will stay good in your fridge for about 2 weeks.  If you have an Instantpot and want to try making yogurt in it, we also have a recipe for Making Greek Yogurt in the Instantpot.