This Vegetarian Pumpkin Stuffing will be your new favorite Thanksgiving staple!  It's full of savory veggies and a unique amazing Fall flavor!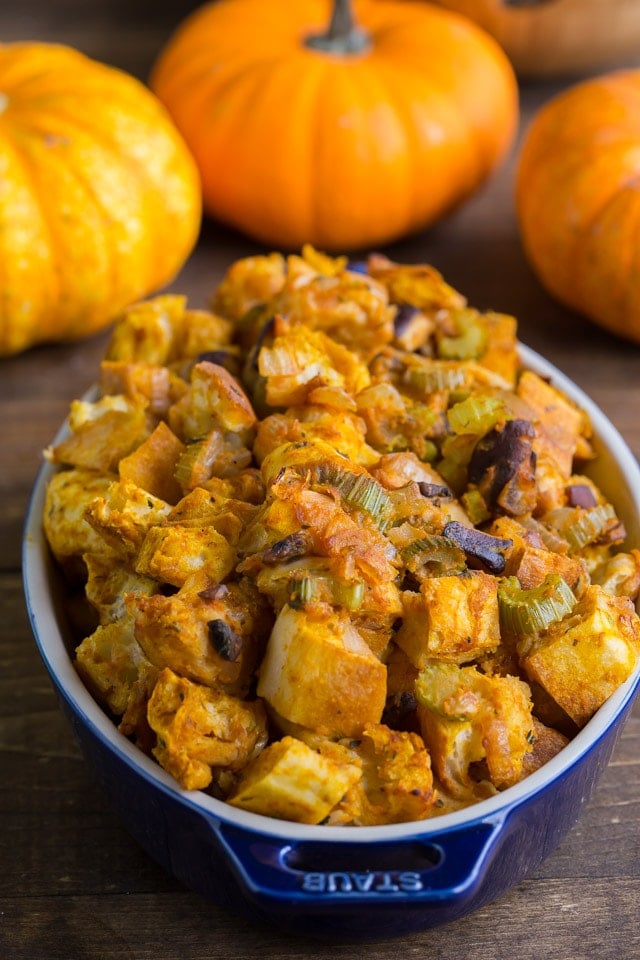 A Unique Thanksgiving Stuffing
I've heard about Pumpkin Stuffing for years but never really thought to give it a try…wow was I missing out!  This is my new favorite side dish and you can bet I'll be making it on Thanksgiving this year with my family.  The pumpkin mixes in perfectly with all the seasonings and veggies.  I've always been a fan of classic cornbread stuffing but this new recipe is making me think twice.  This stuffing uses mushrooms instead of sausage, making it not only a bit healthier, but less heavy if you are serving this for a holiday meal with meat as the main dish.

Want to Make it Even Healthier?
If you want to make this recipe even healthier you can reduce the amount of butter or use olive oil or another oil of choice.  You can also use a whole wheat bread!  But with holidays and certain dishes you may want to make special exceptions.  The butter definitely gives it a delicious rich flavor.  You can add in double the veggies in this recipe and cut back on the bread to make up for the butter!  At the end of the day, your kids will be eating their veggies and loving them!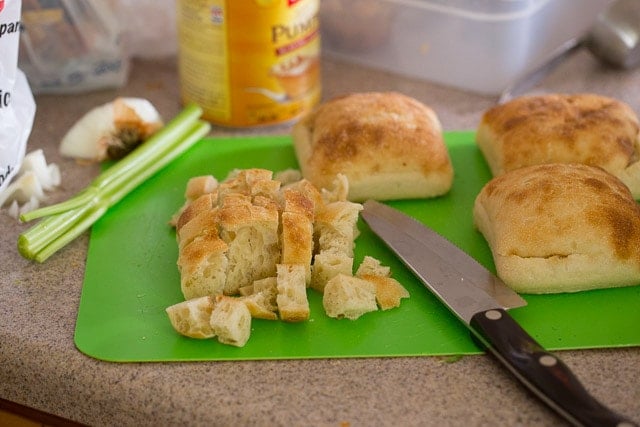 I used ciabatta bread because I love it in stuffing.  I found a few ciabatta buns/rolls at my local grocery store and used 5-6 of them so it was perfect! I would recommend cutting you cubes between 1/2-3/4 of an inch.  You want them to get all the pumpkin goodness soaked through and the smaller pieces are also kid friendly!
Pumpkin in a Savory Dish
Most of the time we think of using pumpkin in sweet dishes and desserts, but because pumpkin has a more earthy flavor and not a naturally sweet flavor, it goes amazingly well in a stuffing.  Combined with sage and rosemary, the pumpkin flavor is so perfect for all of your Fall holiday meals or Sunday dinner.  This would  be really fun to bake inside of a pumpkin as more individual servings, depending on how many guests you are serving.   If you are making this for a big Thanksgiving dinner, then a large casserole dish is great to serve a crowd.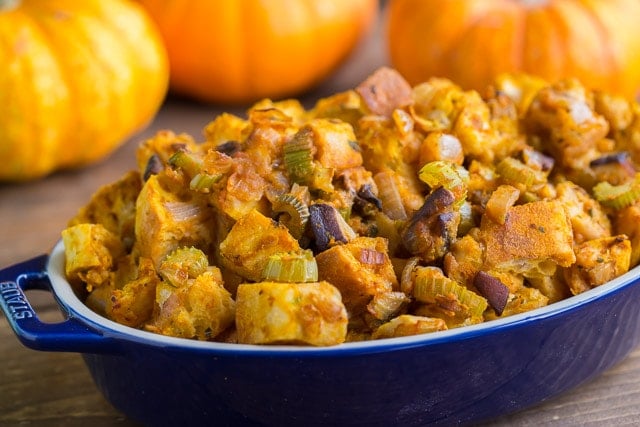 I wish you could smell this right now! These photos don't even begin to do this recipe justice… it was just that good! I was so thankful for leftovers, I ate it with chicken over the next few days!
If you need even more Thanksgiving inspiration, this Pumpkin Mousse is perfect!