Healthy Homemade Teething Biscuits
If you're the parent of a teething baby or toddler, these healthy homemade teething biscuits are your new best friend.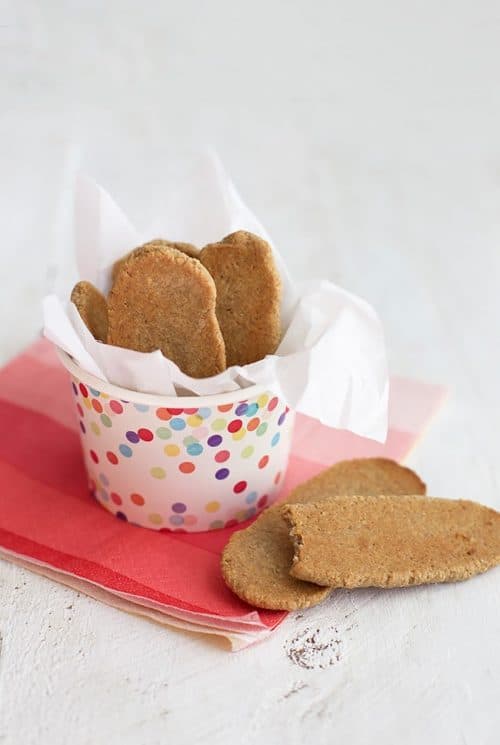 One of the first things I learned as a new parent was that there are a LOT of good ways to feed your child. Every child is different, and has his or her own needs, likes, wants, and preferences. My daughter, for instance, loved purees and, after a little reluctance, started solids and finger foods when the time was right. My son, on the other hand gagged and spit out anything pureed for months and months. So, for him, we did baby led weaning.
What is Baby Led Weaning?
If you're not familiar with the idea, baby led weaning is feeding your child soft table foods and finger foods that you and the rest of your family are eating. There are a lot of pros to the method–your child learns at an early age to feed himself, your child is exposed to a wide variety of textures and flavors early, and some believe that this method leads to less picky eating down the road. See our top 5 tips for baby led weaning here.
There was one area where both children–my daughter (who preferred purees) and my son (who preferred table foods)–completely agreed when it came to food: things they like to eat while teething. All those beautiful tiny teeth sure wreak havoc on a little mouth and for some little ones, it can mean that their mouth is too sore to eat much.
We had a few things that worked really well–smoothie popsicles (which were cool enough that they felt soothing), cold apple slices (for my son), and cold yogurt (for my daughter). Beyond that, they both really liked teething biscuits–little round cracker- or cookie-like biscuits that are fairly soft and feel really good to chew on. Much of what was on the market was either a little over-priced or had some extra ingredients I didn't necessarily want, like sugar, salt, or dairy milk (which my kids are sensitive to).
How to Make Homemade Teething Biscuits
I learned quickly how easy it is to make my own. These healthy homemade teething biscuits are portable and you can make a batch and freeze them ahead of time, which is great for when a tooth unexpectedly starts poking through. I love these because there are only 3 primary ingredients, and you can add different flavorings to keep things interesting. They're soft enough to chew without hurting a sore mouth, but can stand up to plenty of drool! They worked well for both my children through the teething years, and even into the toddler years.
Solids, purees, teething biscuits, or popsicles, GOOD LUCK with those teething months!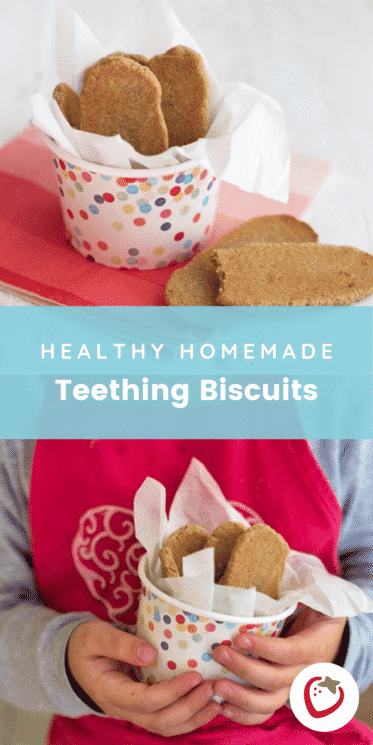 Notes on the recipe:
For the best oat flour… To make oat flour, you simply measure out the oats and then puree them in a blender or food processor. The finer you blend the oats, the more smooth your final texture will be in the teething biscuits. I highly recommend using a blender over a food processor for this reason.
Change up the flavor! These are fairly bland as is. My children liked them plain like this, but sometimes we'd add a pinch of cinnamon, ginger, or nutmeg, or 1/4 tsp of vanilla extract to the recipe. You can also add 1 Tbsp raw cacao or unsweetened cocoa powder to the recipe. For a savory version, you can use olive oil instead of the coconut oil and add in some spices and fresh or dried herbs. Start small and work your way up!
Choose the right shape. I can get about 12 teething biscuits out of this recipe. You want them to be several inches long (long enough for your child to hold onto them) and fairly thin. Please be sure you round out the corners, as sore little mouths won't want any sharp edges poking their gums!
Emily Dixon is the blogger, food lover, and mom behind One Lovely Life, where she shares healthy food and happy thoughts for living a lovely life.
Healthy Homemade Teething Biscuits
If you're the parent of a teething baby or toddler, these healthy homemade teething biscuits are your new best friend. 
Print
Pin
Rate
Instructions
Preheat oven to 350 degrees. Prepare a baking sheet with parchment paper or a silicone baking mat.

In a blender (or food processor), blend the oats into a very fine powder. (A blender will work best for this job, but a food processor will also work)

Add banana and coconut oil (and any vanilla or spices you may be using) to the blender and puree until mixture comes together in a dough.

If the dough is very sticky to handle, you can pat a little flour (gluten free or wheat flour) onto the exterior of the ball to make it easier to handle. If the dough is too dry, you can add a little additional coconut oil.

Divide the dough into 12 balls or sections. Pat out each ball into a little baton about 4 inches long and 1 to 1 1/2 inches wide, and about 1/4 inch thick. Round the edges of each baton with your fingers so there are no sharp edges.

(Alternatively, you can roll the entire dough ball out into a rectangle about 1/4 inch thick and slice it into 12 rectangles. Round the corners of each rectangle and make the shapes roughly even. I've found that shaping each baton works better for me than rolling and slicing, but you can do what works best for you).

Place evenly on a baking sheet so that none of the batons are touching. Bake at 350 degrees for 10 minutes. Flip and cook another 5-10 minutes, or until the edges are golden and the centers are set but not too crunchy.

Allow to cool completely. Store in an airtight container at room temperature, in the refrigerator, or the freezer.
Nutrition
Calories:
394
kcal
|
Carbohydrates:
59
g
|
Protein:
14
g
|
Fat:
12
g
|
Saturated Fat:
7
g
|
Sodium:
2
mg
|
Fiber:
9
g
|
Sugar:
4
g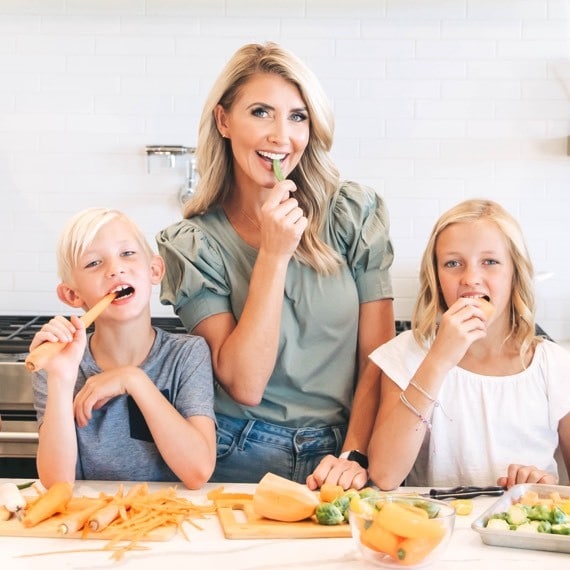 Natalie Monson
I'm a registered dietitian, mom of 4, avid lover of food and strong promoter of healthy habits. Here you will find lots of delicious recipes full of fruits and veggies, tips for getting your kids to eat better and become intuitive eaters and lots of resources for feeding your family.
Learn More about Natalie