Sometimes I'm guilty of passing off a favorite food (like pizza), for a healthier substitute.  My husband keeps telling me if I make a healthier version of a traditional food, I really just need to give it a new name. If he's expecting pizza, and I give him some flat bread with chicken and spinach leaves on top, I shouldn't call it pizza.  That way, expectations are low (he isn't expecting pizza), and acceptance is high (he's accepted what he is getting).
So, I'm not going to call this recipe Nutella (a hazelnut spread with cocoa). It doesn't taste like Nutella. If you've ever used Nutella, you may not even know what hazelnuts taste like.  Nutella (while delicious) tastes like sweet, creamy, milk chocolate.  This is definitely due to the fact that there is more sugar than nuts! I'm not hating on Nutella, I'm just saying it's more dessert than sandwich spread.
So our version decreases the sugar, while increasing the hazelnuts! Simple as that. This was our result: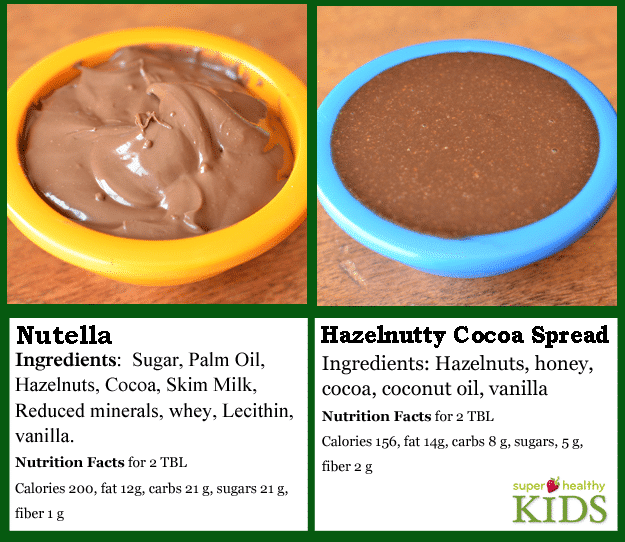 So, although the calories went down and fat stayed basically the same, we brought sugar from 21 grams to 5 grams of sugar!  Plus, our sugar is now from honey, which I believe is a better source, considering it brings along it's vitamins and minerals!
OUR LATEST VIDEOS
Making your own Hazelnutty cocoa spread recipe starts with your hazelnuts. If you don't know what hazelnuts looks like, here they are:
You may have a difficult time finding them. I have found them at a local health food store in the bulk bins.
Before you start this recipe, roast your nuts. I've tried skipping this step, because I don't like more steps than are absolutely necessary, but my spread never turns out!  Roasting only takes 8-12 minutes at about 400 degrees and I think it makes a creamier spread.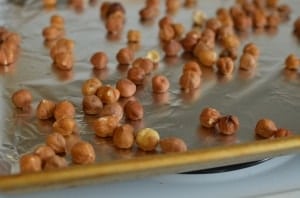 Once they are roasted and cool enough to hold, pick up a handful and rub them between your hands and watch the skins fall off.  They won't all come off, but the more the better.
Then, I start with the nuts in a food processor or blender, and grind until powdery, and add the rest of the ingredients until smooth.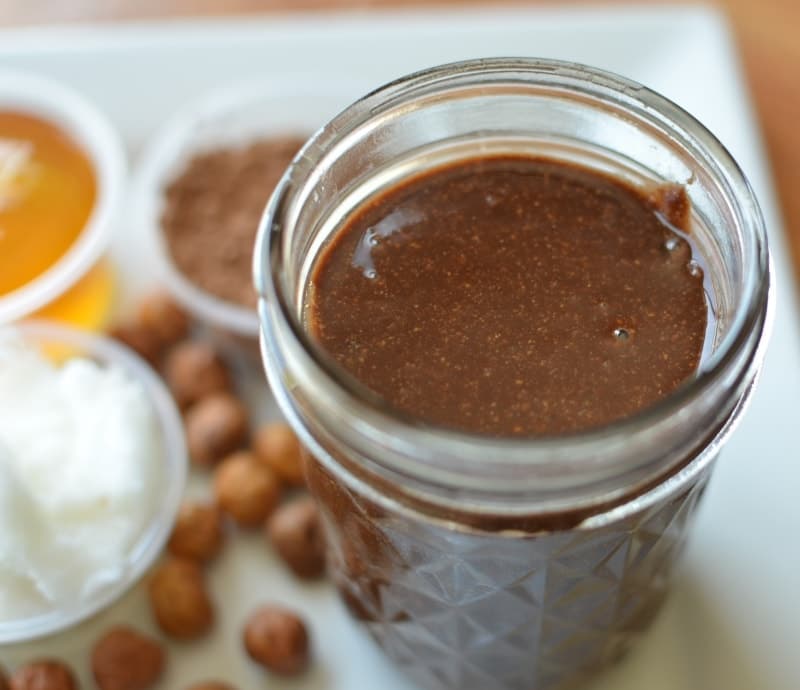 Then, once you have the spread, use it to make your favorite, nutella-banana sandwiches!
Or, how about strawberries and nutella sandwich?
And for a bonus treat: Chocolate spread strawberries.  Cut the top and scoop the inside of the strawberry just until you see the hollow inside.  Spoon your homemade chocolate spread in the strawberry.