Hacks for Healthy Eating while Dining Out with Kids
When our family goes out to a restaurant, one of my pet peeves is having a lovely menu with several choices and cooking methods offered for adults but having a kids menu with only fried entrée choices with a side of French fries. Yes, kids may eat those foods sometimes. But having healthy choices on the kids' menu means that they aren't limited to a fried feast. With just over one third of children and adolescents consuming fast food on a given day and receiving an average of 12.4% of their daily calories from fast food restaurants in 2011 and 2012, it is essential that we get healthy options into these settings. According to the American Restaurant Association, one of the top 20 food trends in 2016 is healthful kids' meals. What are restaurants doing to meet that need/trend? Actually, a program called Kids LiveWell started in 2011, where participating restaurants commit to offering healthful meal items to children. It is a voluntary program and is a collaboration between the National Restaurant Association and Healthy Dining. For the restaurants taking part, there is a focus on increasing consumption of lean protein, whole grains, low-fat dairy, fruits and vegetables while limiting unhealthy fats, sugars, and sodium. When the program was launched, there were 19 participating restaurants/chains. Now, there are more than 42,000 restaurant locations participating. Restaurants pay a fee to participate, and this provides access to a team of registered dietitians which in turn ensures that the recommended nutrition criteria are met. The restaurant is allowed to use the Kids LiveWell apple icon on the menu to highlight healthy choices. This allows children and families to more easily spot the healthier options. The restaurant is also placed on the Kids LiveWell website for families to readily find restaurants with healthier choices available.
A restaurant doesn't have to take part in this program to have healthy options for children. If you are unsure about what a restaurant has to offer, look for an online menu or call ahead to ask. Even if something is not listed on the menu, the restaurant may be willing to meet your needs.
If you find your family at a restaurant with a less than desirable children's menu, the following tips may be helpful:
Ask for a substitution. You may be able to get a side of fresh vegetables or fruit to replace French fries or other less healthy side dishes. With having three kids, we sometimes allow one to get fries and the other two get a vegetable (our favorite restaurant is very generous with the steamed broccoli and cauliflower). Then we redistribute the fries so that each gets about five and a heaping serving of vegetables.
Explore the appetizer menu. You may find grilled shrimp or other healthier choices in the appetizer menu, and you can add to it with an a la carte side or by sharing from an adult plate.
Check out the regular entrees. Is there a healthier option, such as a grilled fish or chicken breast entrée, that you can split between your kids?
Investigate the drinks. Choose low fat milk or water over soft drinks. If you want to let the kids have a treat by allowing a "special drink," like a lemonade or Shirley Temple, limit it to one and then all refills can be water.
We love our dessert, so we usually order one to share between the five of us. We all get a taste of the delicious morsel, and no one has to either leave most of the dessert behind from being too full or over stuff himself trying to finish it off. Or if the kids want ice cream, I usually get one kids cup and split it. It's amazing how much ice cream is served in one kids' cup in many restaurants.
Thankfully, several restaurants are listening to consumer demands for healthier options. Through a bit of research, you can locate these restaurants in your area so that dining out can be enjoyable and nutritious too.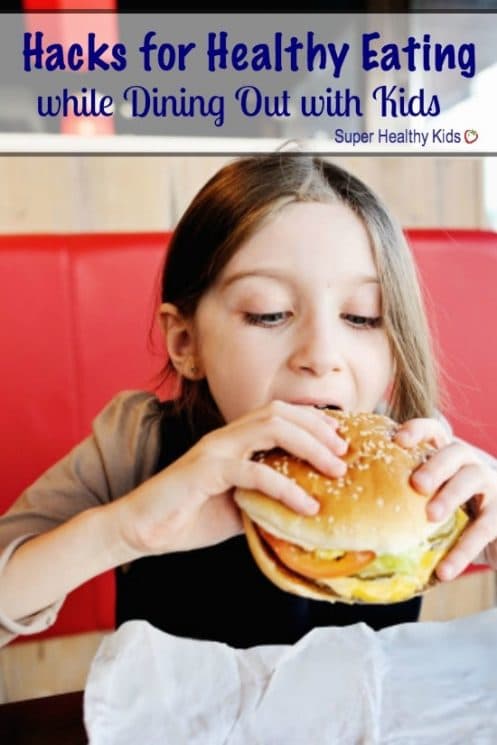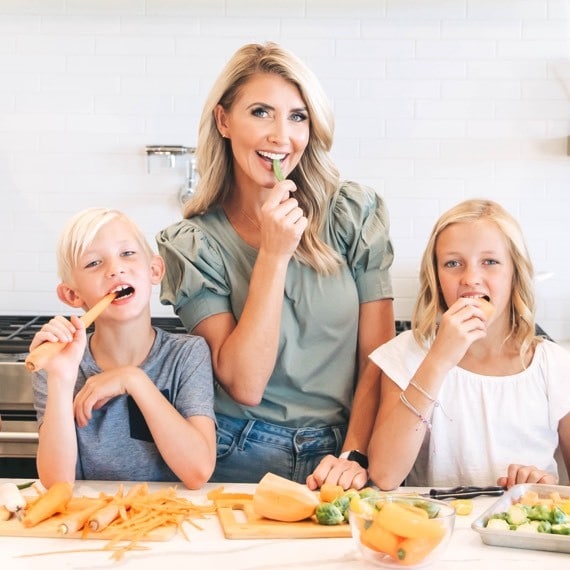 Natalie Monson
I'm a registered dietitian, mom of 4, avid lover of food and strong promoter of healthy habits. Here you will find lots of delicious recipes full of fruits and veggies, tips for getting your kids to eat better and become intuitive eaters and lots of resources for feeding your family.
Learn More about Natalie