These Whole Wheat Banana Bread Dark Chocolate Chip Muffins are the perfect after-school snack. It'll fill up those little bellies with a healthy snack but won't ruin their appetite for dinner.
Anyone else's kid seem to be a bottomless pit? Honestly, I don't understand it. Always eating. Always hungry. My kiddo gets a big breakfast, lots of lunch, and an adult-sized dinner. Yet, somehow, when he gets home from school, he is starving! We start off with a small snack so dinner isn't spoiled. Still hungry. Then on to a piece of fruit. Still hungry. A bowl of popcorn. Still hungry. Dang! Am I alone here or is this just a normal growing-child situation?
He's only nine years old. I'm not sure what I'm going to do when he's a teenager and is growing even more rapidly. And props to all you Mamas with more than one kiddo. Just my one is enough to empty my pantry on a weekly basis.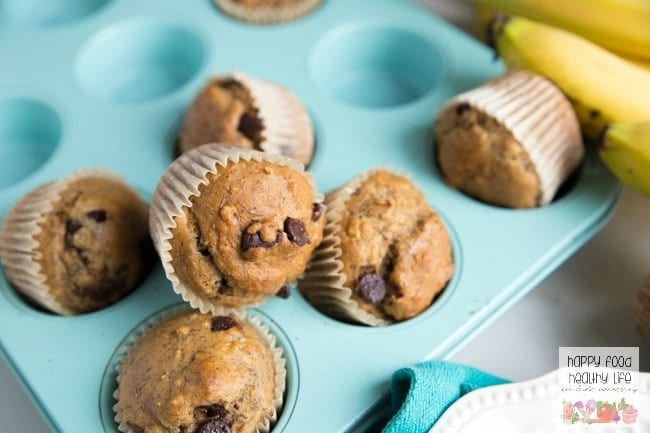 When it comes to after-school snacks, I'm definitely a fan of homemade over store-bought, and chances are, you feel the same way about making homemade treats for your kids. Don't get me wrong. There's a time and a place for some healthier store-bought snacks. Like on weeks when science projects are due, you have parent-teacher conferences, and the car ends up in the shop. Believe me, we all have those crazy weeks! So when you come across a recipe so dang easy that only dirties one bowl, you kinda have to jump all over it, right?
Like my favorite banana bread recipe. It can easily be made in one bowl and takes just minutes to come together. Plus, I almost always have everything on hand for it, and I bet you do too. So I thought, why not turn my banana bread into muffins?! Perfect for breakfasts, lunches, and after-school snacks. It's time to take out the muffin tin and line them with those cute pastel silicone muffin liner. So easy to make!
These are great because they're dense and filling. They definitely help to fill that seemingly bottomless pit that is my child. And what kid says no to dark chocolate chips in every bite? Definitely not mine!
Holly shares healthy recipes, motivation, and fitness tips over at Happy Food Healthy Life.