Chocolate Dipped Strawberries
Chocolate Dipped Strawberries are one of our favorite easy, delicious, and impressive treats. Sweet, juicy berries are coated in creamy, crunchy chocolate for a crave-worthy dessert that is perfect for entertaining or gifting.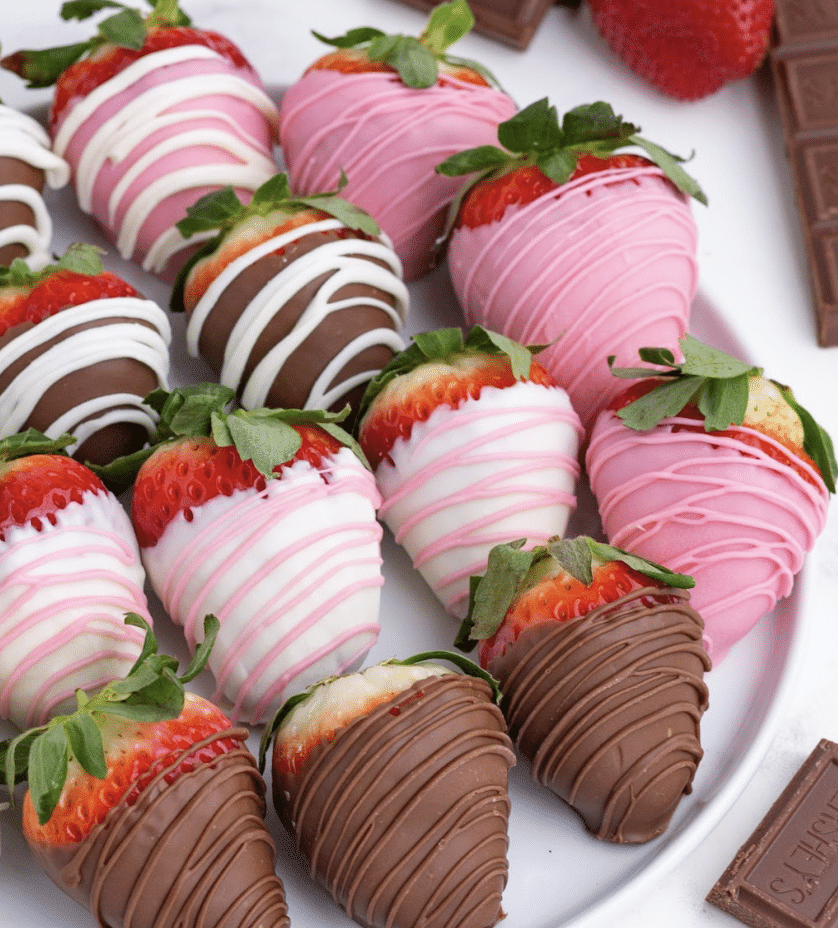 Delicious & Easy Chocolate Dipped Strawberries
Something about strawberries coated in chocolate just feels so… decadent. I feel like they often get reserved for special occasions, or purchased at fancy little bakeries. But the truth is- they are ridiculously easy to make at home. And with a couple different chocolates and a few well-placed drizzles.. you can whip these out and even make a random Thursday feel special.
Granted, there are a few tricks to making them look and taste amazing. More on that in a bit. But once you have that information under your belt, you'll be well on your way to creating beautiful, delicious, chocolate dipped strawberries that are sure impress even your toughest critics.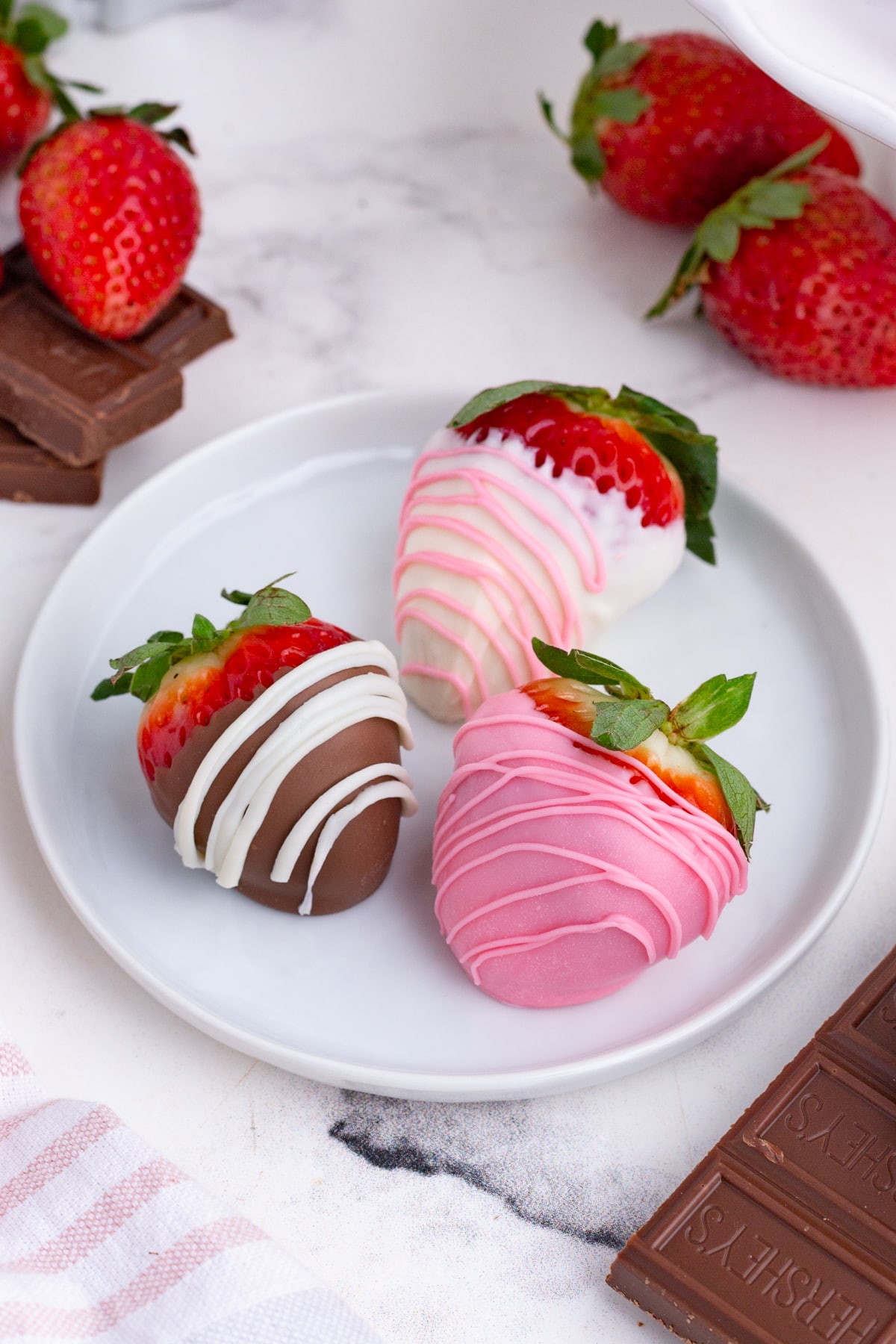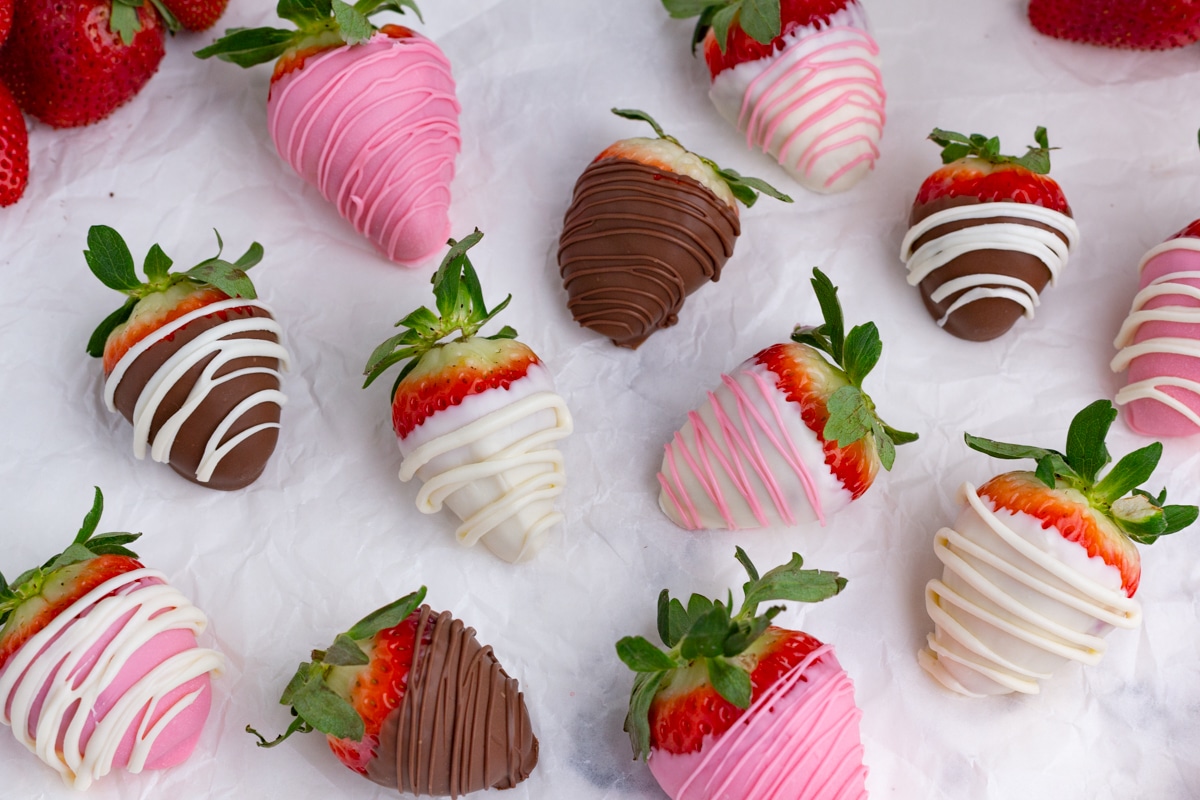 Ingredients for Chocolate Dipped Strawberries:
Strawberries– In-season berries are best because they are sweeter and more flavorful. Avoid using berries with blemishes or bruising.
Chocolate– Look for high-quality melting wafers or chocolate chips. Our favorite chocolate to use is Ghiradelli Melting Wafers.
White Chocolate– Again, look for a good quality white chocolate.
Coconut Oil (optional)– You might need to add a bit of coconut oil to thin out the chocolate and get it really smooth and glossy.
Other Supplies:
Parchment Paper
Wooden Skewers
Plastic sandwich or piping bag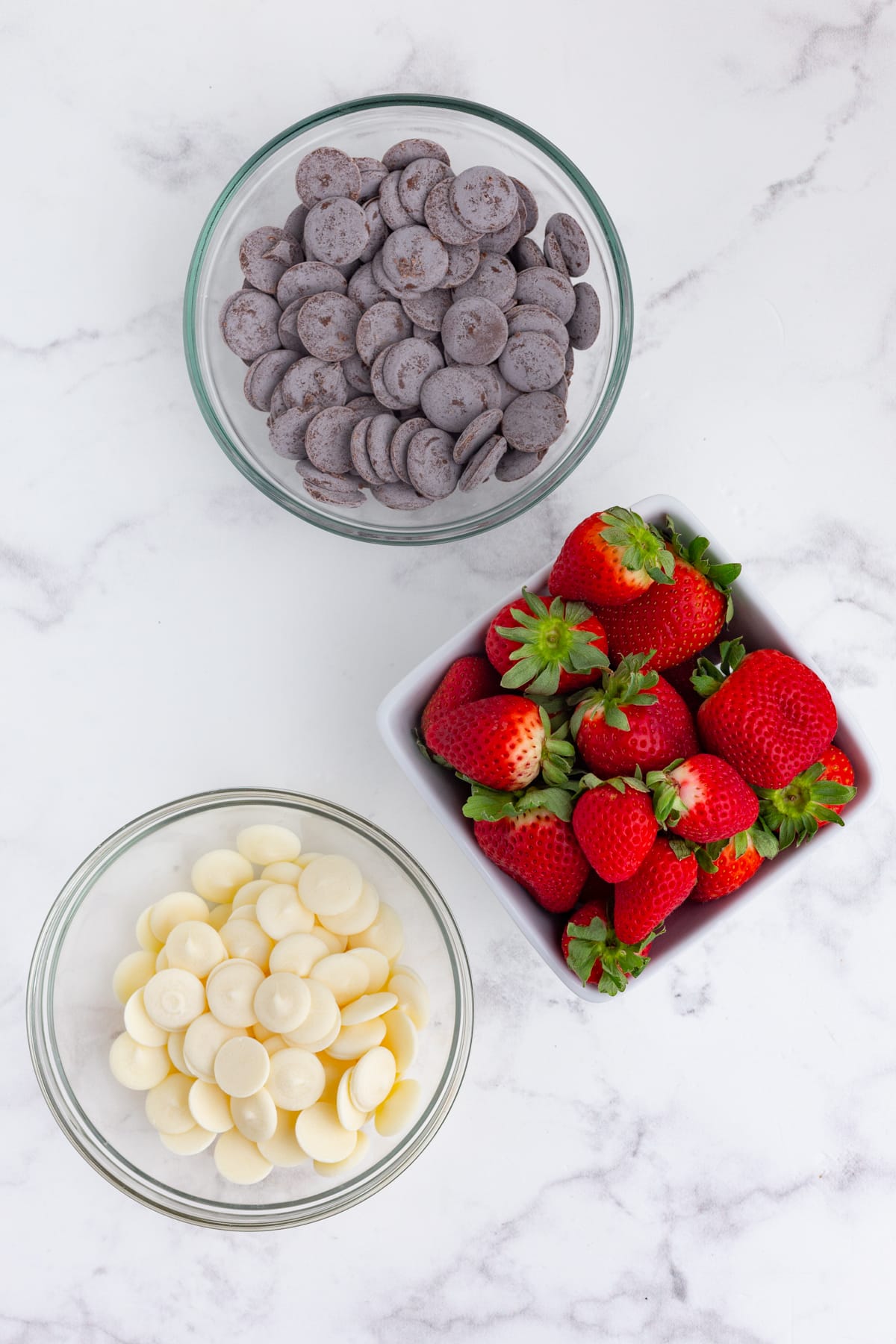 How to Make Chocolate Dipped Strawberries:
Wash your strawberries and dry them well. This is super important! If you have any moisture on your strawberries, the chocolate will not stick. Wash them, spread them out on some paper towels, and let them sit out for a bit to ensure they are completely dry before dipping.
Melt the chocolate. You can do this one of two ways: in the microwave, or over a double boiler. The microwave is fast and convenient, but you do need to watch it carefully to avoid scorching/overheating the chocolate. You also run the risk of your chocolate cooling and getting too thick before you finish dipping all of your strawberries. The other option is using a double boiler. This takes a bit more effort and you need to make sure you have the right size bowls, but the benefit is a slow melt and a continuous heat that will keep the chocolate nice and melted until you've dipped all of your strawberries.
Dip strawberries in the melted chocolate. You can do this by using a fork or holding the stem of the strawberry, but the easiest way we've found is to use a wooden skewer. Simply insert it into the stem end of the strawberry to dip and swirl in the chocolate. Allow excess chocolate to drip off, then place the strawberry on a parchment lined baking sheet to set.
Make them fancy! Ok, obviously this is an optional step. But it's super easy to do and it really does make your strawberries look fabulous. If you want to add sprinkles, do this immediately after dipping the strawberry. Don't wait until you've dipped all of them, or you might run the risk of the chocolate setting on the first ones before you finish the last. If you want to add a chocolate drizzle, allow the dipped strawberries to set completely first. Melt a couple tablespoons of chocolate, adding about a teaspoon of coconut oil if desired. This will help thin the chocolate for an even drizzle. Put the melted chocolate in a small piping bag or sandwich bag and snip a small hole. Apply gentle pressure to the bag while moving back and forth evenly over the strawberries.
Allow to set. Allow the strawberries to sit on the counter until set, or put them in the fridge to speed the process. Serve immediately or store in the refrigerator for up to 2 days.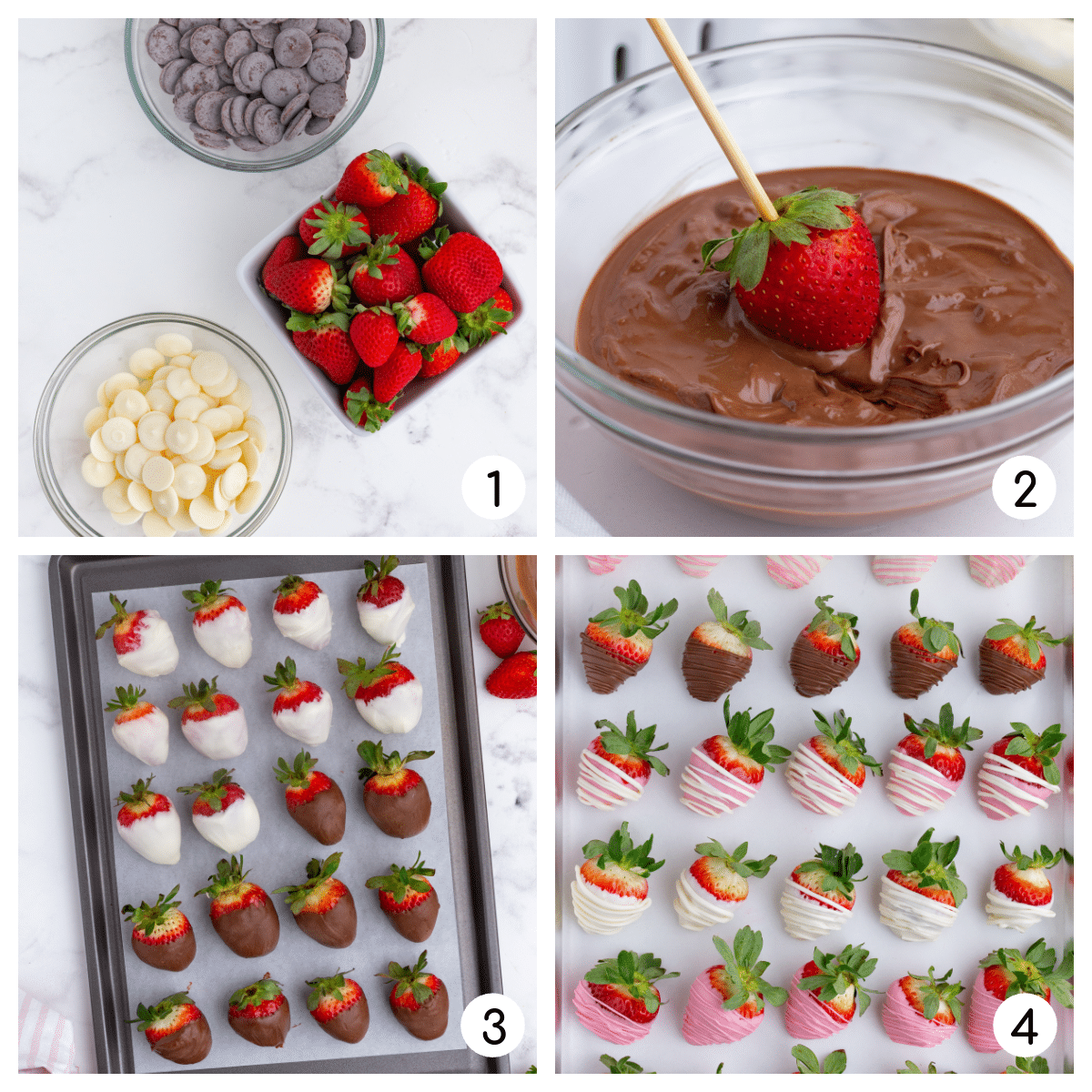 Tips & Suggestions
What is the best chocolate for dipping strawberries?
First and foremost, it's important to use really good chocolate here. There are only two ingredients here, so you want to make sure they count! High quality baking chocolate or chocolate chips like Ghiradelli, Lindt, Baker's, or Callebaut are all good options. Avoid using milk chocolate candy bars. Our favorite chocolate to use is the Ghiradelli melting wafers. You can use semi-sweet, milk, dark, or white chocolate.. or a combination! It's simply a matter of preference.
Use dry, room temperature strawberries.
If your strawberries are wet, or straight from the fridge, the chocolate will not bind to the strawberries. So pull them out, give them a good wash, pat them well with a paper towel, and let them sit for an hour or so until they are good and dry before attempting to dip them in chocolate.
How should I store chocolate dipped strawberries?
Store your finished strawberries on a plate or baking sheet, uncovered. Keep in mind that they will only last for about two days, and that they are best when served the same day they are made.
Chocolate Dipped Strawberry topping ideas:
Sprinkles
Finely chopped nuts
Grated chocolate
Crushed Oreos or vanilla wafer cookies
Graham cracker crumbs
Colored white chocolate drizzle
Desiccated coconut
Crushed freeze-dried fruit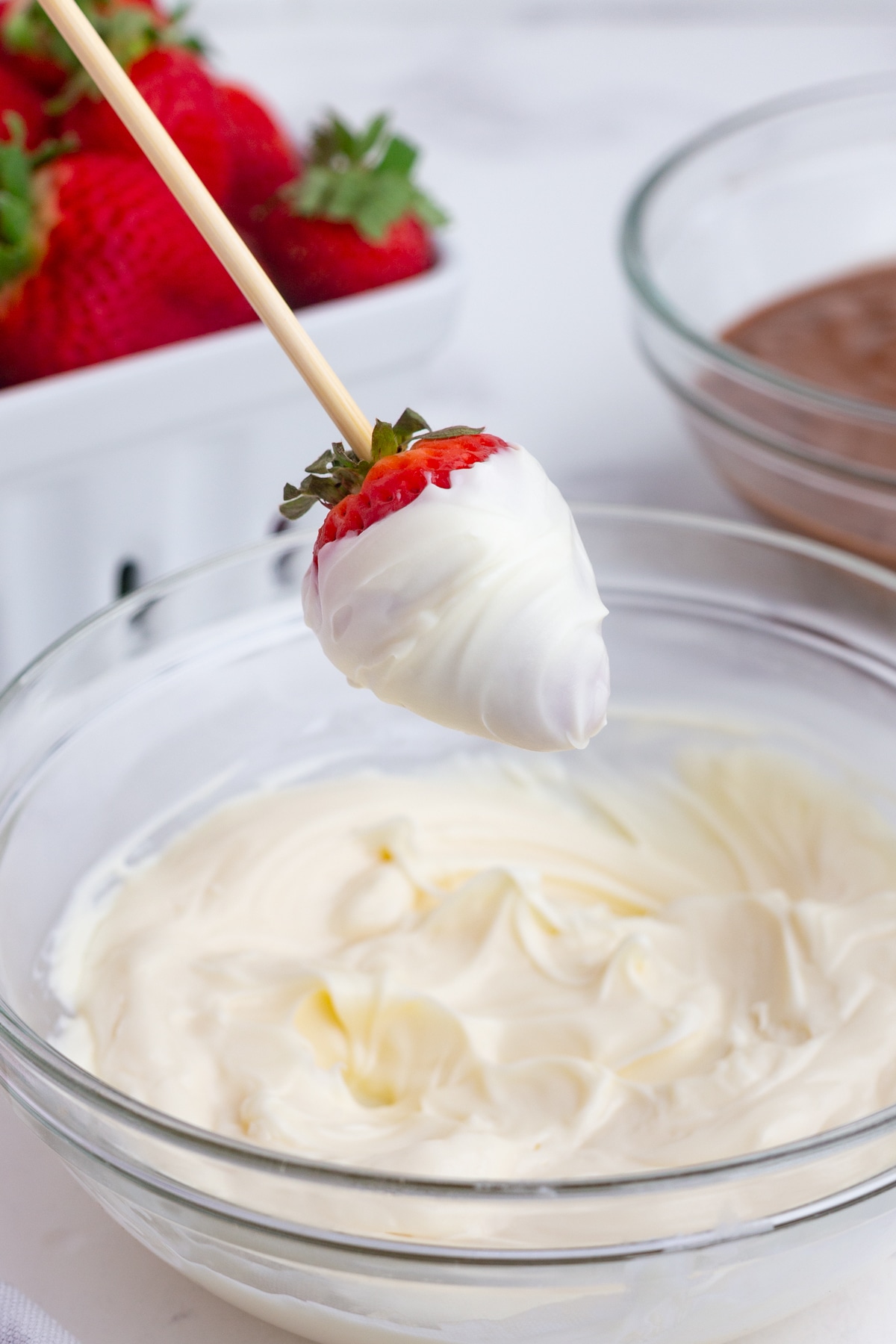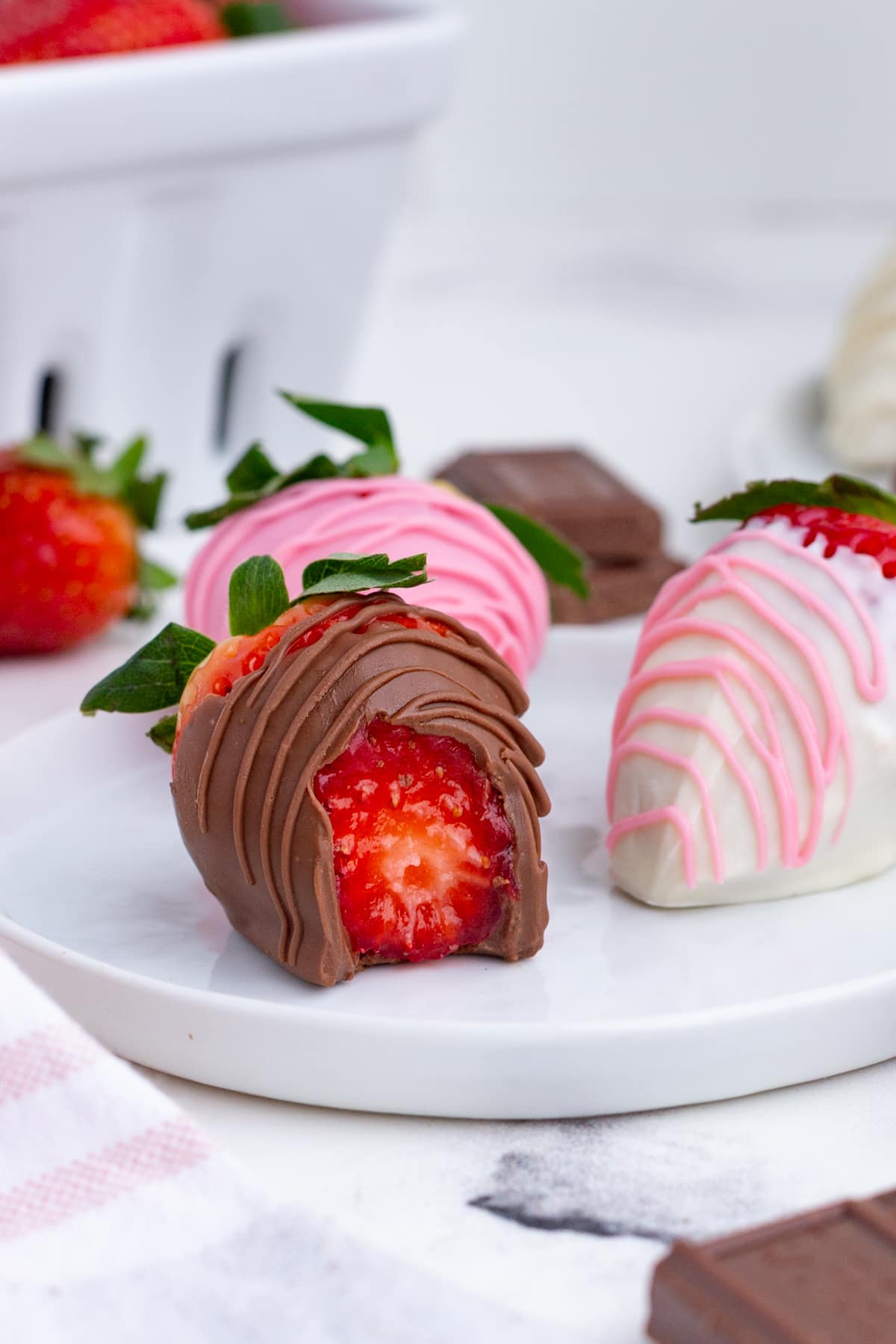 More Delicious Strawberry Recipes:
Chocolate Dipped Strawberries
Chocolate Dipped Strawberries are one of our favorite easy, delicious, and impressive treats. Sweet, juicy berries are coated in creamy, crunchy chocolate for a crave-worthy dessert that is perfect for entertaining or gifting.
Servings:
30
strawberries
Ingredients
1 1/2

pounds

fresh strawberries

about 30 medium

10

ounces

baking chocolate

dark or milk

5

ounces

white chocolate chips or wafers
Instructions
Rinse strawberries and dry them completely. If there is water left on the strawberry, the chocolate won't stick!

Line a baking sheet with parchment or freezer paper.

There are 2 ways to melt your chocolate. The first is in the microwave. Melt the chocolate in a microwave-safe bowl (this silicone bowl set is my favorite) stirring after 30 seconds and continuing to heat for 20 second intervals until completely melted (stirring again between each one).

The second is on your stove using a double boiler method. If you don't have an actual double boiler, you can use this method. Pour your chocolate pieces and white chocolate into 2 separate heatproof medium bowls. Fill 2 medium saucepans with a couple inches of water and bring to a simmer over medium heat. Turn off the heat; set the bowls of chocolate over the water to melt. Stir until smooth.

To dip your strawberries, hold each strawberry by the stem and dip them about 3/4 of the way up the strawberry into the melted chocolate. Lift it out of the chocolate and swirl very slightly to let the excess chocolate drip off. Place on the covered baking sheet. Repeat with all of your strawberries. You can dip in white or milk chocolate.

If you want to drizzle with chocolate on top, dip a small spoon into the chocolate and make a quick back and forth motion over the strawberry allowing it to fall on both sides of the strawberry. If your chocolate is too thick to drizzle, add 2 teaspoons of coconut oil and gently reheat.

You can also use sprinkles to decorate the top of the strawberries while they are still wet.

Let the strawberries set for about 15 minutes before serving. You can put them in the refrigerator to speed up the setting time. Store in the fridge for up to 2 days.
Nutrition
Calories:
80
kcal
|
Carbohydrates:
7
g
|
Protein:
2
g
|
Fat:
7
g
|
Saturated Fat:
4
g
|
Polyunsaturated Fat:
0.2
g
|
Monounsaturated Fat:
2
g
|
Cholesterol:
1
mg
|
Sodium:
7
mg
|
Potassium:
127
mg
|
Fiber:
2
g
|
Sugar:
4
g
|
Vitamin A:
4
IU
|
Vitamin C:
13
mg
|
Calcium:
23
mg
|
Iron:
2
mg
www.superhealthykids.com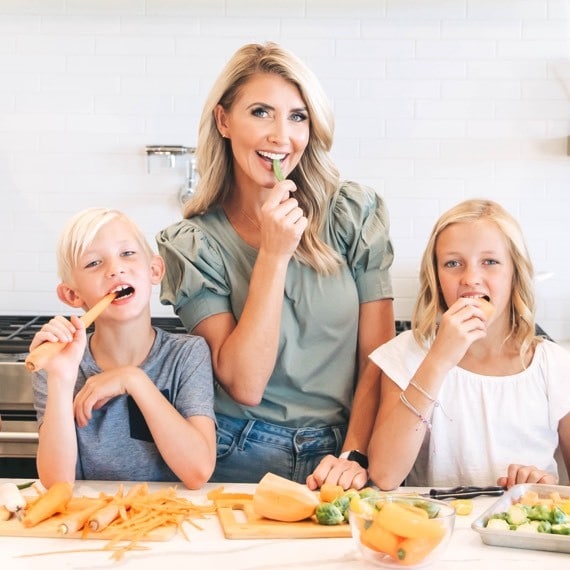 Natalie Monson
I'm a registered dietitian, mom of 4, avid lover of food and strong promoter of healthy habits. Here you will find lots of delicious recipes full of fruits and veggies, tips for getting your kids to eat better and become intuitive eaters and lots of resources for feeding your family.
Learn More about Natalie