Brussels Sprouts Chips Recipe
This Brussels Sprouts recipe is sure to turn your kids into a fan of this veggie!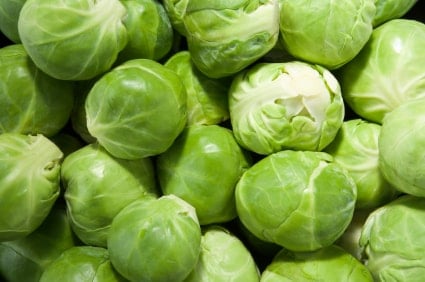 Among many kids, Brussels sprouts have gotten a bad reputation. I partly blame the vegetable itself, as it is bitter if eaten raw. I partly blame well meaning parents everywhere who attempt to cook them for dinner, but aren't really sure how to cook them for the best flavor. Overcooking is common, and leaves the Brussels sprouts soft grey, and having a flavor that most people don't like. Prepare them properly however, and you can very well have a new favorite veggie!
The benefits of Brussels sprouts for kids
Some kids like these sprouts because they look like "Baby heads of cabbage!" I love to refer to them like this, but in truth, they are a LOT like cabbage, nutritionally. Brussels sprouts are great for kids! They are a great source of:
Vitamin K- good for building strong bones!
Vitamin C- good for the immune system.
Folate- beneficial for cardiovascular disease and prevention of anemia.
Vitamin B6- which kids need for macronutrient metabolism.
Fiber- important in digestion!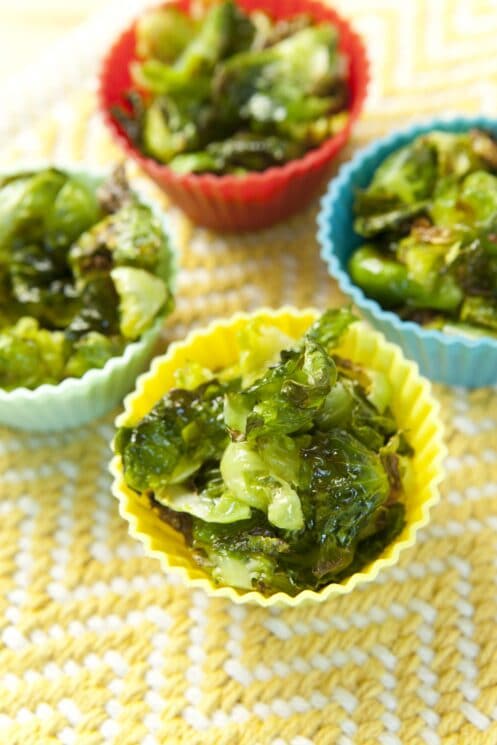 Best ways or cooking Brussels sprouts
As I said, overcooking Brussels sprouts is a common problem and leads to the extreme dislike of the veggie among certain populations (children!). The best way to cook them is by cutting the base off (the tough woody, stem), and removing the loose leaves. Wash and dry them well. Then broil, roast, stir fry or steam them for best flavor. Top with cheese, butter, olive oil, salt, or flavorful bacon. Serve them for your meal with these other dinner ideas!
This method, Brussels Sprout chips are DIVINE and perfect for first time sprout tasters!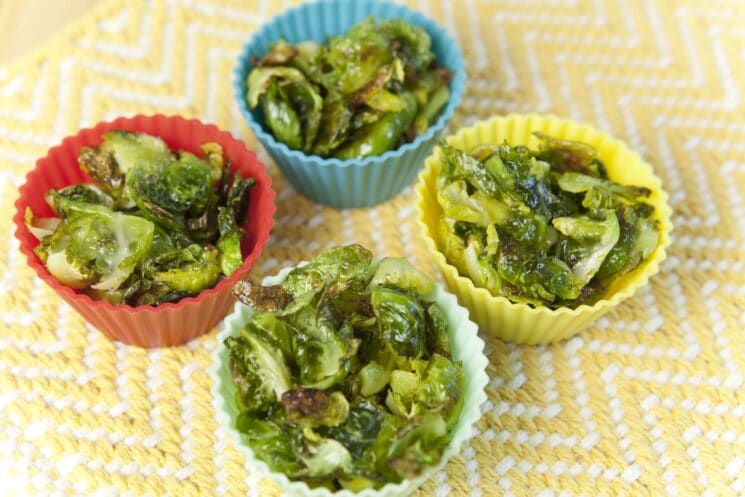 Cut the stems away from the sprouts and remove the outside leaves that are falling off. Toss the sprouts into a bowl with the olive oil and a small amount of salt, and stir them around till they are coated.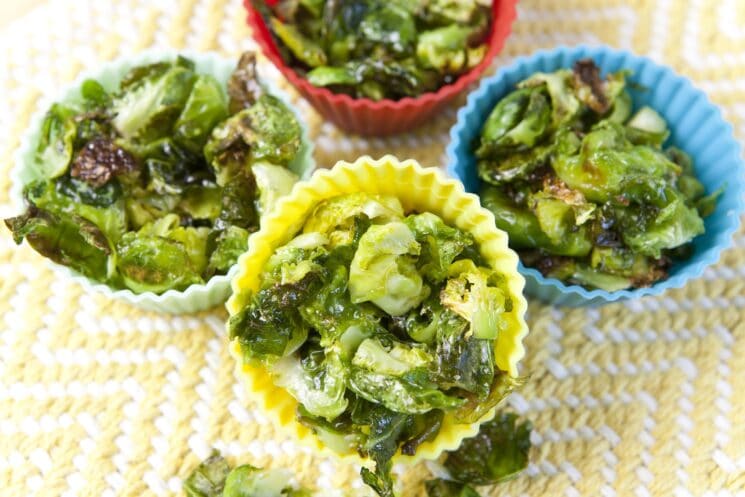 At this point, you can arrange them on a single layer and roast them in the oven! SO GOOD! Let us know how they turn out!
RELATED POSTS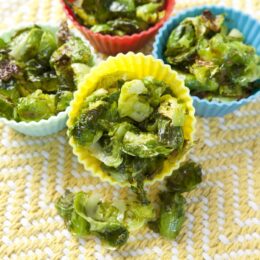 Brussels Sprouts Chips
This Brussels Sprouts recipe is sure to turn your kids into a fan of this veggie!
Print
Pin
Rate
Ingredients
15

medium

Brussels sprouts

1 1/2

teaspoon

olive oil

1/8

teaspoon

salt
Instructions
Heat oven to 350°F.

With a small paring knife, cut off the bottom tip of each sprout. This will release the outermost leaves; put leaves in a large mixing bowl. Continue to trim a thin slice more off the bottom stem, teasing each layer of leaves off, and adding them to the bowl. Stop when you have removed all the leaves and you are left with the heart or core of the sprout. (Save cores to roast later if you like.)

When you have removed all leaves you can, toss the leaves gently with the oil, sprinkle ever so lightly with salt. (Really, do NOT have a heavy hand with the salt because the salty flavor intensifies with roasting. Just sift a few grains between your thumb and forefinger.) Lay leaves in one layer on a rimmed baking sheet. The leaves, during tossing, will want to cup together, so take care to remove them from nesting together as you arrange them on the baking sheet. They need to toast in one layer for best results.

Roast for 10-15 minutes, until leaves are lightly browned and crisp. The wide variation in time is because of the differences between home ovens. Check at 10 minutes, and remove any that you think are done, putting the rest back in for another minute or 2; check again and remove those that are done. You don't want the entire leaf to be fully toasted or it will be too bitter. You'll get the hang of it and your oven's peculiarities after the first batch.
Nutrition
Calories:
46
kcal
|
Carbohydrates:
7
g
|
Protein:
3
g
|
Fat:
2
g
|
Sodium:
92
mg
|
Fiber:
3
g
|
Sugar:
2
g