All Natural Peppermint Cough Suppressant Bath Bombs
Take a deep breath…..and soothe that annoying persistent cough that is keeping you or your kids up at night. With peppermint and eucalyptus, these all natural bath bombs help clear congestion and relieve stuffiness and coughing.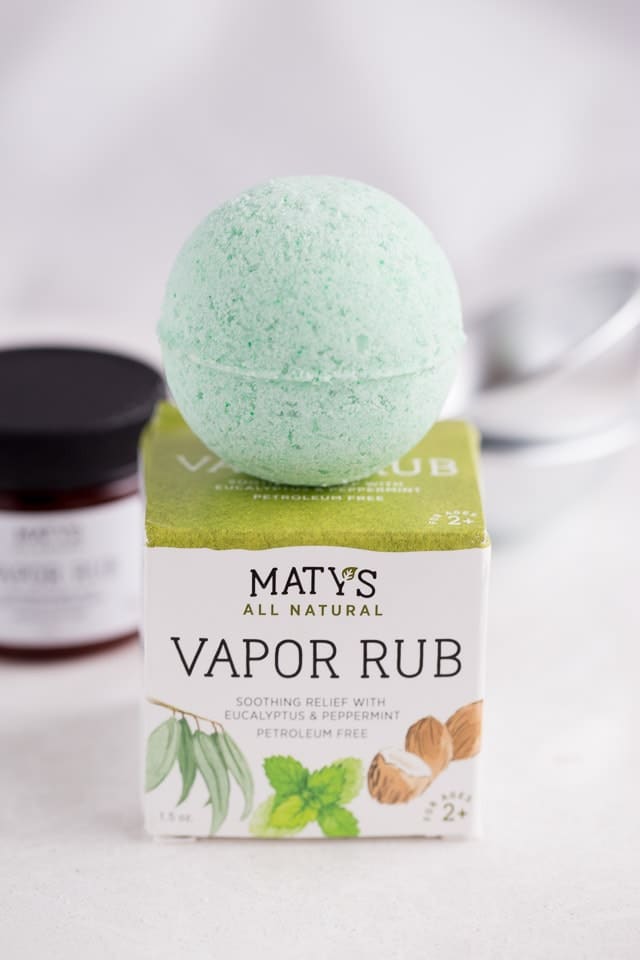 Natural Cough Suppressant
A relaxing bath is the best, but when you don't feel good…….there is nothing better! We love bath bombs with their delicious smells and fizzing colors. But when we added an all natural vapor rub from Maty's, it literally changed our view of taking a bath. My 4 year old has had a horrible cough for about 4 days. The kind where you wonder if they are going to throw-up any second because they are coughing so hard. It has been SO sad to see him like that. Plus having a cough like that just makes life rough. It is hard to eat, sleep, and even be around other people!
We had made these bath bombs a few weeks prior to test the recipe. I filled a nice warm bath for him and popped a bomb in the tub. It immediately started fizzing. The next part is legitimately a true story. Within 10 minutes, his cough had almost completely subsided! I couldn't even believe it because he had been coughing, and coughing so hard. And to be honest, when I initially made them I didn't know what the result would be. I was hoping that would be the result, but wasn't sure!
He stayed in the bath for a good 30 minutes, playing around, breathing in that peppermint and eucalyptus goodness and most importantly – not coughing!
How to Make Bath Bombs
I was shocked how easy these were to make! But there are a few tricks that will help you out. First, don't be shy! When you mix up the ingredients use your hands! (If you're using dye in the mix, combined that with a spatula first and then use your hands.) Squeeze some of the mixture and it should clump together in your fist. If it doesn't, add some more melted coconut oil.
When you go to fill your molds, let each half overflow. (These are the molds we used: 12 Piece Fizzle Molds) Don't pack down each side and then try to push them together because they will spilt later. The goal is to have the whole bath bomb compressed at once. So overfill each half and then squeeeeeze the two sides together.
We buy our Maty's Vapor Rub on Amazon. If you are making this for a child under the age of 2, you will want to buy the Maty's Baby Chest Rub.
Tah-dah! Don't worry about the little bit of mess, you can just use it in the next bath bomb you make. Now, pop your molds into the freezer for about 20 minutes to let the coconut oil set!
When you're ready to pop the bath bomb out, hold the mold in your hand so it warms up a little bit and then twist or pull away one of the sides. How pretty! This would be such a fun party favor for the kiddos or even your own ladies night party! This is the perfect thing to tuck away for when your kids (or you) are sick and need a warm, soothing bath.
We loved using Maty's Vapor Rub in our natural bath bombs because:
Sensitive Skin Worthy My kids deal with dry skin and eczema, so I'm really careful what I put on their skin. Maty's only uses natural oils and no petroleum or hydrogenated oils in their rubs. A few facts that I found interesting:

Hydrogenated oils are chemically altered versions of natural oils. They're only one molecule away from plastic, and since what you put on your skin gets absorbed into your body, I'll choose real over plastic any day!
Petrolatum, aka petroleum jelly, is a byproduct of petroleum–it can damage and suffocate your skin. It only takes 26 seconds for anything on your skin to get absorbed into your bloodstream.

No Synthetic Fragrances The word natural means different things to different companies. In the US, manufacturers can be misleading with the words "natural fragrances." A fragrance is made up of an undisclosed mixture of aroma ingredients that aren't required to be listed on a label–so who knows what's really in it! What you smell in Maty's rubs is always pure essential oils, never fragrances!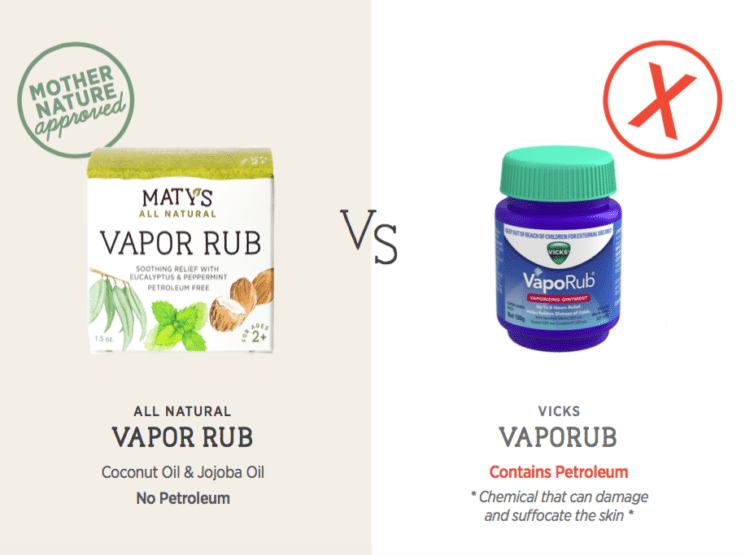 These natural bath bombs can last a long time if you store them in a cool, dry place. Wrap them in a paper towel and put them away for a rainy day when that darn cough is plaguing your home!
We would like to thank Maty's for partnering with us on this post.
All Natural Peppermint Cough Suppressant Bath Bombs
Take a deep breath…..and soothe that annoying persistent cough that is keeping you or your kids up at night.  With peppermint and eucalyptus, these all natural bath bombs help clear congestion and relieve stuffiness and coughing.  
Ingredients
1

cup

baking soda

1/2

cup

citric acid

1/2

cup

corn starch

1/2

cup

epsom salt

2

tablespoons

coconut oil

1 1/2

tablespoon

maty's vapor rub

food coloring

optional

bath bomb mold
Instructions
In a medium sized bowl, combine all dry ingredients. Stir well.

Melt the coconut oil and vapor rub together in a small bowl.  If you are going to add food coloring, add it into the oil mixture at this point.

Pour the coconut oil mixture into the bowl with the dry ingredients. Use your hands to mix it all together, breaking apart chunks as you go. If you would like to adjust the color, melt a little bit more coconut oil and stir in the dye. Then pour it into your bath bomb mixture and continue mixing.

Pack the mixtures into whatever mold you like.  If you are using a ball mold, pack each side until overflowing, and squeeze both halves together to close.

Freeze for 20 minutes.

To remove the bath bomb from the mold, warm the sides of the mold with your hands (this will help melt the coconut oil) and squeeze either side until the bomb pops out.
www.superhealthykids.com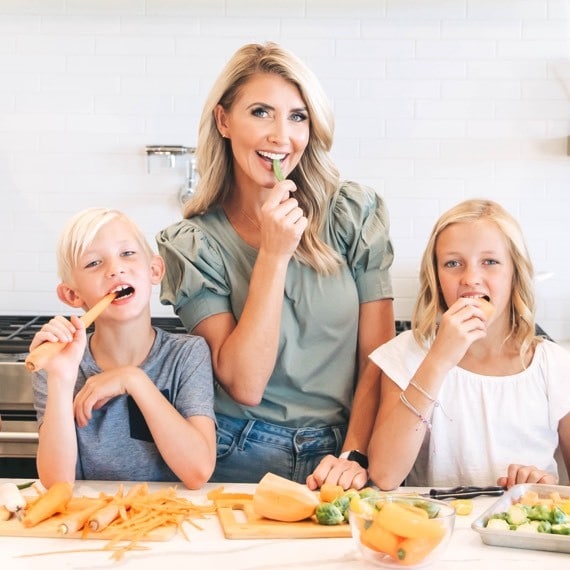 Natalie Monson
I'm a registered dietitian, mom of 4, avid lover of food and strong promoter of healthy habits. Here you will find lots of delicious recipes full of fruits and veggies, tips for getting your kids to eat better and become intuitive eaters and lots of resources for feeding your family.
Learn More about Natalie