Broccoli Salad Makeover Recipe
The perfect potluck recipe for a backyard barbecue! This crunchy and refreshing broccoli salad is full of nutritious add-ins like seeds, craisins, cheese, Greek yogurt, and fruit.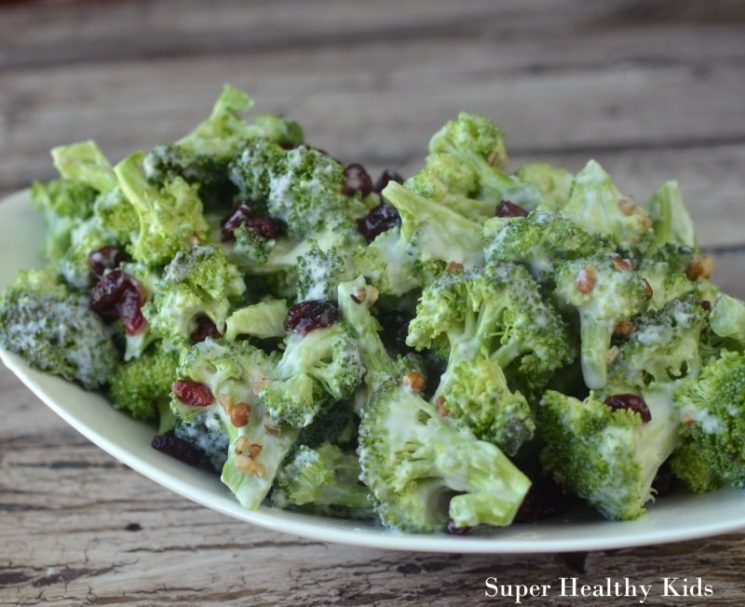 I've got two kids who will only eat broccoli raw, and one that claims she only likes it cooked. Usually, I can't please them all, but with this salad, all three of them were on board!
What I love about this Broccoli Salad Makeover Recipe is that you can be creative and choose different add-ins depending on what you have on hand. I had very few things on hand, so it was simply broccoli, raisins, and pecans, with dressing.
You can also include:
Craisins
Red onions
Bacon bits
Slivered almonds
Grapes
Cheddar cheese
Sunflower seeds
Then, inspired by My Year Without (Nicole cut refined sugars out of her diet in favor of natural, unprocessed sweeteners), I decided instead of the traditional white sugar in the dressing, I was replacing it with honey. I also like the tang of mayonnaise, so I replace half of it with plain yogurt, and the other half with some light mayonnaise. Here was the final recipe:
1/4 Cup plain Yogurt (greek yogurt preferable)

1/4 Cup light mayonnaise

1 TBL apple cider Vinegar

1 TBL Honey
Add dressing to any combination of the following:
4 Cups broccoli florets
1 cup optional add-ins from above.
Why should your kids (and you) eat broccoli?
Its full of good stuff like Vitamin C, A, folic acid, calcium, and chromium. Plus, it contains both protein and fiber.
Ingredients
Add ins
1/4

cup

cranberries, dried

1/4

cup, chopped

onion, red

1/4

cup pieces

turkey bacon

1/4

cup

almonds, sliced

1/4

cup

grapes

1/4

cup

cheddar cheese

1/4

cup

sunflower seeds
Dressing
1/4

cup

Greek yogurt, plain

1/4

cup

mayonnaise, light

1

tablespoon

vinegar, cider

1

tablespoon

honey
Instructions
Whisk in a bowl, yogurt, mayonnaise, vinegar, and honey together.

Add to broccoli and one cup of the other ingredients.

Stir together and serve.
Nutrition
Calories:
271
kcal
|
Carbohydrates:
24
g
|
Protein:
10
g
|
Fat:
16
g
|
Saturated Fat:
3
g
|
Cholesterol:
22
mg
|
Sodium:
271
mg
|
Fiber:
4
g
|
Sugar:
17
g