Air Fryer Sweet Potato Fries
If you love sweet potatoes, you will want to know how to cook them in the crockpot: Sweet Potatoes in the Crockpot.
What is an Air Fryer?
The name 'fryer' might throw you off a bit because an air fryer really isn't a fryer at all. It is like a mini countertop convection oven. Air fryers use a fan to circulate hot air to cook food faster than a lot of other methods, especially an oven.
Pros of an Air Fryer
Quick more efficient cooking. Air fryers only take a couple of minutes to preheat and most of the heat stays inside. Foods cook a lot faster (up to 4 times faster) than in an oven or stove.
Can cook foods from frozen very quickly.
You don't need to use oil to get food crispy and browned.
You can use an air fryer to stir fry, reheat, bake, broil, roast, grill, and steam. They are really versatile.
The unit itself is small and can sit on your countertop. It can replace an oven in situations that don't have one.
It is super easy to use. The buttons are very basic and it doesn't have a very big learning curve.
Safe for kids to use. Only the inner basket gets hot and so kids have less of a chance of burning themselves than using an oven or stove.
Cons of an Air Fryer
Not ideal for larger families. Because air fryers are a small appliance and not an oven, they typically only hold enough food for 1-4 people at a time. This means you end up cooking in batches and sometimes kids don't want to wait!
Quality can sometimes be an issue. Depending on which brand you buy, you may or may not end of having problems or even have to replace it. Phillips is the top manufacturer of air fryers and this is the brand we have and use. Do your research before you buy.
Some foods might not fit because of the size and shape of the basket.
How to Make Air Fryer Sweet Potato Fries
These are so easy to make!
Preheat your air fryer to 400 degrees while you cut up your sweet potatoes.
Rinse and scrub the outside of your sweet potatoes. Cut into wedges.
Toss with oil and spices.
Place in your air fryer basket in a single layer.
Set cook time for 8 minutes.
Flip the sweet potatoes after they have cooked for 4 minutes.
Serve warm with dipping sauce. Enjoy!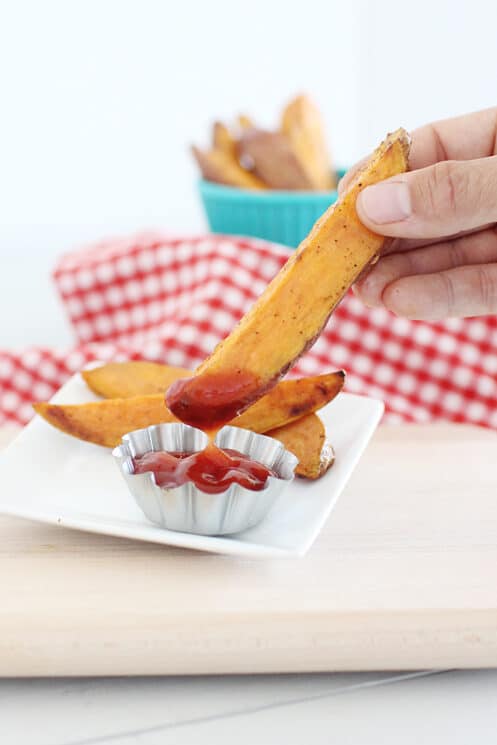 Is Air Fried Food Healthy?
Air fried foods are considered a healthier alternative to deep fried foods because of their lower content of fat and calories. Some air fryer manufacturers claim that using an air fryer can cut the fat of fried foods by 75%. This could potentially benefit your health if you have a higher intake of vegetable oils since it has been associated with an increased risk of some chronic illnesses.
A lot of kids struggle with being overweight or even obese. Because deep fried foods are higher in calories, switching to air fried foods might benefit some kids who are either trying to lose weight or slow weight gain.
When comparing deep fried and air fried foods to each other, air fried is the clear winner when it comes to health. The real test though is what you are cooking in your air fryer. If you are cooking fried foods, then those probably aren't the most healthful choice. But fresh sweet potatoes cooked in an air fryer are a great choice! It really comes down to the food in my opinion.
Obsessed with Sweet Potatoes? So Are We!
Cinnamon Sugar Sweet Potato Fries
Maple Glazed Pork Chops and Roasted Sheet Pan Sweet Potatoes
Air Fryer Sweet Potato Fries
Sweet thick wedges of sweet potato, cooked in the air fryer, make these air fryer sweet potato fries fluffy and tender on the inside and crispy on the outside. 
Equipment
Instructions
Preheat air fryer to 375°F

Scrub the sweet potatoes and peel. I prefer to use a fry cutter to get even pieces. If you don't have one, cut the sweet potatoes in half lengthwise. Turn the halves cut-side down onto your cutting board, then slice each half lengthwise into 1/4-inch-wide slices. Try to get them close to the same size so they will cook evenly. Then turn the slices flat on your cutting board and cut into 1/4" wide sticks. (see photos in post)

If you want extra crispy fries, place the sweet potatoes in a large bowl full of water and soak them for an hour to remove some of the starch. You can still get a crispy fry if you skip this step. Drain the water and dry the sweet potato sticks with a paper towel or dish towel.

In a gallon ziploc bag, sweet potato sticks, oil, garlic powder, paprika, salt and pepper. Shake to coat each piece. Now add the cornstarch and shake again to coat.

You will have to cook the fries in batches because you don't want to overcrowd your airfryer in order to get them crispy. To keep the fries warm between batches, preheat the oven to 200℉, and place them on a baking sheet in the oven in between batches.

Place into sweet potatoes in a single layer in your air fryer to avoid overcrowding. Make sure there is space between each sweet potato so that the air can circulate and they can get crispy instead of steamed. Cook for 8-10 minutes. Slide your airfryer tray out and shake the fries to flip them to the other side, or use tongs to flip them. Put them back in for another 5-10 minutes. The cooking time can vary by a lot based on your air fryer model and how crispy you like your fries. Check them often for the the last few minutes to make sure they don't burn!

Transfer cooked fries to your warm oven while you cook the rest. Serve warm with your favorite dipping sauce. Enjoy!
Nutrition
Calories:
130
kcal
|
Carbohydrates:
26
g
|
Protein:
2
g
|
Fat:
2
g
|
Saturated Fat:
0.3
g
|
Polyunsaturated Fat:
0.2
g
|
Monounsaturated Fat:
1
g
|
Sodium:
644
mg
|
Potassium:
397
mg
|
Fiber:
4
g
|
Sugar:
5
g
|
Vitamin A:
16155
IU
|
Vitamin C:
3
mg
|
Calcium:
36
mg
|
Iron:
1
mg
www.superhealthykids.com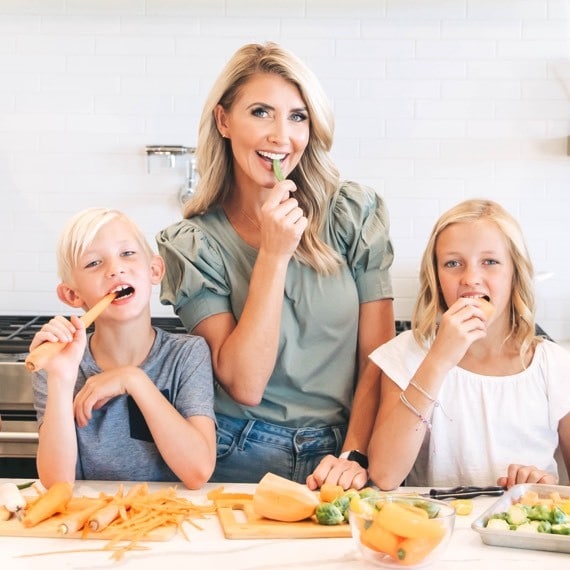 Natalie Monson
I'm a registered dietitian, mom of 4, avid lover of food and strong promoter of healthy habits. Here you will find lots of delicious recipes full of fruits and veggies, tips for getting your kids to eat better and become intuitive eaters and lots of resources for feeding your family.
Learn More about Natalie