8 New Fruity and Fabulous Parfaits and Building Your Own
*This post is sponsored by Cascadian Farm Organic
My kids will take a bowl of granola any way they can get it. We have several recipes for it here, here, and here. We buy it out of the bulk bins at our grocery store. We get some from my sister in law every Christmas. And, of course we get it from the cereal aisle. We use granola for a breakfast cereal for a snack, we add it to trail mix, and sometimes top it on our desserts like cobbler, or homemade ice cream. As a mom, I personally like granola because it's so versatile. You can add a variety of nuts, seeds, and dried fruit to really pack in the nutrients.
But today, I'm excited to bring you the tastiest and most amazing way to eat granola: Fruit Parfaits!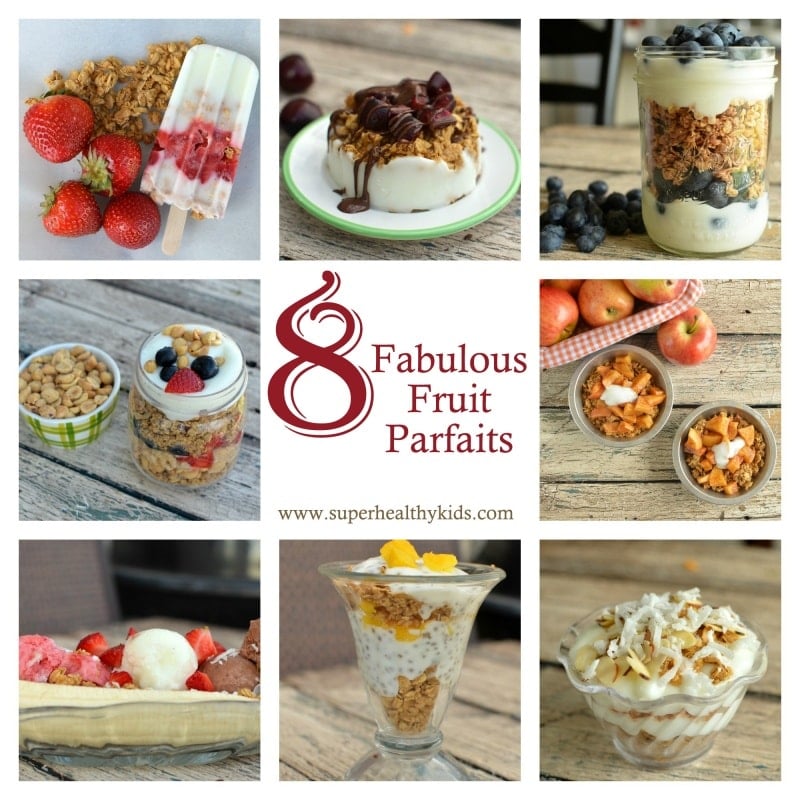 A parfait (at least in North America) is a layered treat of yogurt, granola and fruit. The combinations you can add to this idea is unlimited.
Building a Parfait
You and your kids can have a blast making a parfait bar with a variety of granolas, yogurts, and fruit- OR you could make a new parfait each day!
The Yogurt
We are one of those families that likes plain yogurt. I love the tanginess of it. We really don't need to add anything to it. But I do understand a lot of kids don't like the plain variety. To create your own to your tastes you can:
Add vanilla extract (or vanilla beans) and honey to make vanilla yogurt
Use coconut yogurt
Use soy yogurt
Use almond yogurt
Blend berries or other fruit into your yogurt
Add cocoa powder and honey for chocolate yogurt
Stir in applesauce
Stir in pumpkin
Freeze it!
The Granola
As I mentioned above, there are a variety of granolas out there. Cascadian Farm Organics has these flavors:
Honey and Oat Granola
Berry Cobbler
Cinnamon Raisin
Dark Chocolate Almond
French Vanilla Almond
Fruit & Nut
Maple and Brown Sugar
Ancient Grains
The Fruit
This is where we have fun, and where we truly add that "dessert" component. Our favorite fruits that pair well with granola and yogurt are:
Apples
Berries
Mango
and Bananas
Of course there are so many more, but these are our favorites. Feel free to add your kids favorite fruits of course.
Our 8 Fabulous Parfaits
1) The Peanut Butter and Jelly Parfait
Oats and Honey Cascadian Farm Organic Granola
Peanuts (we blended some into peanut butter, and some we left whole)
Strawberries and blueberries (we mashed some together and left some whole)
Plain Yogurt
2) Blueberry Cobbler
Probably my kids favorite one, this blueberry cobbler contained:
Berry Cobbler Cascadian Farm Organic Granola
Blueberries
Vanilla Coconut Yogurt
3) Frozen Strawberry Creamsicle Parfait
This wasn't hard! We scooped into a popsicle mold some plain yogurt, then a spoonful of yogurt (smashed down into it so it would freeze properly), sliced strawberries, then more yogurt and granola! Then we froze it, and this is how it turned out. So pretty, right?
Plain Yogurt
Berry Cobbler Cascadian Farm Organics Granola
Sliced strawberries
4) Cherry Chocolate Cheesecake Parfait
This is another new and fun one! We used a red solo cup and scooped some yogurt into the bottom, just about 2 inches high. Then we sprinkled our granola on top, pressing down slightly so it would freeze onto the yogurt. Then we froze it. After about 2 hours, we took it out and cut the cup away from the yogurt and put it on a plate. We topped it with some fresh chopped cherries and drizzled chocolate over all of it!
If you make this, either don't let it get too frozen. It's too difficult to eat. A few hours in the freezer was plenty of time for it to keep it's shape, while still being able to bite into it.
Plain or vanilla yogurt
Ancient Grains Cascadian Farm Organic Granola
Cherries, pitted and chopped
Melting chocolate
5) Banana Split Parfait
I have to say, my kids loved this one! For the flavored yogurt we used:
Vanilla yogurt
Vanilla yogurt blended with strawberries
Vanilla yogurt blended with cocoa powder
We froze each one individually- again, not too long, just about 2 hours, so we could scoop it out. Then we used:
1 banana, sliced down the center
1 scoop strawberry yogurt
1 scoop vanilla yogurt
1 scoop chocolate yogurt
Sliced strawberries on top
Oats and Honey Cascadian Farm Organic Granola
6) Apple Pie Parfait
The key to this one is cooked apples! We've been making this parfait since the beginning of this blog! It reminds me of the dessert, Apple Crisp, without all the butter and brown sugar!
Peel, core, and chop your apples. In a small saucepan (or in a microwave safe bowl), sprinkle apples with cinnamon. Add 1-3 tablespoons of water. Cook until tender (in the saucepan on a stove, about 5-6 minutes, in the microwave 2). Drain any remaining water, and your apples are done! Layer with
Cooked apples
Honey and Oat Cascadian Farm Organic Granola
Plain yogurt (top with a dollop of cream if you are using this for dessert as opposed to breakfast!)
7) Maple Mango Chia Parfait
Chia! We love adding chia to things! For our chia, we soaked 1 tablespoon of chia seeds in about 1/2 cup of water overnight. We wanted them to gel up a bit, without being too watery. Then, we mixed our chia into our yogurt. So, for this parfait we used:
Homemade chia yogurt
Mango slices
Maple and Brown Sugar Cascadian Farm Organic Granola
8) Cocon-Nutty Parfait
And last but not least- COCONUT! We consider coconut a fruit, so why not! This one is super easy, and sooo delicious. We used:
Coconut
Plain yogurt
Ancient Grains Cascadian Farm Organic Granola
Sliced almonds
That's our 8! We were thinking of so many more, there just wasn't enough time for it all. Some others we wanted to try included:
Peach Crisp Parfait
Key Lime Pie Parfait
Chocolate and Peanut Butter
and Oatmeal Cookie
Maybe next time- In the meantime, do you have a combo your family loves?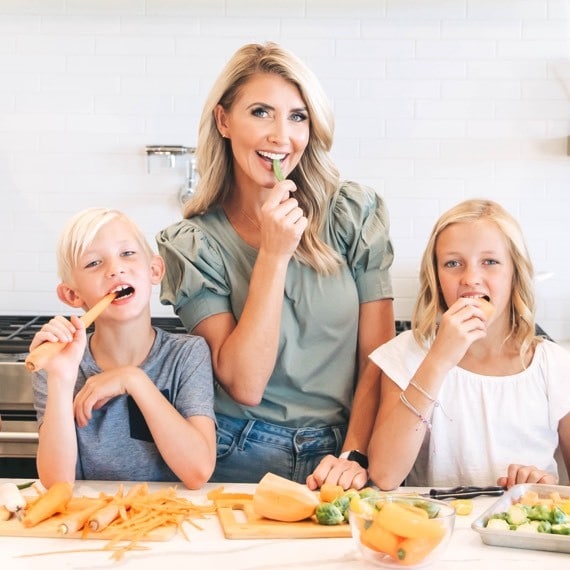 Natalie Monson
I'm a registered dietitian, mom of 4, avid lover of food and strong promoter of healthy habits. Here you will find lots of delicious recipes full of fruits and veggies, tips for getting your kids to eat better and become intuitive eaters and lots of resources for feeding your family.
Learn More about Natalie