5 Healthy Habits To Teach Your Tween
What health habits should you teach a teenager daughter?
Erica, my 10 year old, has a white board. That white board is a window to her mind for me. She writes everything from her to do list to her feelings on that board. Her messages range from, "I hate my mom," to "Play school with Addie."
My interest was piqued however when I walked into her room and saw this new message: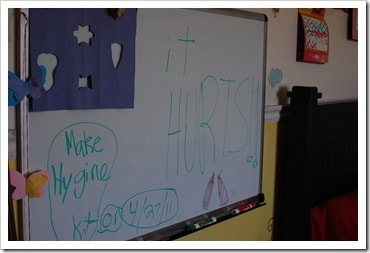 "Make Hygine Kit on 4/27/11" and It HURTS!! It hurts refers to the rug burn she got when Nate tried dragging her out of his room when she wouldn't leave the room willingly, but I didn't know what she meant by a hygiene kit.
So, I asked. Apparently, she's putting together a toiletries bag for her trip to San Diego, IN JULY!! My tom-Boy, get wet, play in the dirt, and then get wet again, all of a sudden wants to start using soap! Well, I'm going to ride this train as long as I can! So, we started talking about taking care of herself!
My running friend, whose daughters are adults now, has been telling me about the book, The Care and Keeping of You from the American Girl Doll Library. Her daughters each had their own copy and loved it! So, I found a copy at the library yesterday (they had several, so I'm sure your library will have it too). This book is awesome! Erica was reading it for hours last night, and would often come tell me things she thought I wouldn't know that she discovered. It's easy to read with great pictures and a great outline to base great conversations with your daughter from taking care of their hair, to getting their period.
What are healthy habits to teach your tween daughter?
The transition from taking care of your little girl to having her take care of herself can be hard on both of you. Here are a few things to talk about while they begin to takeover more of the responsibilities:
The first healthy habit is to

keep her body clean

!
Keeping her body clean, now becomes her responsibility. You should talk to her about taking showers more often, washing her face, brushing her hair by herself, cleaning pierced ears, flossing, having fresh breath, taking care of acne, and cleaning under her fingernails.
The second healthy habit is taking care of her underarms.
It's time to have a conversation about B.O! From the book, "Sweating is natural and healthy.. Luckily, keeping body odor in check isn't hard." Then talk about deodorant and teach her how to shave her underarm hair if she chooses to, and when she's ready.
The third healthy habit is to have a healthy attitude about body changes.
Between ages 9-12, she'll start to notice changes in her breasts and body shape. Everyone is different and develop into different shapes at a different rate. I love this quote from the book, "Your weight depends on how your body is built. Also, your body hasn't finished developing yet. Just remember, you were made beautifully. Don't listen to anyone who says you're not!" (See my post on body image issues in girls!)
A healthy body includes,

Starting her period

!
While writing this My sister called to remind me she got her period in the summer before 5th grade! Which is exactly how old Erica is! Most girls start between ages 9-15. Begin this conversation with, "Your period is the period of time each month when fluid containing blood flows out of the uterus through the vagina. It's a sign that your body is working properly. It's preparing to do the grown-up work of having a baby someday!" It's so important to talk about what she can do the first day she notices this and what the solutions are to keeping her underwear clean.
Lastly, talk about things she can do to stay healthy on the inside.
Fueling her body with healthy food by snacking smart, listening to her hunger cues, eating a balance of foods, and staying hydrated the key. Quote from the book, "What makes a girl glow from head to toe? A daily diet rich in all the essential vitamins and minerals!"
Don't let the changes that are happening intimidate you. She will be just as anxious to know what is going on as you are. More importantly, don't leave it up to the kids at recess to teach her about growing up. Start the dialogue with her today!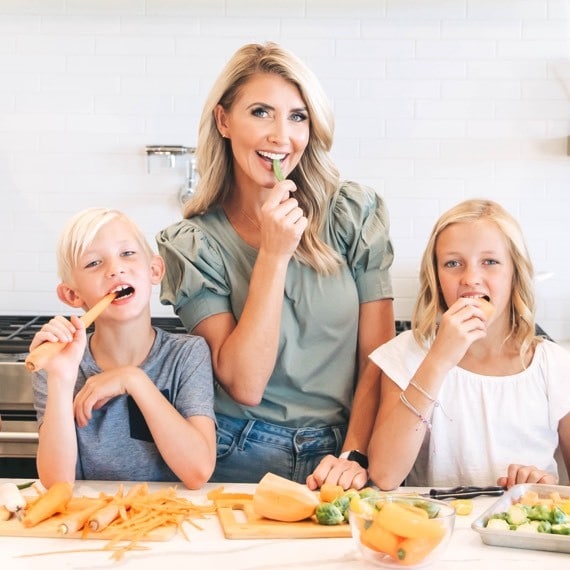 Natalie Monson
I'm a registered dietitian, mom of 4, avid lover of food and strong promoter of healthy habits. Here you will find lots of delicious recipes full of fruits and veggies, tips for getting your kids to eat better and become intuitive eaters and lots of resources for feeding your family.
Learn More about Natalie