The Guide to Baby Gear You Really Need
Preparing for a baby is really exciting! But there are also a lot of decisions to be made. With baby #4 right around the corner, I have really started to assess what types of things I really need to have for a baby. When you already have 3 kids, you have A LOT of stuff! Baby stuff can take up a lot of room, and so determining the things that are really helpful to have and those things that are just nice but not really necessary can be difficult! Also, it can be hard to determine what things are worth actually spending your money on. If this is your first baby, then you are buying everything you need which can get really pricey! Our baby essential guide will help you narrow things down, determine what you really need for your baby, and also those things that are worth spending your money on! Our recommendations of the things we think are essential are more than just the basic crib, carseat, stroller. These are the things we feel like really will make a difference with your experience in starting out with your baby.
There are so many new things on the market, and so I decided I needed advice from some experts. Some of the bigger box stores that I have been to have not been very helpful. So I turned to the experts at The Baby Cubby. They are an online retailer that also has a local store (if you are in the Utah area) – but they do things so much different than any other baby store I have been to. A few of the things I really like about their store:
They do hundreds of hours of product research, scouring consumer & product reviews to find the highest rated & reviewed products out there. They display those products in our store based on their "cubby picks" in a "good, better, best" format so you can easily see which products have the best reviews and ratings.
Quickly see a products' star rating on Amazon & the number of reviews it has received, or scan a QR code with your smart device (or one of our in store iPads) to see more information or what colors/styles are available.
They have a stroller track that you can try out their strollers on different terrain to see how it does!
All of their employees are certified and trained in different areas and can answer any question, demonstrate how to use products, and basically guide you through the process of getting everything you need for your baby!
For those of you who aren't local, their online store is so great!
They match all Amazon prices and offer free shipping
They have their favorite best rated (researched) products labeled as Cubby Picks so you don't have to spend hours trying to figure out what are the best products out there.
Carriers and Baby Wearing
Having a carrier is essential! Sometimes you really just need your hand free, but your baby really wants to be held!
Convenience. It frees up your hands and so you are able to get other things done, while still holding your baby.
Can reduce crying and colic. Studies have shown that carrying babies at least three hours a day reduces crying and fussing 43% during the day and 51% at night. Babies are happier because they have less need to cry, and parents enjoy their babies more as a result.
Promotes bonding. Carrying your baby promotes bonding and enhances parents' feelings of competence.
There are basically 3 types of carriers or ways to wear your baby:
Ring slings are one shoulder slings made of a long piece of fabric that is attached to a pair of rings. It is adjustable and can be worn by multiple care givers. Ring slings can be used from newborn stage through toddlerhood. For newborns, these work well in either a cradle style carry or upright. Ring slings are particular great during the stage when a child wants up and down often, because it's easy and quick to put on/take out a child as needed. Ring slings can be used as a front carrier, and a hip carrier. The tail of a ring sling comes in very handy as a burp cloth, and a sun protection cover for child.
A wrap is a long piece of fabric and they usually come in one size fits most. They can either be a stretchy fabric, or a woven fabric. The stretchy fabric is usually similar to a t-shirt material and is often used with newborns and young babies. It is used mostly as a front carrier and while there may be instructions on using it as a back carrier, it is not recommended, as there's not enough support in the stretchy fabric to do a back carry safely. Our favorite brand of wraps are either Happy Baby or Solly Baby.
These are soft structured carriers that have release buckle closures. They have a main supportive panel, padded shoulder straps and can be used on the front, hip and back. These are easy to learn to use, since you simply just buckle on, adjust and go! Great for use with older babies and can be used in most cases with kids up to 45 pounds! Our favorite brand is the Ergobaby carrier. It is the most comfortable to wear, has the best back support, and also positions the baby the best for even distribution.
Swaddles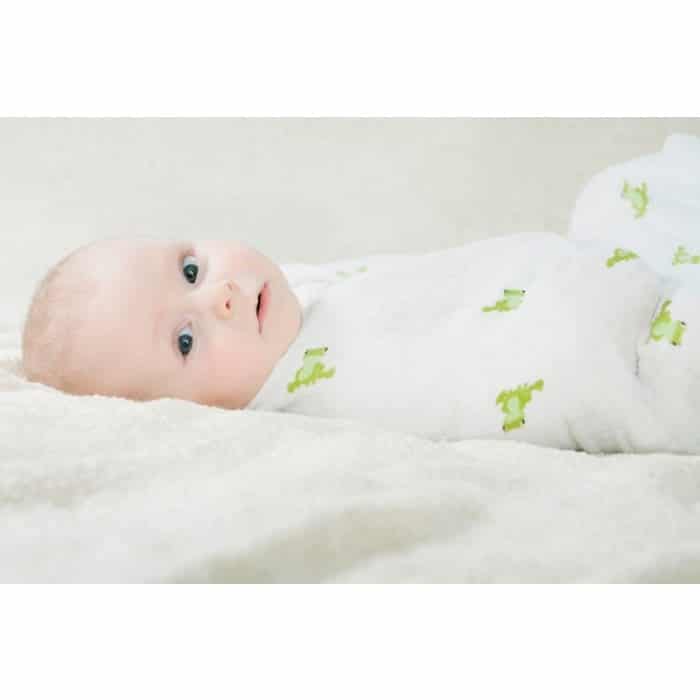 Swaddling is basically wrapping a baby in a blanket for warmth and security. It can keep your baby from being disturbed by their own startle reflex, and it can help your baby stay warm until their temperature regulation kicks in and in a lot of cases it helps to calm your baby.
Medical experts recommend a sleep environment of 65-70°F (18-21°C) It is an important responsibility of the caregiver to dress baby appropriately for sleep based on the temperature of their environment. Parents should not overdress or underdress baby for sleep. As a general guide, the American Academy of Pediatrics recommends dressing baby in no more than one layer more than an adult would use to be comfortable in the same environment.
Because of this, we really like muslin swaddles. They are a lightweight, breathable, almost stretchy fabric. Our favorite brands of swaddles are Aiden and Anais and Little Unicorn swaddles. They both have darling designs, the actual swaddle blanket is HUGE and can be used for lots of different things, and the quality of fabric is really great.
Swings/Bouncer
We have tried lots of different swings and bouncers, but hands down our favorite is the Mamaroo. It is the only swing or bouncer you will need! These are the top features we really like about it:
Lightweight. You can move it from room to room easily because it is so light to carry!
It has an adjustable seat recline so even your newborn can sit in it without their head slumping.
It is super quiet! Other swings can have loud buzzing or motor sounds. The mamaroo is one of the most quiet we have heard.
It is great for small spaces – the design is great because it doesn't take much floor space at all.
Of course we love the more natural motions it allows. Babies love the soothing and comforting motions versus regular swings that simply go back and forth.
Bathing
With my first babies, I bought an inexpensive small bath seat/tub that just went in my big tub. It worked fine, but those types of infant tubs are bulky and you have to store them somewhere! Also – the baby slides around, you are bending over into your tub and it just isn't the best bathing experience. Our favorite baby tub is called the Puj tub. The reasons we like this one:
Cradles your baby and the material doesn't allow them to slide all over the place

Folds completely flat and so it is super easy to store

Mold and mildew resistant

Fits in standard-sized bathroom sinks and works with pretty much any sink
Baby Monitor
There are 3 different types of monitors on the market. Sound, video and movement. Buying a monitor for your baby can be daunting because there are so many different types available. It is especially complicated for the first-time parent since it isn't obvious what to look for in terms of features and pitfalls to avoid. We will go over some of the benefits and drawbacks to each kind to help you in your decision!
4 things to look for no matter what kind you choose are:
Range. If you live in a relatively small house or you're going to be spending most of your time only a couple of rooms away from the nursery while your baby is sleeping, then there's no need to pay extra for a monitor with a better communication range. If you're going to be right over the other side of the house or spending time in the garden during the afternoon nap for instance, then it might be worth looking into higher-range models.
Interference. It's important that you're aware that your baby monitor could be affected by interference from other baby monitors, cordless phones, and a few other electronic devices. Digital monitors are better for avoiding interference than analogue models, so if you're in any doubt go for a digital model.
Price. Many baby monitors offer a number of 'nice to have' features that can offer further reassurance to both parent and baby, such as sound-activated lights and music. Some models even allow you to load your own choice of lullabies to help your child drift off to sleep. Other features include built-in timer functions to remind you when it's time for baby's next feed. While these types of features are far from essential, they can offer good value if you get good use out of them. f you're prepared to stretch your budget a little then you can get hold of baby monitors with heightened safety features such as motion sensor mats that can alert you if your baby hasn't moved for a set amount of time. Video and movement monitors will definitely be more expensive that just sound. The more features of the monitor, typically the more expensive.
Battery Life and Rechargeability. Buying a baby monitor with an in-built rechargeable battery can save you a huge amount of money over the long run by not having to buy new batteries all of the time. If you can recharge, then you can safely know that your monitor is charged or won't worry about the battery running down in the middle of the night.
Sound Monitors
The sound capability of the monitor is a feature that you'll most rely on. Especially during the night – without sound any kind of monitor will be virtually useless for sleeping parents. Being able to see what baby is up to, or knowing when baby stops moving as predicted are definitely nice perks to consider, but the first thing you should think about is sound. One of the best rated with a great price is the Philips Avent DECT. Some of the top features:
Zero interference and private connection

Customized temperature sensor with vibration alert

Night light and lullabies

Talk back feature

Range of up to 330 meters
Video Monitors
Video is super helpful in helping you determine whether to make an immediate trip to check on baby. Sometimes your baby just wakes up briefly and then self-soothes back to sleep. The ability to look at your baby and see what is going on in the crib, can be very helpful in determining that nothing serious is happening. With a sound-only monitor, you need to listen for clues, or open the door to the nursery room (which will often fully awaken your baby). For this reason, we LOVE video monitors. One of the best rated video monitors (although not specifically for baby) is the Nest Cam. Some of the top features:
24/7 live video streaming. See your baby on your phone in 1080p HD. And control Nest Cam from anywhere.

Alerts on your phone. Get motion and sound alerts so you now if anything happens.

Night vision done right. See the whole room at night – not just a limited spotlight view.

Talk & Listen. See your baby and respond to him so he can hear you.

Quick, easy setup. Plug in Nest Cam and download the Nest app to get started. No hub needed.
Movement Monitors
Currently, there is a lot of controversy over both the safety and effectiveness of movement detecting monitors. Manufacturers cannot make the outright claim that a product is designed to prevent or provide an early alert of a SIDS event, but the language used in advertisements clearly plays on parent's fear of SIDS. The American Academy of Pediatrics, and the National Institute of Health, both recommend against the use of monitors to prevent SIDS. They haven't stated any specific safety concerns related to the use of the monitors themselves, but it could be that the use of these types of monitors provide a false sense of security, and distract from the actual recommendations for the prevention of SIDS. There is credible scientific research showing that sleeping on the back, in a crib, without blankets and toys, is the best defense against SIDS.
If this type of monitor is something you feel will help give you peace of mind, then it may be a good option for you. One of the best rated movement monitors is the Angelcare Movement and Sound Monitor. Some of the top features:
Under-the-Mattress Movement Sensor Pad – Senses each and every one of your baby's movements and will sound an alarm if no movement is detected after 20 seconds

Full Color Digital Display – The easy-to-read screen on the Parent Unit clearly displays Nursery room temperature and Sound Lights, as well as your various settings

Portable & Rechargeable Parent Unit – Carry the Parent Unit with you from room to room for peace of mind

Nursery Night Light – A gentle little glow to guide you when you walk into baby's room

Out-of-Range Indicator- Up to 820 feet (open field) and between 262 feet and 328 feet (indoor)
---
What are you favorite baby products? If you have something you love, leave us a comment!
Featured on MovingBabies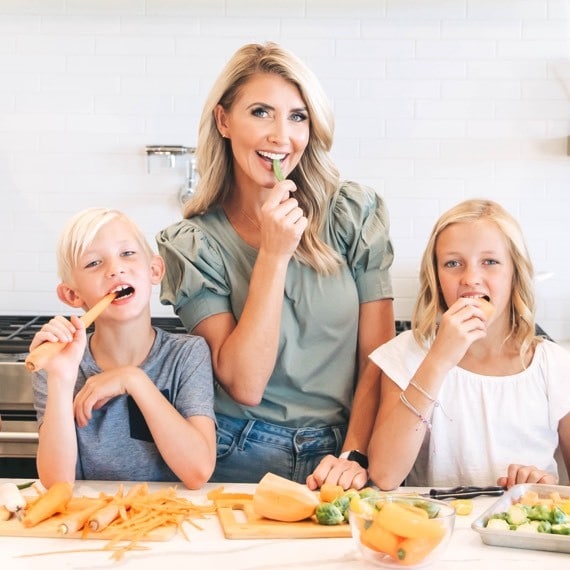 Natalie Monson
I'm a registered dietitian, mom of 4, avid lover of food and strong promoter of healthy habits. Here you will find lots of delicious recipes full of fruits and veggies, tips for getting your kids to eat better and become intuitive eaters and lots of resources for feeding your family.
Learn More about Natalie