Applaud if you eat fungus! Doesn't sound too appetizing does it? So what if I asked, "Do you eat mushrooms?" I am fairly certain I would get a much louder applause. Mushrooms, in my opinion, are super foods. They pack a whole lot of goodness into a small amount.
Good source of Potassium – Some mushrooms, such as Portabella and Crimini, have over 300mg per serving and that is 10% of our daily needs. We need potassium to keep our fluid and electrolyte balance in check.
Good to Excellent source of Selenium – Depending on which mushroom you are eating, they can provide close to 20% of our daily needs. Selenium is an antioxidant for which deficiencies may be linked with cancer.
Provides Vitamin D – With the continued awareness of our need for more vitamin D, it may be the reason you find ways to add more mushrooms into your recipes. Although many mushrooms provide vitamin D in smaller amounts, some, such as Portabella and Maitake provide a whopping full days need!
I have searched for some interesting ways for adding more mushrooms into your weekly meal plans and I must say, it is much easier than you think!
Appetizers can be super healthy when you have mushrooms! Try our Turkey, Mushroom Power balls.
Pizzas can become a whole new meal with the addition of a variety of mushrooms.
Pizza without the crust? It can be good when they are Mushroom Pizza Bites.
Omelets are more filling with "meaty" mushrooms.
Breaded & Baked for a crispy treat
Top large mushroom heads with guacamole or hummus instead of greasy tortilla chips.
What kid does not like kabobs? Try these Mushroom, Vegetable and Chicken Kabobs today!
Add to a lunchtime panini.
Sandwich some sautéed mushrooms between two hearty slices of bread along with tomato and peppers for a great cancer-fighting lunch.
Marinate mushrooms in balsamic vinegar, sliced onions and herbs and add to any veggie blend for a great new side dish.
Add mushrooms to any chili recipe.
Chop white mushrooms and add to your quiche.
Saute with onions and peppers for a vegetarian quesadilla.
Lettuce wraps can become more of meal with the addition of mushrooms.
Crockpot Mushroom Soup
Chop and add mushrooms to ground turkey. I know when I make food items with ground turkey, it tends to be dry so with mushrooms you can gain back that moisture without the added saturated fats and calories.
Mushroom tacos can be served up on Meatless Monday or just add them to your typical meaty taco.
Mushroom Frittata
Add to veggie lasagna for a meat-like texture and a powerful punch of nutrition.
Chop finely and add mushrooms to scrambled eggs. It may be the ticket to getting your children to try them.
Add mushrooms to any veggie tray and be sure to have your family's favorites dips to gain a better chance of them trying those awesome mushrooms!
When was the last time you had chicken marsala? Grab that favorite recipe and add a new mushroom!
Red wine, garlic, and mushroom sauté. A few days ago I grab something similar at Whole Foods and this combination is wonderful as a side with chicken or steak.
Super simple way to add mushrooms is to cut, chop, slice or leave whole, and then toss into your favorite salads.
Instead of pork sausage, give chicken sausage a try with this Mushroom & Kale recipe.
Love stir frys? Get even healthier by adding some fun Crimini or Shiitake mushrooms to the dish.
So there are my ideas, how do you love your mushrooms?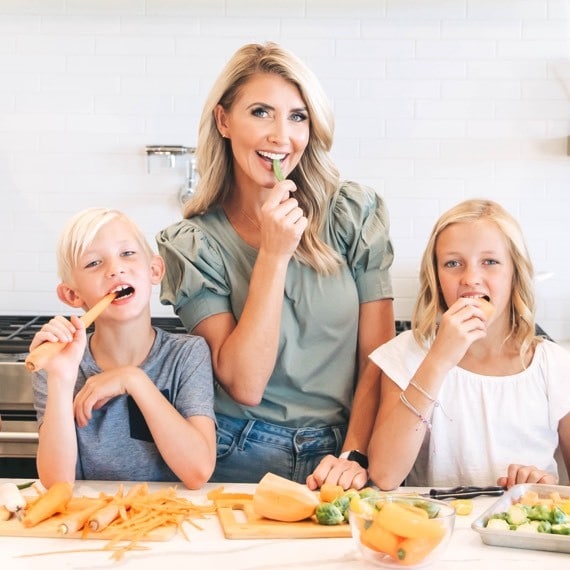 Natalie Monson
I'm a registered dietitian, mom of 4, avid lover of food and strong promoter of healthy habits. Here you will find lots of delicious recipes full of fruits and veggies, tips for getting your kids to eat better and become intuitive eaters and lots of resources for feeding your family.
Learn More about Natalie