20 Teeny-Tiny Healthy Changes that Your Kids Won't Even Notice
Don't sweat! You don't need to overhaul your family's diet to make healthy change. Try these small, achievable steps that help you improve the quality of your family's food without a big investment (and without hearing complaints!)
I once got an email from a mom who was trying to feed her family healthier food. Her kids let her know she has gone "too far" with all this healthy eating stuff.
It reminded me of phases my mom went through while I was growing up. First there was "tofu season." Then there were the gluten free days, the dairy-free days, the sugar-free days… you get the idea. As kids, we sometimes felt like these changes were big, and sudden. It could be overwhelming!
But healthy change doesn't have to feel that way. Focusing on small changes really can make a difference. And perhaps more importantly, they're sustainable!
Here are a few teeny-tiny changes you can make to your family's food, that won't leave kids feeling like everything about the family food landscape has changed.
20 Teeny Tiny Healthy Changes You Can Make This Week
Use extra virgin oil instead of canola or vegetable oil.
Reduce portion sizes of foods that are high in sugar, refined oils, and refined grains.
Substitute ingredients to boost nutrition (like pureed beans or applesauce in place of oil, or bananas in place of sugar.)
Replace sugar-added peanut butter with a natural brand that has just two ingredients: peanuts and salt.
Replace white bread with whole wheat bread, and white rice with brown rice.
Switch your brands of cereals to ones with five grams of added sugars or fewer.
Replace juices with water, or water down juices.
Include a fruit or vegetable at every meal.
Make your kids smoothies once a week.
Take a walk after dinner.
Add an apple (or pear, or orange) a day!
Eat one meal together at least a few days a week. Studies show families who eat together, eat healthier!
Don't skip breakfast. Even if it's a piece of fruit and toast, don't let your family miss it.
Make your own desserts. Homemade anything is better than commercially prepared (even when it's cookies.)
Switch to low-sodium broth and condiments.
Eat a handful of nuts each day.
Plan your meals ahead of time. Your family won't know the difference, but it's the best way to ensure a home cooked meal will be ready for your family.
Change how you talk about healthy eating to focus to eating MORE fruits and veggies, rather than LESS of other foods.
Get to bed 20 minutes earlier!
Eat popcorn! This underrated snack is packed with whole grain nutrition.
Use beans to round out meaty dishes like tacos, chili, and bolognese. (This is a budget-friendly way to stretch your meals, too!
Remember, you don't want your kids to feel stressed about dietary changes. You want them to enjoy eating healthy so they will choose it for life. So go ahead and start small!
Do you have any teen tiny tips for healthy living that your kids won't notice?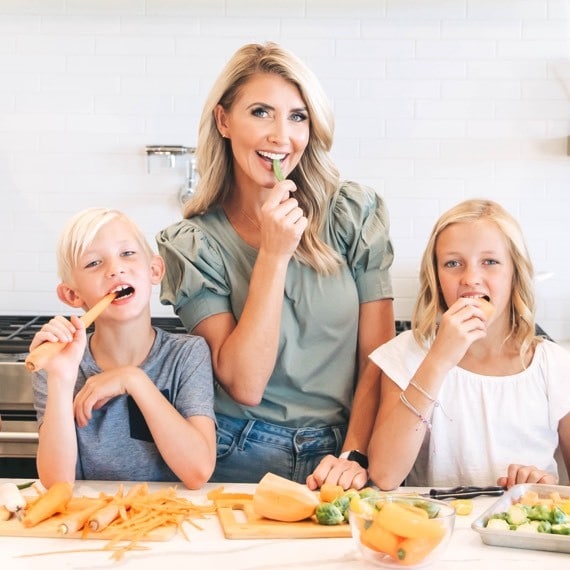 Natalie Monson
I'm a registered dietitian, mom of 4, avid lover of food and strong promoter of healthy habits. Here you will find lots of delicious recipes full of fruits and veggies, tips for getting your kids to eat better and become intuitive eaters and lots of resources for feeding your family.
Learn More about Natalie