How Switching to Cloth Napkins Will Change Your World
Napkins are a must in our household with three small children. From wiping faces and hands, to spills, to having a place to set food,  we use them constantly all day long.  My family is well on our way to making the important switch from paper to cloth napkins.  If you have ever thought about it, but are on the edge, keep reading because changing this one thing in your household can really change your world!
Making the switch to cloth napkins will change your world because of the positive impact you can have on the environment – not to mention all of the other amazing things it does for you! On any given day, we probably go through 50 pieces of paper towel. That is a lot! Since we have started using our cloth napkins for daily use, we have cut that down to almost zero! These are the reasons we believe in making the switch to cloth napkins:
1. Saves Money
An average roll of paper towel costs about $1.33 per roll for 117 sheets making them about 1 cent per paper towel. (this isn't counting crazy deals – just your average price from the regular store) With my family's usage, that is about 50 cents per day. It would only take me about one week to make up the cost of a cloth napkin.
Cloth napkins are a one time expense up front.
Replaces napkins and paper towels, and sometimes even wet wipes! More money saved!
High quality cloth napkins can literally last you for years.
2. Saves the Planet
Reduces landfill waste
Cuts down on paper use and saves trees
Decreases CO2 emissions
3. Works Better
Cloth absorbs a lot more liquid than paper
Uses less storage space (paper towel is really bulky)
Cloth is much better quality – can clean up a spill with one napkin where you would have to use 3 paper towels or paper napkins
Cute and fun to use! Makes even a simple meal feel a little more special and fancy
Feels better on your skin. Paper towels and napkins can feel so scratchy not soft! Cloth (especially 100% cotton) is soft and smooth to the touch.
---
They are big. Each napkin is 13″x15″ making them really versatile and useful.
They are made from 100% cotton fabric and use low impact dyes, and are also lead and phthalate free.
Bright, fun patterns that kids connect to and love – makes kids want to use them.
Double-sided patterns so you can use both sides making the use of each napkin longer.
High quality, very durable, wash well and last for years.
Helps teach kids to be aware and respectful of our earth by reusing instead of just throwing things away.
Tips for Getting Started
Buy each child 3-4 of their very own napkins that only they use. When meal time comes, they will know exactly which napkin to use. My kids like setting the table with their 'special' napkin.
You can usually get a few uses out of each napkin so you don't have to wash them more than every other day or longer. We wash them with our other laundry so I don't feel like I'm doing special loads.
Keep them in a place that they are accessible. If they are hard to get to, you might keep reaching for paper towel.
---
5 Ways We use Funkins Cloth Napkins
Placemat.
---
Lunchbox.
---
Napkin.
---
On-The-Go.
Because they are so much more durable than paper, they wipe up spills way better!
If I need to clean sticky hands or faces I just pour a little water on them and then I have a wash cloth.
Sometimes I will put them down on a table if we are eating in a public place and I want a barrier.
You can use these as a burp cloth for baby!
---
Picnics or Outdoor Eating.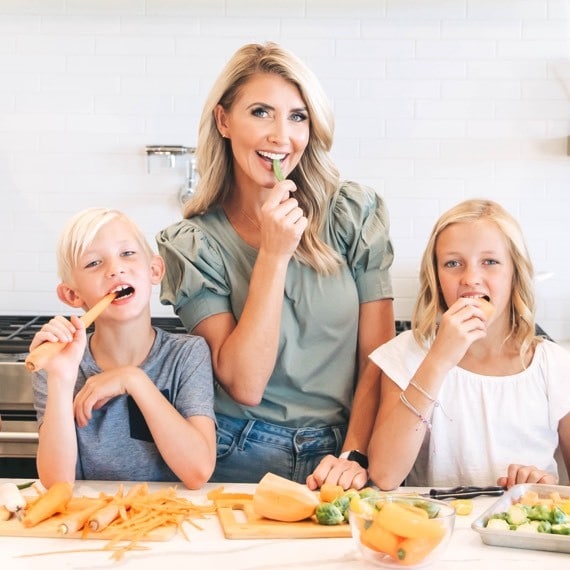 Natalie Monson
I'm a registered dietitian, mom of 4, avid lover of food and strong promoter of healthy habits. Here you will find lots of delicious recipes full of fruits and veggies, tips for getting your kids to eat better and become intuitive eaters and lots of resources for feeding your family.
Learn More about Natalie