We eat frittatas enough in the US that your kids may not realize the origin. Frittata, derived from the word "frito" meaning 'to fry' has evolved to the more common meaning of the word, "Italy's version of an open faced omelet." (source)
We've had eggs on our mind this week anyway, because one of our chickens (we've had them since Easter) started laying eggs this week! We are so excited!
So, back to our Frittata. This recipe is easy, fast, and can serve an entire family of four.
Our vegetables of course were what was in season, zucchini. We also used an onion and garlic.
We cooked the zucchini, onions, and garlic in a little olive oil until it was soft and tender.
Then we poured 6 beaten eggs over the top, turned down the heat, and covered it till it cooked through, only about 8 minutes.
After the eggs were set, we sprinkled parmesan cheese on top.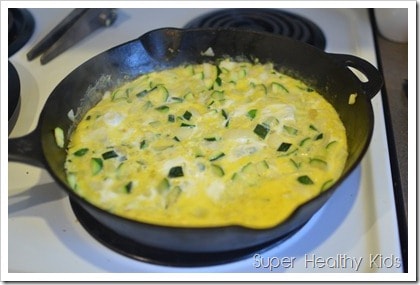 So, our final Italian Frittata Recipe was this:
3 cups zucchini, chopped
2 TBL olive oil
1 onion, chopped
1 clove garlic, pressed or chopped
6 eggs
salt
Pepper
1/2 cup parmesan cheese
1) Pour oil in hot skillet. Cook all chopped vegetables for about 5 minutes, or until they are tender.
2) Break eggs into a separate bowl, and beat.
3) Pour beaten eggs over veggies in pan.
4) Turn heat to medium, cover with a lid, and let eggs cook through, about 6-7 minutes.
5) Once eggs are cooked, turn off heat and top with cheese.
The finished dish is delicious!
Another version we had made was with some cherry tomatoes and spinach that turned out amazing!