My kids love black beans.  They would eat them just plain in a bowl, and sometimes do!  These black bean burgers are a great alternative to regular hamburgers in the summer when you feel like grilling!  They not only have nutrient packed black beans, but they also have other veggies making them a power house dinner!  We love to add lots of veggie fixins' to them for a complete meal.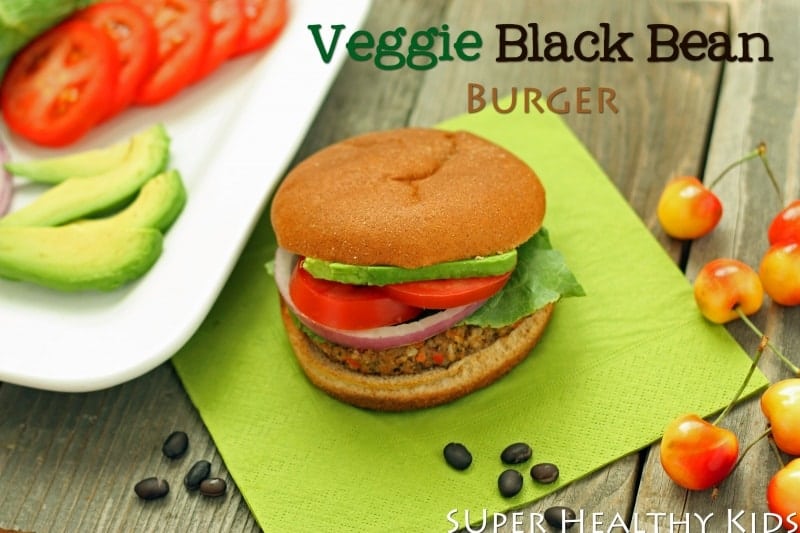 In a food processor, pulse 1 can of drained black beans until they have broken down a bit.  Add your chopped veggies and pulse until diced into small bits.  Then add the rest of the ingredients, and pulse until you feel like you have a good consistency and everything is in small uniform pieces.  Form them into patties (you will probably want to oil your hands just a bit, because they are pretty sticky) and then lay on wax paper.  The trick to these is to freeze them before you cook them.  This helps them cook better and makes them less soft.  You will want to freeze for about 2 hours or until they are solid.  You can freeze the extra black bean burgers for up to 3 months, just store in an airtight freezer container.
You can cook them 3 ways:
Grill: Place on a sheet of lightly oiled aluminum foil.  Cook over medium-high heat for 7-8 minutes per side.
OUR LATEST VIDEOS
Pan: Lightly oil a skillet and cook on medium heat.  Cook 7 minutes on each side.
Oven: Preheat oven to 375 degrees.  Bake on a lightly oiled baking sheet for 14 minutes.
We always make smaller patties also because my kids like them 'just their size'.  We like our black bean burgers with lettuce, tomato, red onion, avocado, and sometimes a little BBQ sauce.  MMMMMM.
Serve with a seasonal side of fruit for a balanced summer meal.  These burgers are great for kids of all ages because they are soft and super easy to chew.  Even my 1 year old with no teeth can eat these!
---
Tools Used: