Creative and active play are both important for toddlers to develop healthy behaviors.  It is essential to development because it contributes to the cognitive, physical, social, and emotional well-being of children and youth. Play also offers an ideal opportunity for parents to engage fully with their children.  Our list of stocking stuffers promotes creative play that can be done on their own, or also involve a parent for some fun bonding time!
---
$7.99 on Amazon
Play-Doh has a texture kids love and even if you already have some, it is good to refresh your supply every now and again.  Bonus: Stretching, pounding, and molding it into different shapes improves hand strength and dexterity.  A great activity for indoor play this Winter.
OUR LATEST VIDEOS
---
(Usually between $4-6 on Amazon)
If your toddler is approaching a milestone, fine a book that tells a tale about a tot getting dressed on his own, sleeping in a big-boy or big-girl bed, or using the potty. With simple language and step-by-step illustrations, these books, with their peppy "you can do it!" attitude, make any new experiences less scary.
---
$7.66 on Amazon
These tiny puppets come in all different kinds – animals, insects, people, and more!  Take turns with an older toddler making up silly stories about each one, or use the puppets in conjunction with reading a story to your child — they'll make the book's characters come to life.
---
$5.99 on Amazon
Whether your child already brushes her teeth regularly or is about to start (usually by age 2), a toothbrush featuring a favorite cartoon character makes brushing teeth seem exciting! Having your child brush twice a day by themselves will not only promote good oral hygiene, it'll also provide a lesson in independence.
---
$5.99 on Amazon
Toddlers love making things crash, and stacking cups in different sizes delivers in a big way. Imagine your boy's or girl's delight in sitting on the floor, putting the cups one on top of each other, and then… crash! Stacking cups also make one of the best bath toys – pouring Look for cups that display letters, numbers, and animals, or have holes in the bottom for bathtime fun.
---
$6.23 on Amazon
With the help of these colorful Traveling Flash Cards, your little one will be learning animals, shapes, colors and numbers in English and Spanish in no time! 40 cards have 80 stimulating and memorable images to help kids learn. The images of real animals are a fun way to practice sounds and learn about the world around them. And, the easy-grasp handle allows kids to use them on their own. A handy holder keeps flash cards together. Great for kids 3+ years.
---
$13.99 on Amazon
My First Crayola art supplies and creative activities are designed for little hands. They're just the right tools for toddlers and preschoolers to express, create and connect with color. Watch your child's confidence and independence grow while learning through colorful play.
---
$9.11 on Amazon
A magnetic fishing pole that catches sea squirts and makes "reel" clicking sounds – so your child will fall hook, line and sinker for easy fishing fun. It's the little things.
---
$11.65 on Amazon
Sized just right for travel for mess free, on-the-go, magnetic drawing fun! The screen saver pen is attached so it can't get lost, and the easy-slide eraser clears the screen like magic. Durable frame includes a built in handle, so it's easy for kids to carry, wherever they go!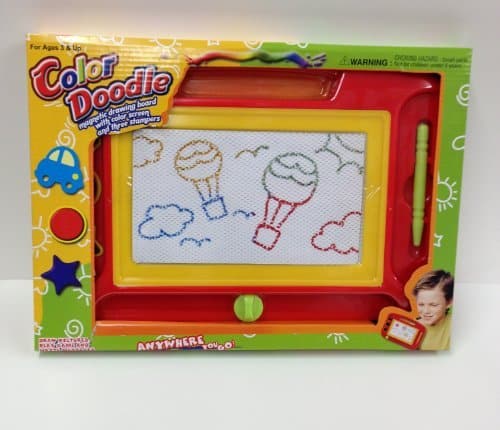 ---
$14.82 on Amazon
Make your windows, mirrors and glass surfaces works of art. Rainy Days Gel Crayons draws vibrant and bold colors on glass surfaces… and paper too. And for an extra special touch use a wet paintbrush to add amazing watercolor effects too. Comes in 12 bright colors and cleans off easily.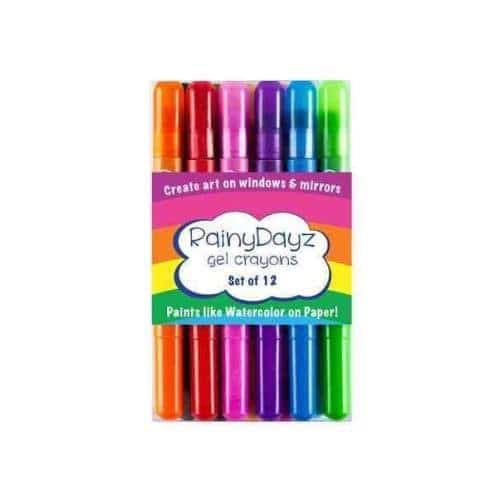 ---
$9.99 on Amazon
This two pack of Squooshi pouches and Sip'n soft tops is the perfect way to introduce your little ones transitioning to solid food or to cap your big kids smoothies. Our reusable food pouch allows you to serve your kids fresh homemade food in a fun container they will love to use. Paired with theSip'n soft top, your baby will love the softness of the silicone top and the bright colors. The Sip'n top has a valve on the top which controls the flow of food which means no more spills!