Top 10 Sites For Baby Food Recipes!
Tools for Feeding Baby
---
Top 10 Sites for Feeding Baby
As we have searched for ideas, tips, and tools for helping parents feed their baby healthy food in a way that helps to create healthy lifelong habits, we compiled our top 10 favorite sites for your reference!

recipes
Cauliflower, potato, and cheese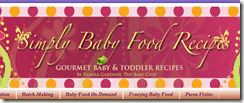 And of course: Super Healthy Kids! Our philosophy is to provide your baby with a variety of textures, flavors and fruits and veggies to help them develop those preferences into adulthood!