Top 10 Nutrient Rich Foods
When people talk about the nutrient density of food, they are considering the amount of nutrients, divided by the total calories. A food with excellent nutrient denseness would have loads of nutrients for very few calories.
Since our little ones don't consume a large number of calories, we should be sure the calories they are getting are dense with nutrients! Of course the most nutrient dense foods are… VEGETABLES! Each individual nutrient is packaged in a vegetable with other nutrients that allow them to work synergistically, giving us maximum benefits.
So, what are foods are the most nutrient dense? Here are the top 10 (from WHFoods
)  Considering micronutrients to total calories (and eliminating calf liver.. cause I just didn't want to count it …Bleehhhh)
1-Spinach (We are good with this one… especially spinach salads we love)
2-Swiss Chard (Honestly, have not tried)

3-Crimini Mushrooms

(I love all mushrooms… my kids won't touch them…Yet)

4-Asparagus

(My kids favorite way to eat Asparagus requires just a little brown sugar, but it's so delicious!)
5-Broccoli (Check-they will all eat Broccoli now. Cooked or raw)

6-Romaine Lettuce/ Salads

(No problem)

7-Collard Greens

(Haven't given this a good try yet, but I've purchased it a few times- it ended up going bad)
8-Kale/ Mustard Greens (Ditto to Collard greens)
9-Tomatoes (The kids can be picky about tomatoes. They are limited to eating it as a dip like salsa, or other bean dips)
10-Brussel Sprouts (Haven't tried these either)
Next week I'll try to make something with the vegetables we've never tried for my kids. We'll see how they react. I can already tell you Collard Greens might start a fight.
When it comes right down to it, getting your kids to not only eat their vegetables, but like it too is going to give them a healthy advantage.
I've been wanting to spend more time on this blog diving into fruits and vegetables exclusively. So, I was thrilled to find this site: Today I Ate A Rainbow! I love it!!!
We eat 6 out of the 10 (60%). How is your family doing on the top 10?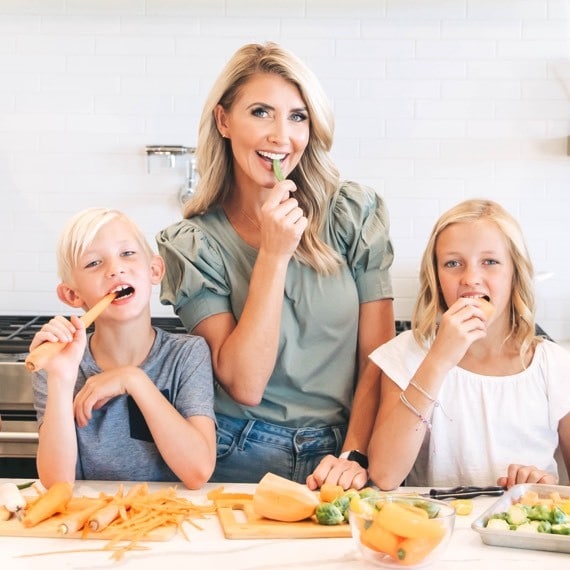 Natalie Monson
I'm a registered dietitian, mom of 4, avid lover of food and strong promoter of healthy habits. Here you will find lots of delicious recipes full of fruits and veggies, tips for getting your kids to eat better and become intuitive eaters and lots of resources for feeding your family.
Learn More about Natalie