Top 10 Healthy MyPlate Inspired Crockpot Meals
A slow cooker is one of the best ways to have dinner waiting for you in order to avoid the drive-thru! However, just the food you put in the slow cooker, may not make a complete and balanced meal! Pair your plate with veggies, fruit, grain, and proteins, and you have the perfect MyPlate meal!
At Super Healthy Kids, we are big fans of the dietary recommendations to make half your plate fruits and vegetables! Such big fans in fact, back in 2007 (even when MyPyramid was the icon of health recommendations) we created a kids plate to teach balanced meals. Now that the Pyramid has been replaced with MyPlate, we are beyond thrilled! It's the best way to teach our kids about balance and portions. Food groups are celebrated, rather than eliminated and balance is key. While my kids would make their entire plate from grains, using MyPlate reminds them they need a portion of fruits, vegetables and protein as well to keep their meals in balance and get all the nutrients they need to grow and be strong.
The way I use the MyPlate concept in my house
My kids are teenagers now, and most nights will have seconds or thirds of our meal. When they do, I tell them "In order to keep your meal balanced, you may have another roll (it's always a roll they want seconds of), but you also must get a serving of fruit, vegetable, and protein!" Otherwise, they'll have 10 rolls and no veggies. You get the idea. Myplate teaches them balance and portion control.
So, to make these crockpot meals balanced, we've added the perfect items to serve them with!
1)Chili
We actually use the same recipe for chili in a crockpot, that I use in the slow cooker. On busy days, I put everything in the slow cooker. It's truly a "dump and go" meal. The beauty of this meal is there is also veggies in the chili, and then we added a green salad to make our vegetables more visible, reinforcing the myplate idea with our kids.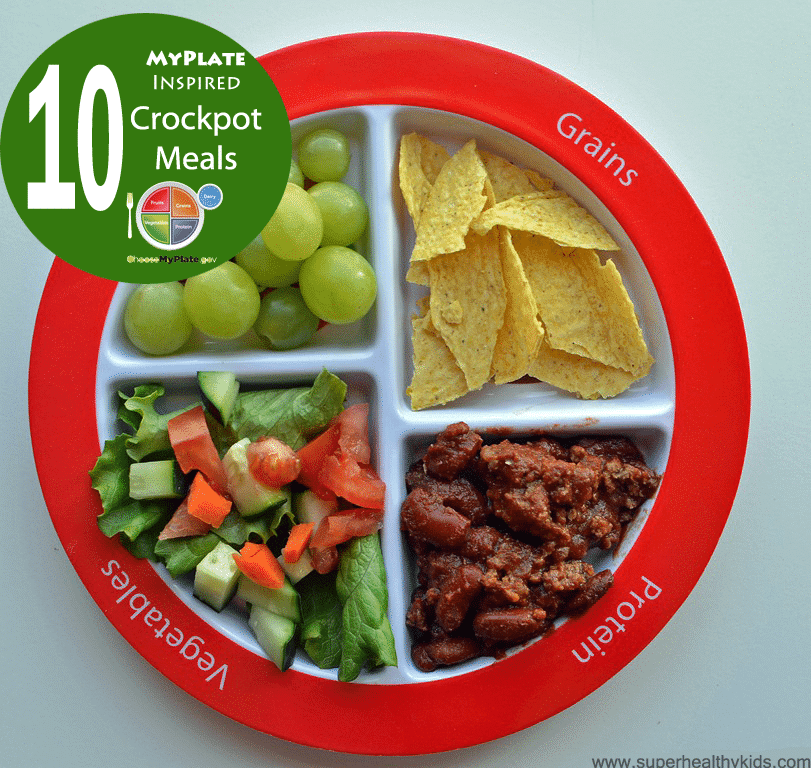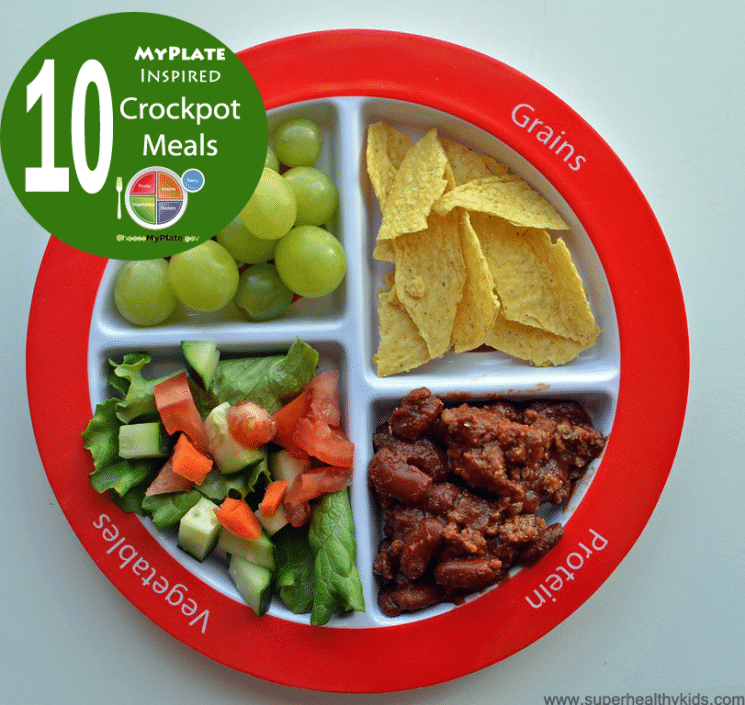 Veggies– Green salad
Fruit– Grapes
Grains– Corn Chips
Protein– Chili
Dairy (Optional)- Cheese on top
2) Crockpot BBQ
It's not often we purchase drumsticks (I just don't think there is very much meat on it), but they sure are tasty! We've bought them a few times in the past few months for our meal planning service, and my kids loved them. Plus, they are so easy. Basically, pouring BBQ sauce over a crockpot full of drumsticks, and turning it on! So easy. For this myplate meal we balanced it with green salad and grapes again, but added a roll.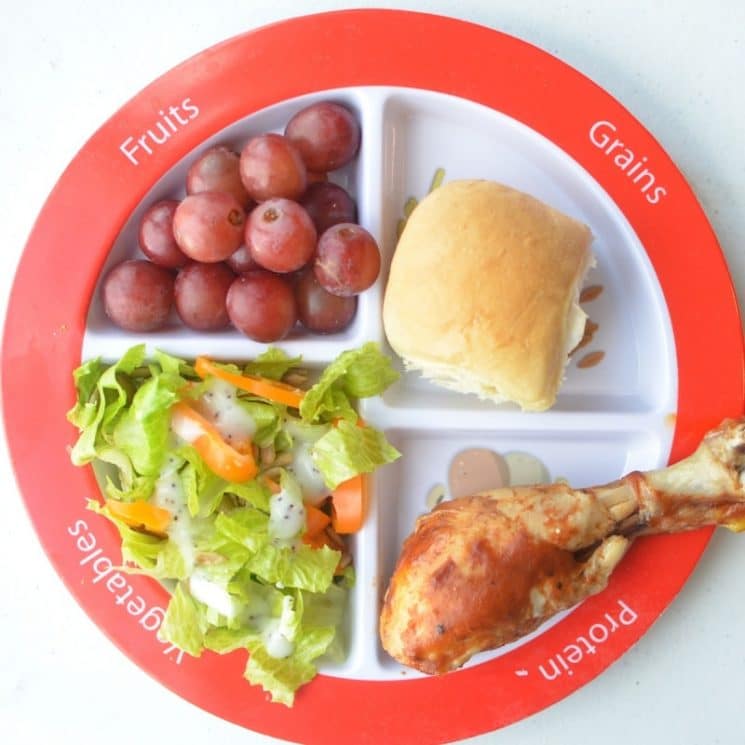 Vegetable– Green salad with poppyseed dressing
Fruit– Grapes (although it feels like a summer meal, and watermelon would be great!)
Grains– Roll (make this whole wheat for more nutrition)
Protein– Drumsticks
3) 40 Clove Chicken
Garlic! So delicious and so good for you! 40 cloves worth might seem like a lot, but it isn't! It's actually perfect. We served this myplate meal with some brown rice, mangoes and dried cranberries, plus raw veggies. Here is a 40 clove slow cooker recipe from Funny Is Family.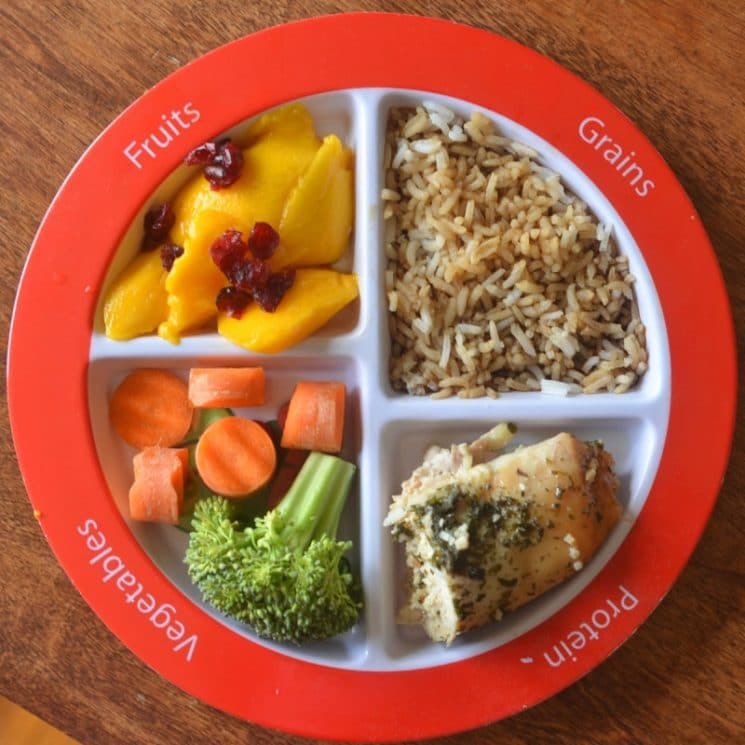 Vegetables– Raw crudite's
Fruit-Mangoes and dried cranberries
Grains– Brown Rice
Protein– 40 clove chicken
4) Rotisserie Chicken
One of my favorite things to purchase at Costco is a rotisserie chicken. So, while this isn't exactly cooked on a rotisserie, it's sure tastes similar! Here is a recipe and instructions on this post from The Lean Green Bean. We served this myplate meal with some broccoli slaw (we eat that a lot!!), grilled peaches, and a multi grain roll.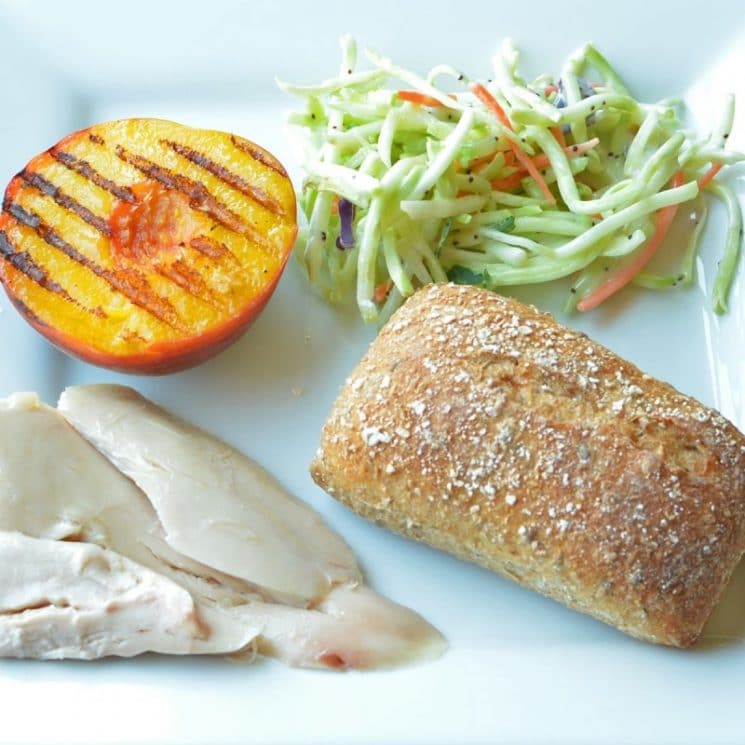 Vegetables– Broccoli Slaw
Fruit-Grilled peaches
Grains– Multi-grain roll
Protein– Rotisserie chicken
5) Rainbow Risotto
Yes, I just blogged about this on Monday, but we could eat this Rainbow Risotto every day! So cheesy and delicious. But, I wanted to add this one because I want to show that sometimes, we don't need to use the crockpot every time for our main dish. Plus, this is an easy way to get your grains in, even when you are gluten free!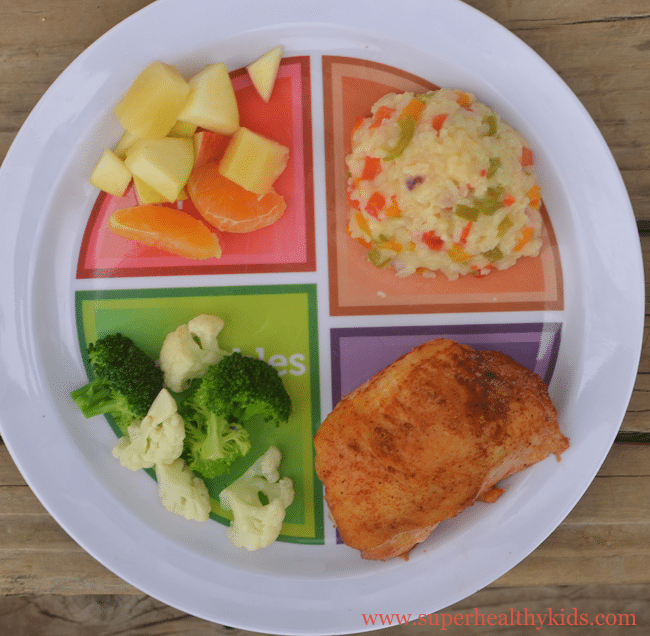 Vegetables– Steamed broccoli and cauliflower
Fruit– chopped apples and tangerines
Grains– Rice/risotto
Protein– seasoned and baked chicken
6) Tuscan Chicken and Beans
We made this one for our meal planning site a few weeks back. The Tuscan chicken and beans recipe we like is from the Lemon Bowl, and it gave us TWO sources of protein. We love beans! We don't always eat meat. In fact, we have usually two days a week that we have a vegetarian dinner. But this recipe called for both chicken and beans, which was fine by me!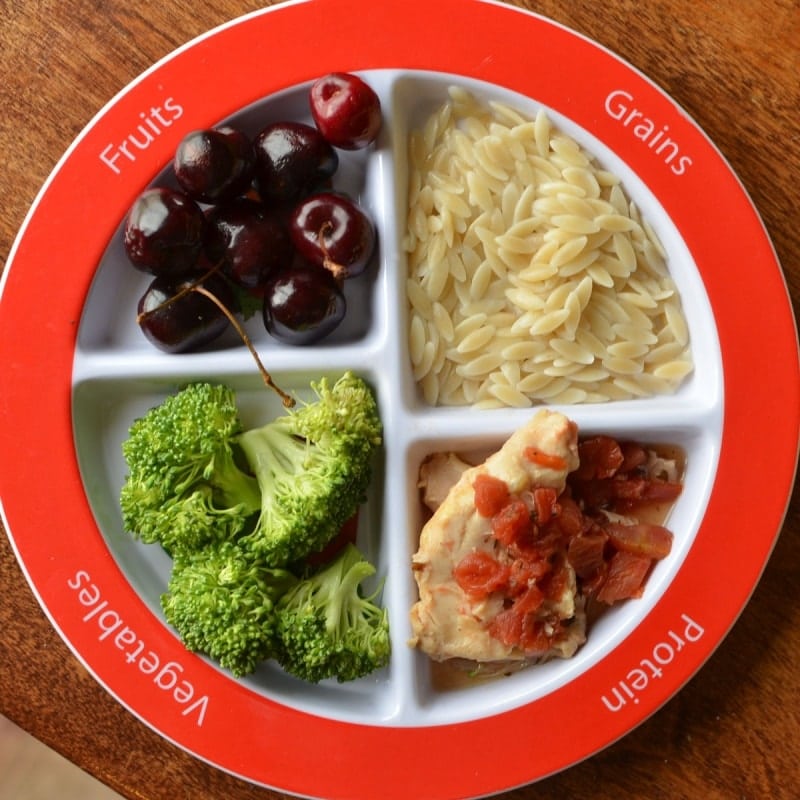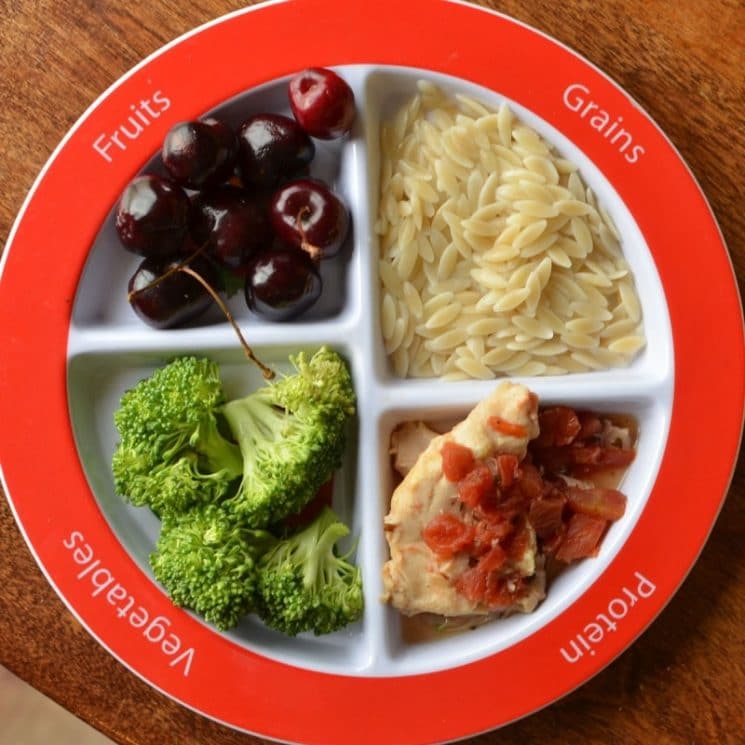 Vegetables– Broccoli (eat raw if you have no time for prep. If you do, we recommend Roasting the broccoli!
Fruit– Cherries
Grains– Orzo pasta
Protein– chicken and beans
7) Sweet Pulled Pork
Pork roasts and beef roasts are best cooked in a slow cooker. Am I right? How else are you going to get that perfect shred! We found this delicious recipe from Gimme Some Oven, that sweetens up the pork with apple cider!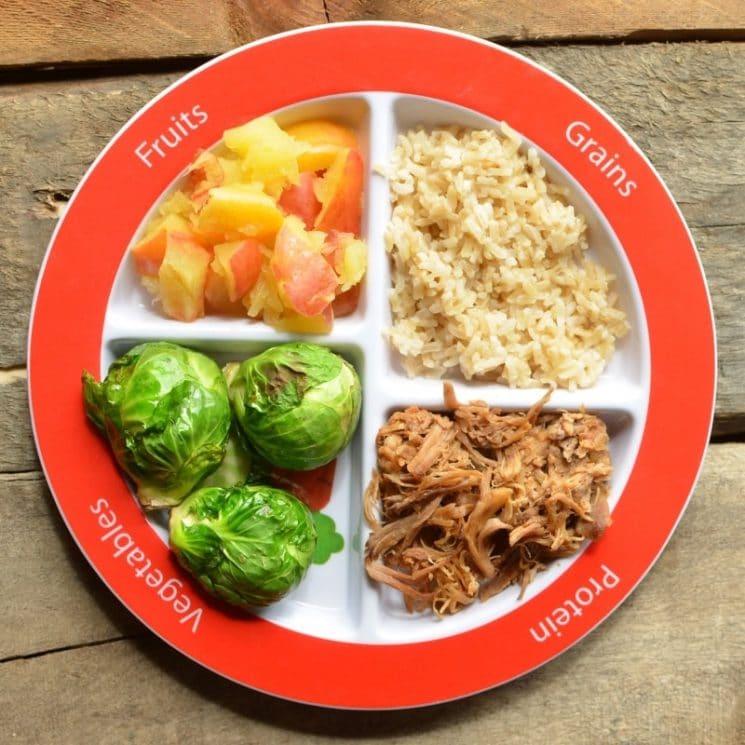 Vegetables– Brussels Sprouts- Roasted!
Fruit– Warmed apples! Until they were soft. YUM!!
Grains– Brown Rice
Protein– Shredded pork
8) Crockpot Meatballs
Turkey Crockpot meatballs recipe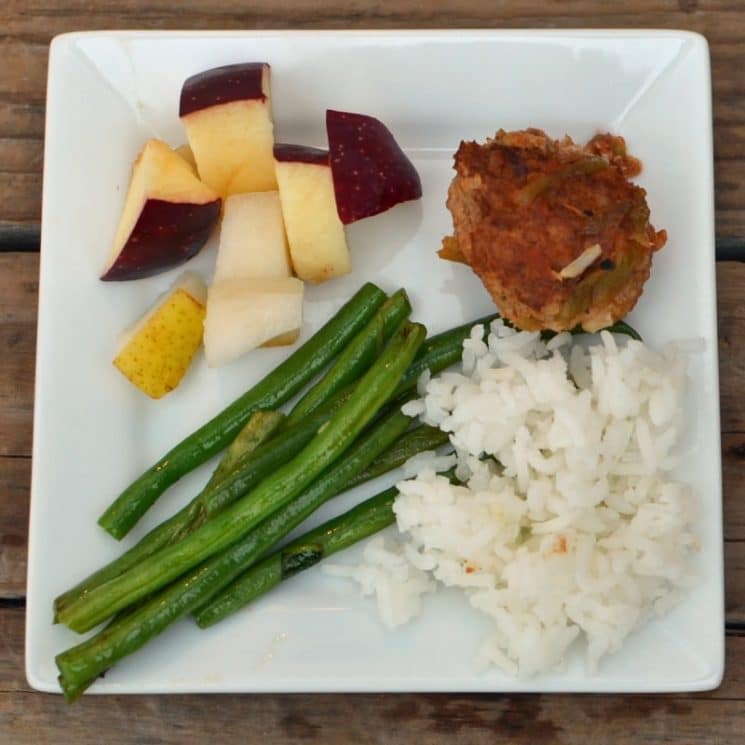 Vegetables– Sauteed green beans
Fruit– Pears and apples
Grains– Rice
Protein– Ground Turkey meatballs.
9) Auntie's Roast
And the beef roast! Of course. The recipe I use for this is simple. 1 Beef Roast, Salt, 1 onion, 1 bay leaf, 3 cloves of garlic, and 1/2 cup of water. We roasted some root veggies (potatoes and carrots in a hot 400 degree oven, drizzled with a little olive oil and salt). Pineapple, and french bread!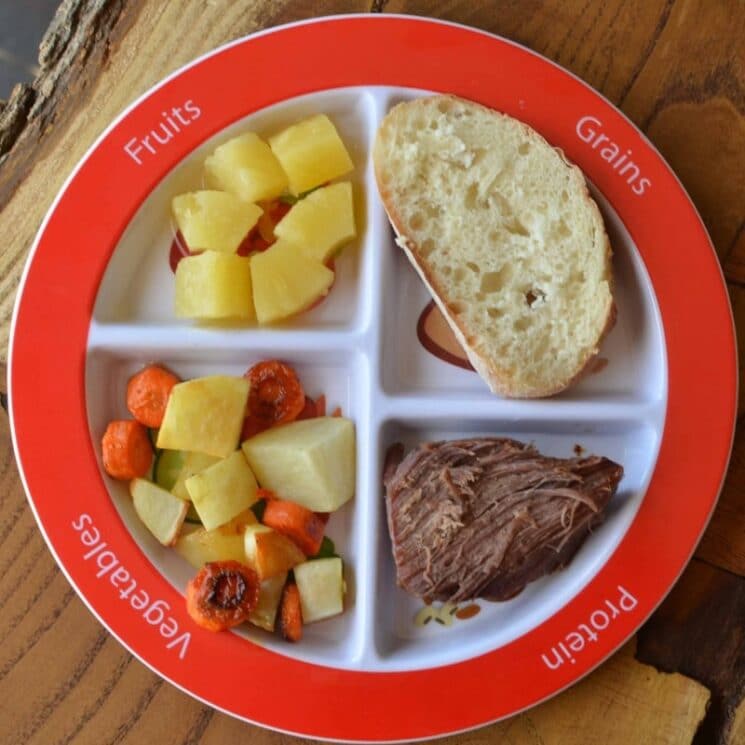 Vegetables-Roasted Root veggies
Fruit– Pineapple
Grains– French bread
Protein– Beef Roast
10) Kids Choice Pasta
Marinara sauce becomes thick and delicious when made in a slow cooker! We use this recipe, except combine all the ingredients (plus cooked ground beef) in the slow cooker instead of on a pot, and set on low for about 4-6 hours. This is great to do at the end of tomato season, and then freeze your marinara sauce.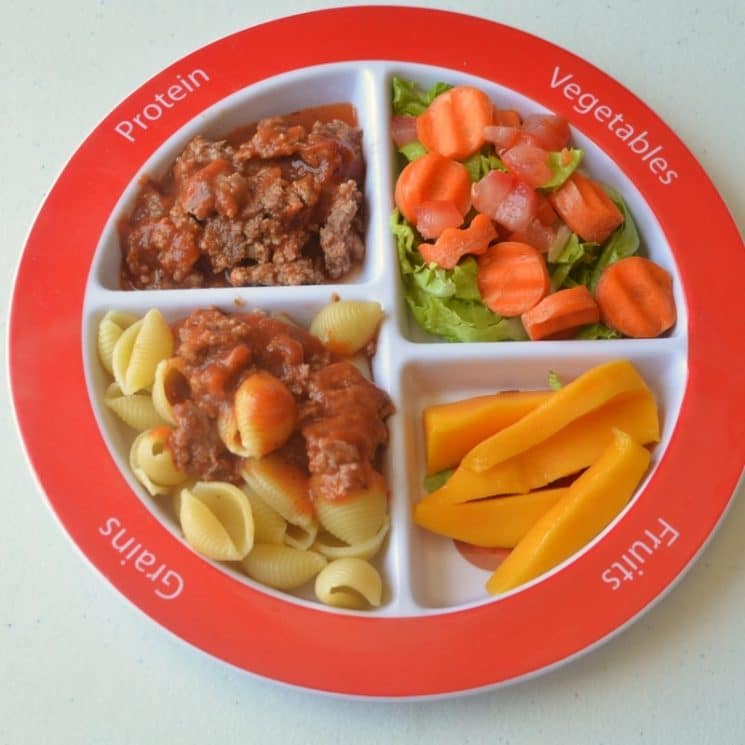 Vegetables– Green Salad
Fruit– Mangoes
Grains– Pasta
Protein– Ground Beef Marinara Sauce
Want more Choose MyPlate meals? Follow our pinterest board, and as we find them, we'll pin them!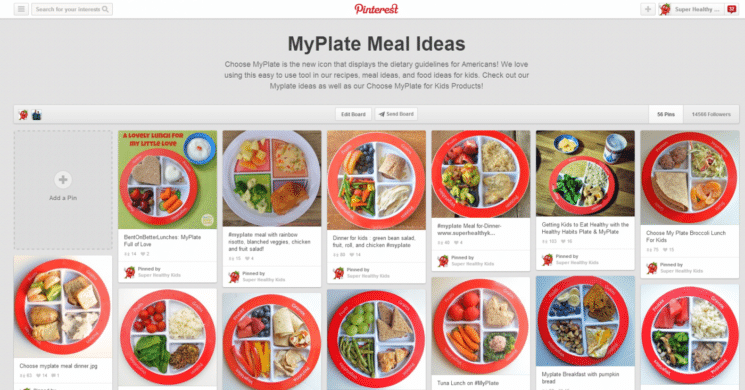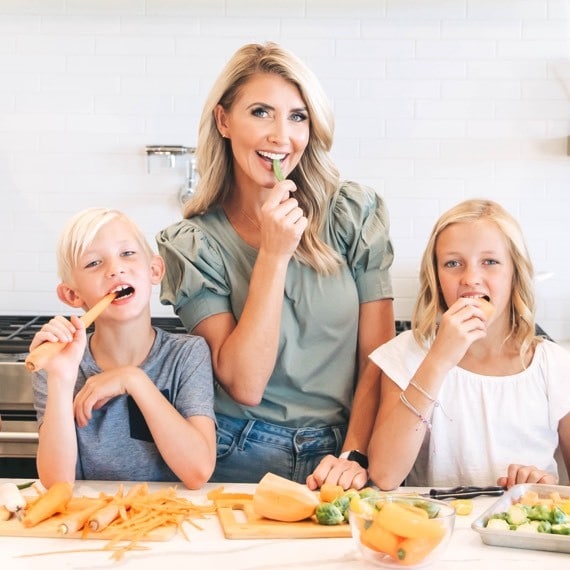 Natalie Monson
I'm a registered dietitian, mom of 4, avid lover of food and strong promoter of healthy habits. Here you will find lots of delicious recipes full of fruits and veggies, tips for getting your kids to eat better and become intuitive eaters and lots of resources for feeding your family.
Learn More about Natalie