The No Nag Guide to Getting Kids Outside

For some kids, screen time has taken over their once active lives. A recent viral video showed three generations of people chatting about what they did in their free time. The grandparents all went outside to have their fun, while all the children spoke only about playing video games, indoors for their free time. While it was obviously scripted to prove a point, I know there is also some truth in it. Many kids today can't think of ways to entertain themselves beyond the screen. Kids today aren't going outside to play the way they used to. No one should or needs to shoulder the blame for this. It's easy to point fingers of parents that are "allowing" this to happen. But, I also think we're all trying our best. It is just how things have evolved, and it's the reality of our day.
So rather than blame, I believe we can bring back a deep love for the outdoors in all children. It doesn't have to be a thing only our grandparents did. We just have to be deliberate and intentional about getting kids outside and away from the screen, so they will want to be outside more than in front of a screen.
Kids not only need to be active, but they specifically need to be active outdoors. Outdoor play has been shown to foster creativity, emotional stability, physical endurance, better concentration & focus, helps kids maintain a healthy weight, more! I really believe we are just scratching the surface of finding out how detrimental staying indoors will be to our kids.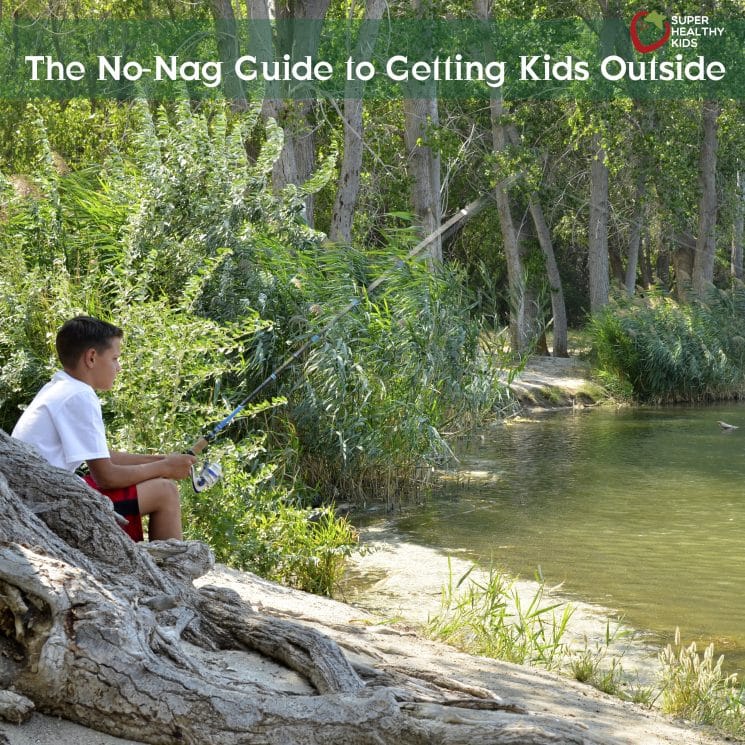 Rather than filling your mind with regret and overwhelm, let's just go back in time, and remember from our own childhood what we loved about being outdoors, and instill that same love in our children's lives, so they are the ones choosing to put down the tablet in favor of some unstructured, outdoor, free play! Just like food, the idea is for them to WANT to do these things, rather than doing them because we tell them they have to.
1) The no-monitor method for setting
screen Limits
One vital piece of this puzzle, is that we really do need to set limits and boundaries. These don't have to be painful for the kids, but with kids under 6, spending almost 2 hours a day in front of a screen, we need to put the breaks on. My problem was always that i didn't NOTICE when the kids exceeded their limits. It's easy to say, "My kids only get 30 minutes of video game time per day", but then I have to be the one to enforce it. Then when the 'distracted' working mom in me gets going, I honestly wouldn't notice if an hour went by and they were still "on their thirty minutes" as they would try to tell me they were.
An easy way to limit screen time for us, without me having to police compliance (which you know is the hardest part) is to have "screen free hours". For us, this is during the day, because if it's daylight, they can be outside or doing other activities. In our house, we allow the kids to watch TV or play video games before 9 am. and after 7 pm I'm not going to lie. I actually like letting them dive into their screen in the morning because I'm getting ready for the day, and as a mother, it really does make the mornings quieter and more peaceful. However, just as if they are going to work or school, once 9 am hits, screens go off, and jobs start getting done. They do their chores, they get ready for the day, etc. (It's actually 7 on school days of course, but the point is, while the sun is up, their screens are off.)
Another easy way to limit screens, without feeling like you are always yelling at the kids to "turn it off", is to remove the "junk food" apps. This article had some great advice. Just like food, there are some healthy apps, and junk food apps. Games that will fry your kids brains, and games that promote learning. When you get rid of the junky, brain frying, mindless games, kids begin to limit their screen time on their own.
Lastly, a way to limit without feeling naggy- is to have a standard "screen free- bedrooms" rule. My kids have to turn all their electronics in each night. My husband and I keep all the chargers in our bedroom, and to get their devices charged, they stay in our bedroom each night. It's so ingrained in our home culture, that kids don't question it, fight it, or even get upset about it. I started it because I didn't want them getting a text from their friends and waking them up in the middle of the night, but also, because I didn't want them using their devices unsupervised.. if you know what I mean!
2) No one wants to be outdoors without
Friends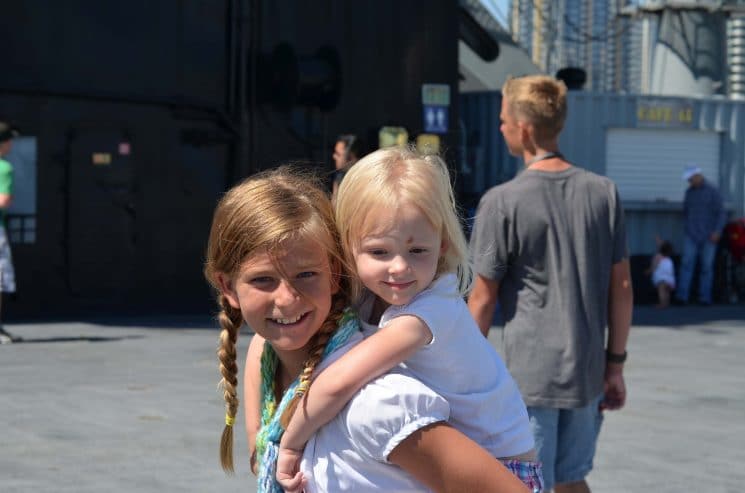 When you want the least amount of push back and resistance to sending your kids outside, there is nothing more powerful than peer pressure! Invite the neighbors over and suggest an outdoor activity, go outside yourself with your kids, or if they have brothers and sisters, send them out together. Most kids won't (and shouldn't) choose to go outside alone. But, if outside is where the fun is happening, kids want to be a part of it.
Each month we have a big family party (the kind with cousins, etc.) Because all the kids are outside playing kickball, tag, or just climbing the tree, they all are! Even if one child begins the evening hanging back with the parents indoors, the lure of the laughs and noise outside, always draws them out. So whether it's a friend, family, or even you, someone should be with them to make being outside so much better than being indoors!
3) Entertainment
The easiest, no-nag way to get the kids outside is to have something fun out there to do! Whether you have a sandbox, a trampoline, or you take your kids to a park, kids today are accustomed to be entertained! Rather than fight it, show them how entertaining the outdoors can be.
I love this list from Keeper of the Home. These things are entertaining for kids, most you can do in your backyard, and most of them don't cost any money! From bug catching, to sidewalk paint, there is definitely something simple, fun, and must be done outside that will entertain the kids. Check it out here.
4) Destinations
And lastly, perhaps the thing that will get your kids most excited about putting down the games is to GO somewhere fun! Destinations are everything. Follow sites that alert you to local events, like Todays Mama. Check your newspaper. Join community groups on facebook, etc. This picture below of my daughter on a rappel rope, literally happened just a few miles from our house. We've lived in the same home for 13 years, and never knew this rock was there till a friend showed us. Talk to people and find fun places to go.
I must say, taking your kids to "destinations", is time consuming, but it's what we do as parents. I work full time, and it's vital for me to turn off the electronics each night and every weekend, so I'm not tempted to stay in. We have been trying to take the kids somewhere outside every Saturday, and not worry about chores or work. Committing to this has made it easy to make it happen. All week, I follow hashtags on instagram like #utahhikes #utahgram, etc., just to find out what and where other people are going. Then, we pick one! This no-nag tip is probably the easiest. When we say to the kids, "Anyone want to go see a 100 foot waterfall?", we get immediate eyes up, shoes on!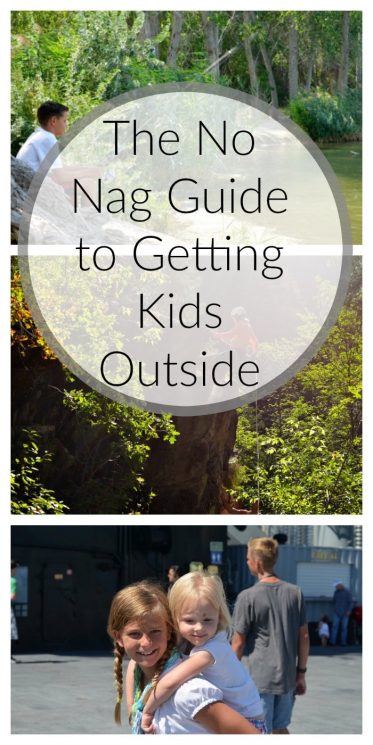 Kids need to be outside! The outdoors to a kid can shape their personality, their physical health, and their mental focus. But there is a way to get them excited about it, without nagging, and without spending money. Kids were meant for the outdoors, and I'm excited about this new generation of children that have the opportunities to love it!
Some GREAT resources!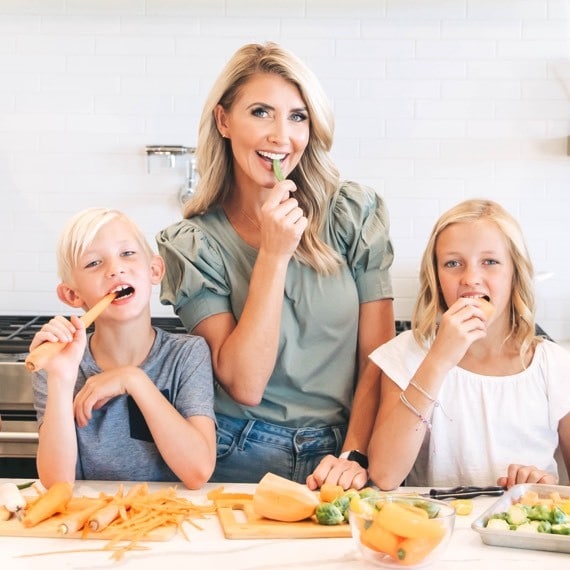 Natalie Monson
I'm a registered dietitian, mom of 4, avid lover of food and strong promoter of healthy habits. Here you will find lots of delicious recipes full of fruits and veggies, tips for getting your kids to eat better and become intuitive eaters and lots of resources for feeding your family.
Learn More about Natalie